Program Overview
Administered by the College of Extended and Global Education at CSUSB. This challenge examination option is intended for California teaching credential candidates and others who must fulfill the U.S. Constitution requirement for Baccalaureate candidates.
Important Note: By definition, this is a challenge examination to a full college-level course. As such, it is a very difficult examination and the assumption is that those taking the exam need only a review to help them prepare for the challenge examination. It's assumed that those challenging this examination have read the Constitution and have studied other pertinent documents and texts.
The online preparation module in Canvas offers various study modules to study for the U.S. Constitution challenge exam. It covers the fundamental principles and amendments of the U.S. Constitution, though it is not a comprehensive exam preparation. After completing the prep module, an opportunity to take the U.S. Constitution challenge exam online in Canvas with proctoring. Additional information will be provided on scheduling your exam date and time. This option is available for open enrollment.
Online Preparation Module and Exam 
Online Exam  (Exam only- No prep)
50 multiple-choice questions
Students must answer at least 35 questions correctly to earn a passing score.
Students who are not successful in their attempt(s) at taking the exam will receive notice of how many questions they missed.
Certificates are issued by the College of Extended and Global Education to those who pass, and a notation is made on their permanent University record. A Certificate of Completion or notice of failure will be sent by mail, usually within 10-14 business days of taking the exam.
Students must present a photo I.D. before taking the exam.
No notes can be used during the exam. Each of the three attempts (if needed) must be completed within a year from the registration date. (Students who fail the exam three times must take an appropriate University course to complete this requirement.)
Note: This is a testing experience, not an educational experience. Students who take this exam will not be given the correct answers to questions missed. This course does not guarantee the passing of the exam.
May be found in the CSUSB Pfau Library
We the People by Thomas Patterson
American Government (eighth edition) by James Q. Wilson and John J. Dilulio, Jr. (Chapters 2 and 11)
The Founding of the Democratic Republic by Martin Diamond. (Chapters 2, 3, 4)
Accommodations
Note that this is a testing experience, not an educational experience. However, If you think you may need support services and/or accommodations, you can visit our Students with Disabilities office website at www.csusb.edu/ssd or call 909-537-5238. You will be responsible in submitting a request. If approved, SSD will share the information to pertinent staff in regards to how additional support maybe provided. We highly recommend submitting this request prior to starting your course to ensure services are in place from the beginning. Please note this is not a guarantee of accommodations, but a request for support services. All services may not be applicable to the course/program of enrollment.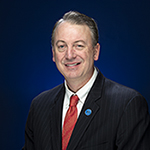 Dr. Brian P. Janiskee
Brian P. Janiskee received his Ph.D. from Michigan State University and is professor and chair of the Department of Political Science at California State University, San Bernardino, where he is also a faculty member in the National Security Studies program. He has published several articles and books on such topics as special districts, crime policy, presidential elections, American colonial local government, and national security.