Education Benefits for Active Military and Veterans
With the growing number of veterans returning home to California, and the 2008 signing of the Post-9/11 Veterans Educational Assistance Act — the largest expansion to veterans' education benefits since the establishment of the original GI Bill in 1944 — the College of Extended and Global Education is committed to providing access and support to veterans and active-duty military personnel.
As a member of the military community, you have access to a variety of ways to finance your education. For information on VA education benefits call 1-888-GIBILL1 or visit them on the web at the U.S. Department of Veterans Affairs.
As an active member of the military, you have a number of resources available to you to help pay for your education. Military Tuition Assistance is provided to each branch and can be viewed at: Tuition Assistance
Military Tuition Assistance
You can currently receive up to 100% federal tuition assistance from military service, with the following limits:
18 units at $250/semester – $4,500 annually
24 units at $166.67/quarter – $4,000 annually
The Top-Up Benefit
Top-Up is a program that allows GI Bill participants to use the GI Bill to supplement the tuition and fees not covered by tuition assistance. The amount of benefit can be equal to the difference between the total cost of a college course and the amount of tuition assistance that is paid by the military for the course. Learn more about the Top-Up Benefit.
Eligibility
To be eligible for the Top-Up Benefit, you must:
Be approved for federal tuition assistance by a military department
Be eligible for GI Bill benefits
Be a GI Bill participant, still on active duty
Have served at least two full years
MyCAA
Military Spouse Career Advancement Accounts Program
MyCAA is a workforce development program that provides up to $4,000 of financial assistance to eligible military spouses who are pursuing a license, certification or Associate's degrees (excluding Associate's degrees in General Studies, Liberal Studies and Interdisciplinary Studies that do not have a concentration). To learn more download the flyer or visit the MyCAA website.
A wide variety of certificates and programs are available to choose from in areas such as business, education, Healthcare, technology and skilled trades. Work at your own pace to receive a certificate within 3, 6, 12 or 18 months. To view the complete list of certificates offered, visit our webpage.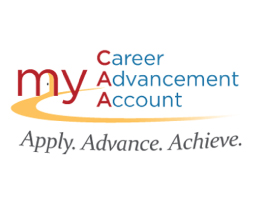 Education Benefits for Veterans
Chapter 30 (Montgomery GI Bill)

The Montgomery GI Bill program provides up to 36 months of education benefits. Generally, benefits are payable for 10 years following your release from active duty.

Chapter 31 (Vocational Rehabilitation)

The VR&E program assists veterans with service-connected disabilities to prepare for, find and keep suitable jobs. VR&E offers services to improve your ability to live as independently as possible.

Chapter 32 (Veterans Educational Assistance Program)

VEAP is available if you elected to make contributions from your military pay to participate in this education benefit program. Your contributions are matched on a $2 for $1 basis by the government.

Chapter 33 (The Post - 9/11 GI Bill)

Post-9/11 GI Bill refers to the Post-9/11 Veterans Educational Assistance Act of 2008 which expands the educational benefits for military veterans. The Act aims to provide funding for 100% of a public four-year undergraduate education to a veteran who has served three or more years on active duty since September 11, 2001.

Chapter 1606 (Montgomery GI Bill - Select Reserves)

The MGIB-SR program may be available to you if you are a member of the Selected Reserve. A monthly allowance is sent to you, which may be used for books, supplies tuition or fees.

Chapter 1607 (Reserve Education Assistance Program)

REAP (Chapter 1607) is a Department of Defense/VA education benefit program designed to provide educational assistance to members of the Reserve components called or ordered to active duty in response to a war or national emergency (contingency operation)* as declared by the President or Congress.

College Fund

The College Fund is divided into monthly payments that are added to regular MGIB payments. You cannot receive your College Fund money without receiving MGIB benefits.

Kicker

The GI Bill Kicker, also known as the Army, Navy or Marine Corps College Fund, is an educational benefit that is added to your GI Bill. The kicker can increase your monthly GI Bill payment rate by as much as $950 a month.
---
To learn more about these benefits, visit the Military / Veterans Corner.
GI Bill® is a registered trademark of the U.S. Department of Veterans Affairs (VA).