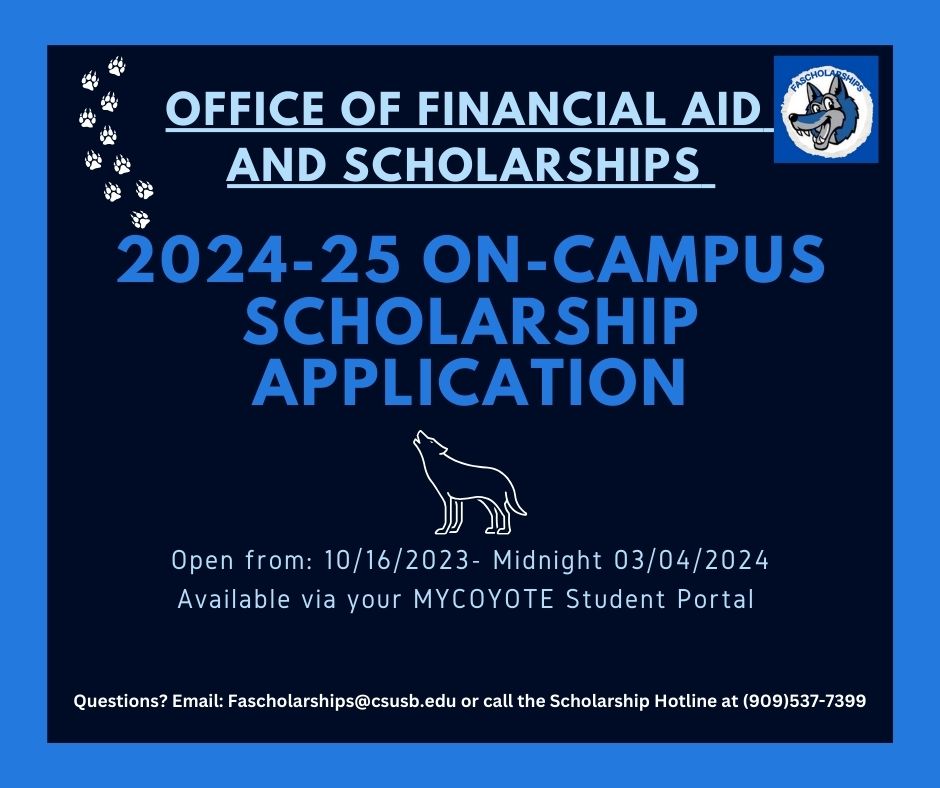 The Online Scholarship application is available beginning October 16, 2023, to current CSUSB students and incoming CSUSB 'applicants' with a valid Coyote ID. The general online application (accessible via MyCoyote student portal) must be submitted electronically by the deadline of Midnight March 4, 2024. In addition to the online application a minimum of ONE (1) Letter of Recommendation is required to be submitted electronically by March 11, 2024.
Please Note - we are unable to accept physical/paper Letters of Recommendation.
Students who complete the application process will automatically be considered for all scholarships for which they are eligible.
Awarding and Notification Process
Scholarships are typically awarded prior to the start of the Fall semester for the upcoming academic year. During that time, scholarship award notifications will be sent to student Coyote Email Addresses. The award will also be posted to MyCoyote student financial portals. Consideration for additional On-Campus Scholarship awards may continue throughout the academic year.
Requirements
A complete On-Campus Scholarship application will consist of the following:
The CSUSB online scholarship application submitted by Midnight March 4, 2024
Minimum of One (1) online letter of recommendation submitted by March 11, 2024
For further information, please contact the Office of Financial Aid and Scholarships dedicated Scholarship hotline at (909) 537-7399 or via email at: FASCHOLARSHIPS@CSUSB.edu