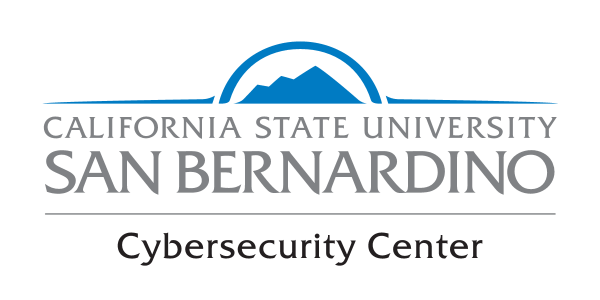 California State University, San Bernardino (CSUSB) is a national leader in cybersecurity education. Due to the excellent curriculum and faculty expertise in cybersecurity, CSUSB has been designated as a Center of Academic Excellence in Information Assurance by the National Security Agency and the Department of Homeland Security since 2008. As a reflection of this excellence, CSUSB was just designated as a Center of Academic Excellence in Cyber Defense/Information Assurance through 2021. We were further recognized for our specialty areas in Cyber Investigations and Network Security Administration.
Learn more about our center activities and accomplishments in our SHOWBOOK.
Business Administration with a Cybersecurity concentration was one of the first cybersecurity tracks in California. We have now expanded to include Criminal Justice, Public Administration, and National Security Studies. The Information and Decisions Sciences (IDS) department within the Jack H. Brown College of Business and Public Administration received cyber security grants from the National Science Foundation, Department of Defense, and other federal and state agencies. These grants allow us to offer full-ride scholarships and help make cybersecurity programs available across disciplines at the undergraduate and graduate levels.
From our award-winning Cyber Defense teams to well-equipped cybersecurity lab, CSUSB will help you receive the education you need to succeed in the field.
Cybersecurity Virtual Career Fair
Hosted by CyberWatch West, NSA, NSF and DHS, cybersecurity students around the country will have a chance to be recruited by employers such as US Airforce, DHS, Navy Federal Credit Union, Global Dimensions LLC, National Institute of Standards and Technology, Naval Supply Systems Command, National Security Agency, IBM, Defense Information Systems Agency, Palo Alto Networks and more.
Taking place September 27, 2019, 9AM-2PM PT. Registration is free. 

October is Cybersecurity Awareness Month
Attend our Free Open House, Friday, October 18, 2019 in Jack H. Brown Hall 102, 6PM-8PM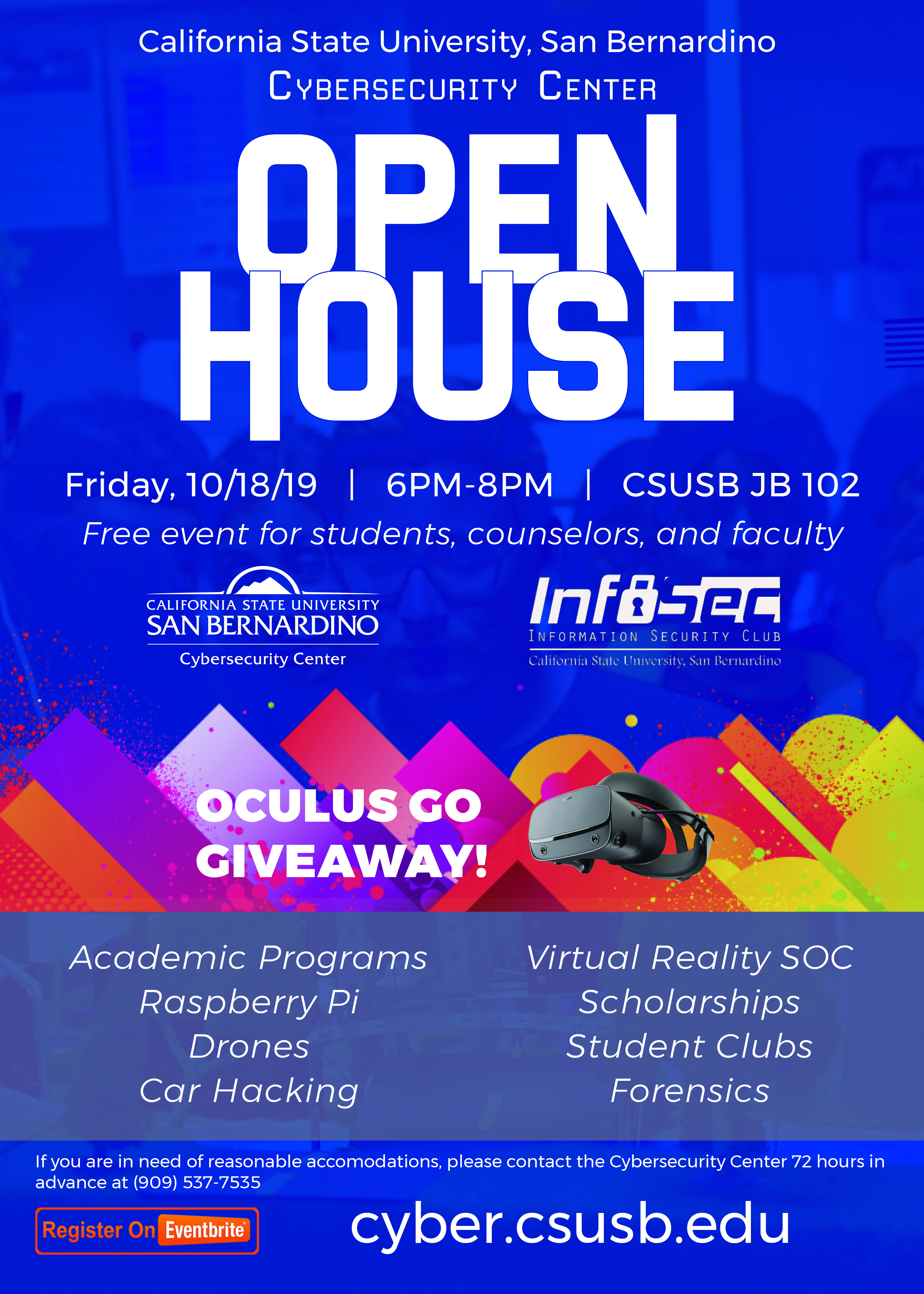 Register on Eventbrite. Free event for students counselors, faculty and community members.
Learn about academic programs, advising, scholarships, careers, research projects and student clubs. 
If you are in need of reasonable accommodations, please contact us 72 hours in advance at (909) 537-7535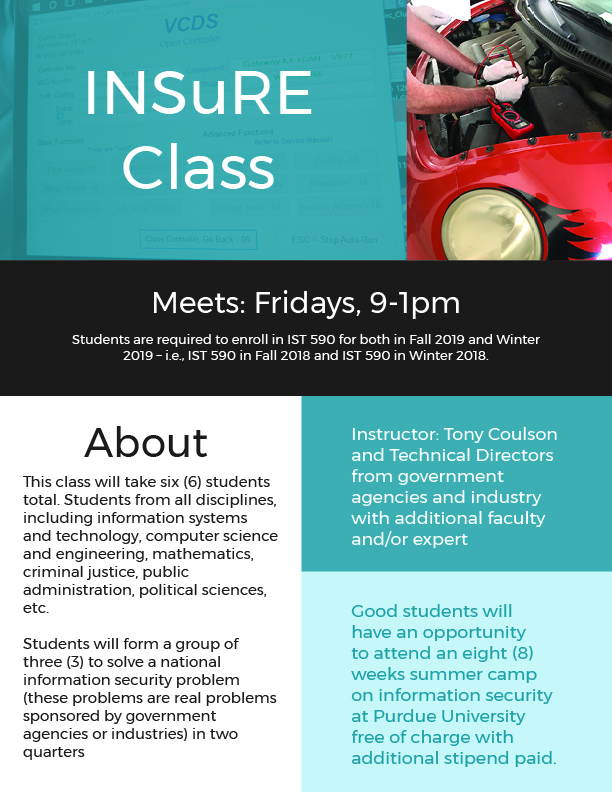 This past year, a team of six CSUSB students worked with Argonne National Laboratory to research the threat connected vehicles pose to society. The course was 15 weeks long including hands-on actives like diving under the hood of a Volkswagen Beetle as well as researching, special guest speakers, and formal presentations to technical directors.    
 
Out of the team of students, two of them were selected for a fully paid 10-week summer internship at Argonne National Laboratory to continue their research. The class narrowed its scope by going from theoretical to practical applications. The students took a look under the hood of a 2008 Hyundai Sonata, understanding the electrical and computerized components, to create a test bench of the same network protocol that will be used for wireless vehicle communications. This has allowed students to test and learn about the network as well as explore areas of vulnerability.
The Insure class IST 590, 4 units and meets Fridays, 9am-1pm for the Fall 2019 Quarter.
Students that take the course will be eligible to potentially attend a paid eight-week summer research program at Purdue University.
 
Click here to fill out our interest form 
Tony Coulson
By appointment, robinr@csusb.edu
Jack H. Brown Hall Room 282
 Vincent Nestler
N/A
Jack H. Brown Hall Room 513