Upcoming Events
The Cybersecurity Center hosts events, meetings, and workshops year-round to promote cybersecurity awareness, careers, and education. Our events are open to current CSUSB students, and many to the public as well. To inquire about an upcoming event, please contact cyber@csusb.edu. 
SFS Application Information Sessions
Our application period for the 2021-2022 academic year is open! Get your application packets in by May 1, 2021. Visit the CyberCorps®: Scholarship for Service (SFS) page for more information. 
CSUSB SFS Information Session Flyer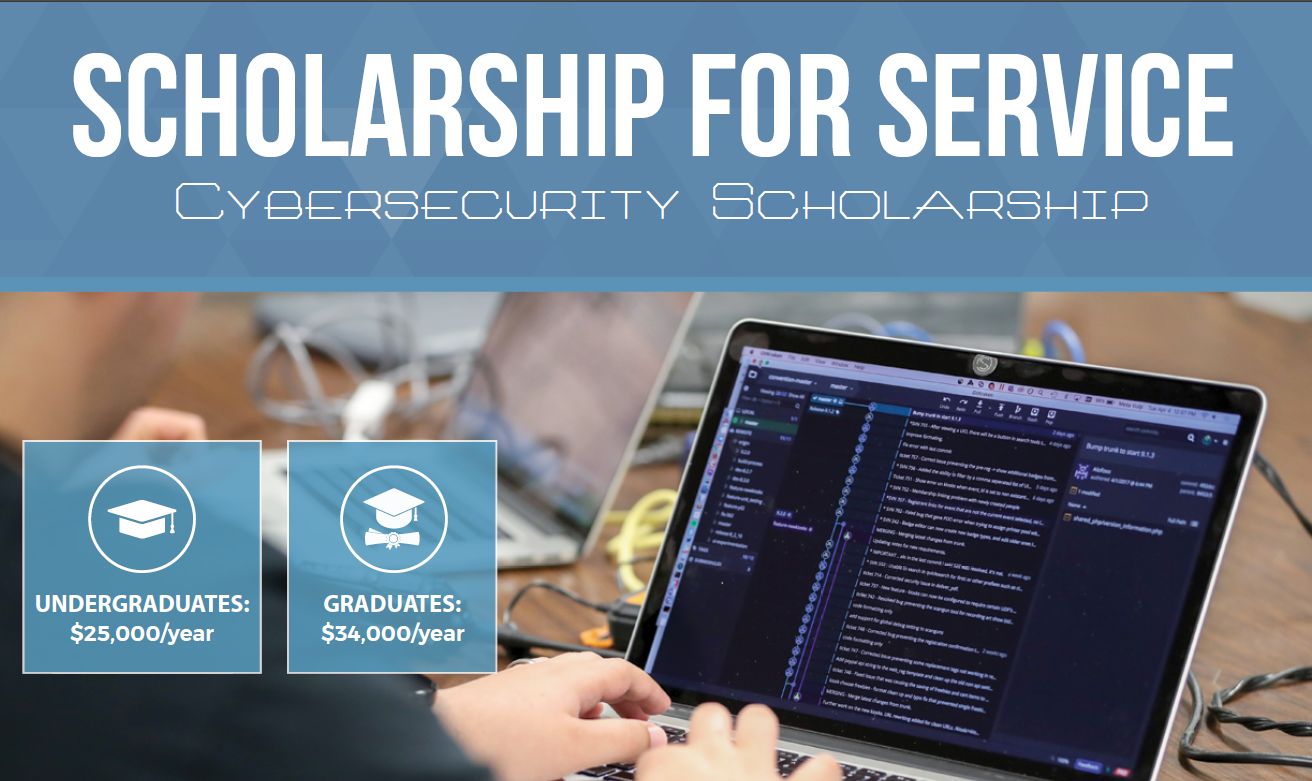 2020-2021 Events
CISO Tech Fair
This Friday, October 30th at 4pm. Get more information from the cyber club's website ciso-csusb.org.
Registration is closed.
Open House
This year, the Cybersecurity Center held our premier annual event virtually, on Friday, October 23rd, from 6:00 to 8:30 pm PST. We invited students, their families, faculty and counselors from all over the community to explore the exciting opportunities available in cyber education, scholarships, and career readiness development at CSUSB.
This year's event highlighted the Center and cyber club's accomplishments, vision, and virtual techniques utilized during the challenging quarantine season. Record achievements in outreach were unveiled by the Cyber Intelligence and Security Organization, as they closed the evening with project demonstrations of Ethical Hacking, CCDC, The Purple Team Experience, Web Applications, Red Hat, Incident Response and Network Engineering.
"The Cybersecurity Center open house is an excellent opportunity for anyone considering a career in cybersecurity to hear real life experiences on jobs, internships and the cybersecurity initiative here at Cal State San Bernardino," said Tony Coulson, a professor in the university's Information and Decision Sciences program and executive director of the CSUSB Cybersecurity Center.
This year's event featured special guest speaker Norma M. Krayem, a recognized expert in the field of cybersecurity and data privacy, who serves as vice president at Van Scoyoc Associates, based in Washington, D.C., and as chair of VSA's Cybersecurity, Privacy & Digital Innovation Practice Group. View her bio here.
Click here for the video recording of the event. (coming soon)
COVID-19 Disclosure
The health and safety of our students, faculty, staff, and participants in our upcoming events is our top priority. In awareness of the Coronavirus (COVID-19) pandemic, please be mindful that our events are subject to change (i.e. date changes, time changes, cancellations, etc). We sincerely apologize for any inconvenience that this may occur. If you have questions or need updated event information, please contact cyber@csusb.edu. 
There are no scheduled upcoming events at this time.