Upcoming Events
The Cybersecurity Center hosts events, meetings, and workshops year-round to promote cybersecurity awareness, careers, and education. Our events are open to all current CSUSB students, and many to the public as well. Reference our outreach and club events in the Highlights of the Semester section of the cyber club calendar. To inquire about an upcoming event, please contact cyber@csusb.edu. 
Cybersecurity Apprenticeship Information Session #3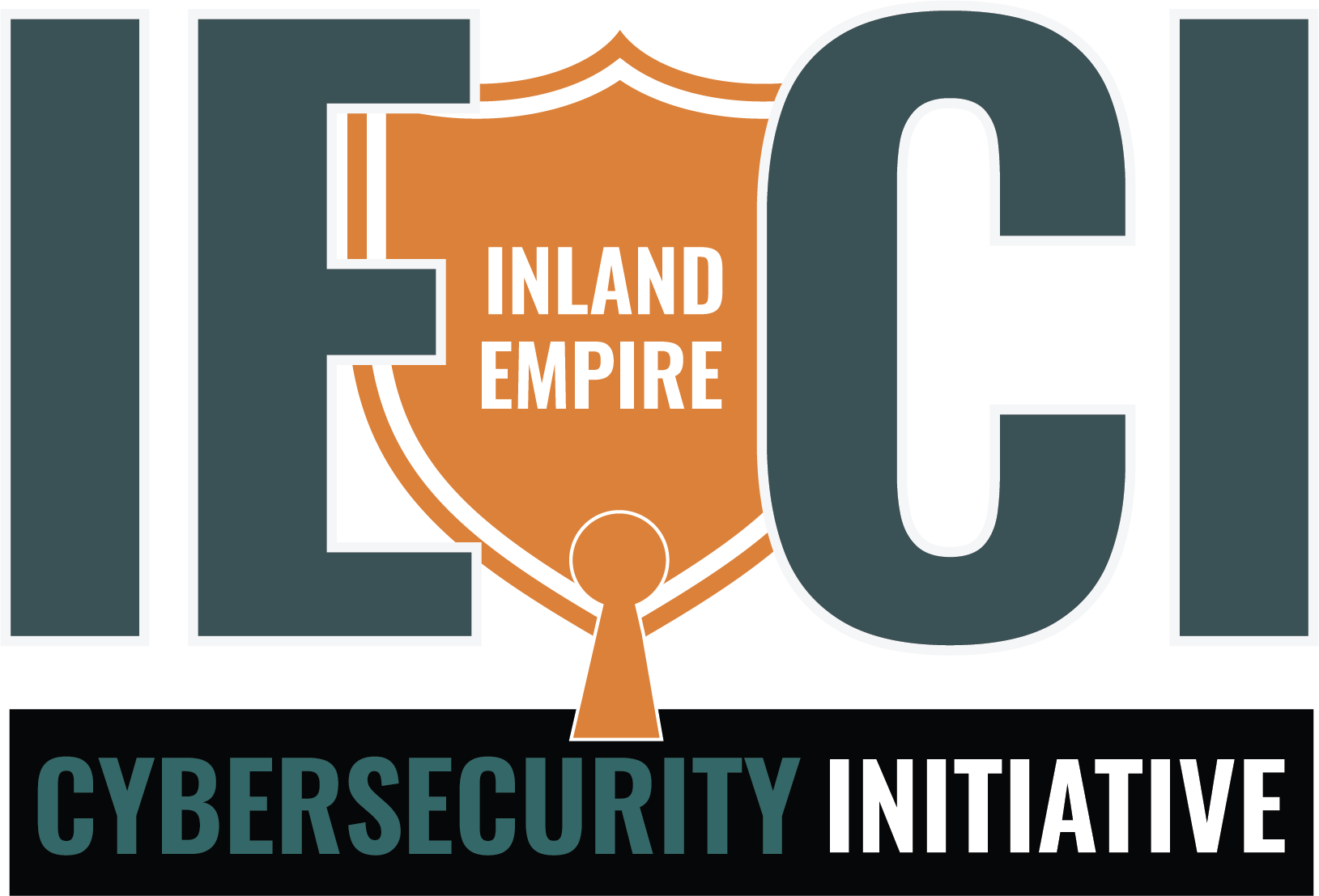 January 23, 2022 at 1pm.
Come gain valuable information on CSUSB's cyber apprenticeship opportunities. Learn how you can prepare for university apprenticeship while attending community college!
CSUSB is now supporting paid cybersecurity apprenticeships. A collaboration between K-12 schools, community colleges, and industry partners has made it possible for students to earn money securing a cyber career while still earning their degree! The CSUSB Cybersecurity Apprenticeship information session will discuss how to take advantage of tuition assistance, credit for work, and the many benefits of cyber apprenticeship available in the Inland Empire.
Application period is now open. First step is to complete the interest form. Then attend the information session on Jan 23rd at 1pm: Zoom Registration Link.
For more information, visit ie-cyber.org.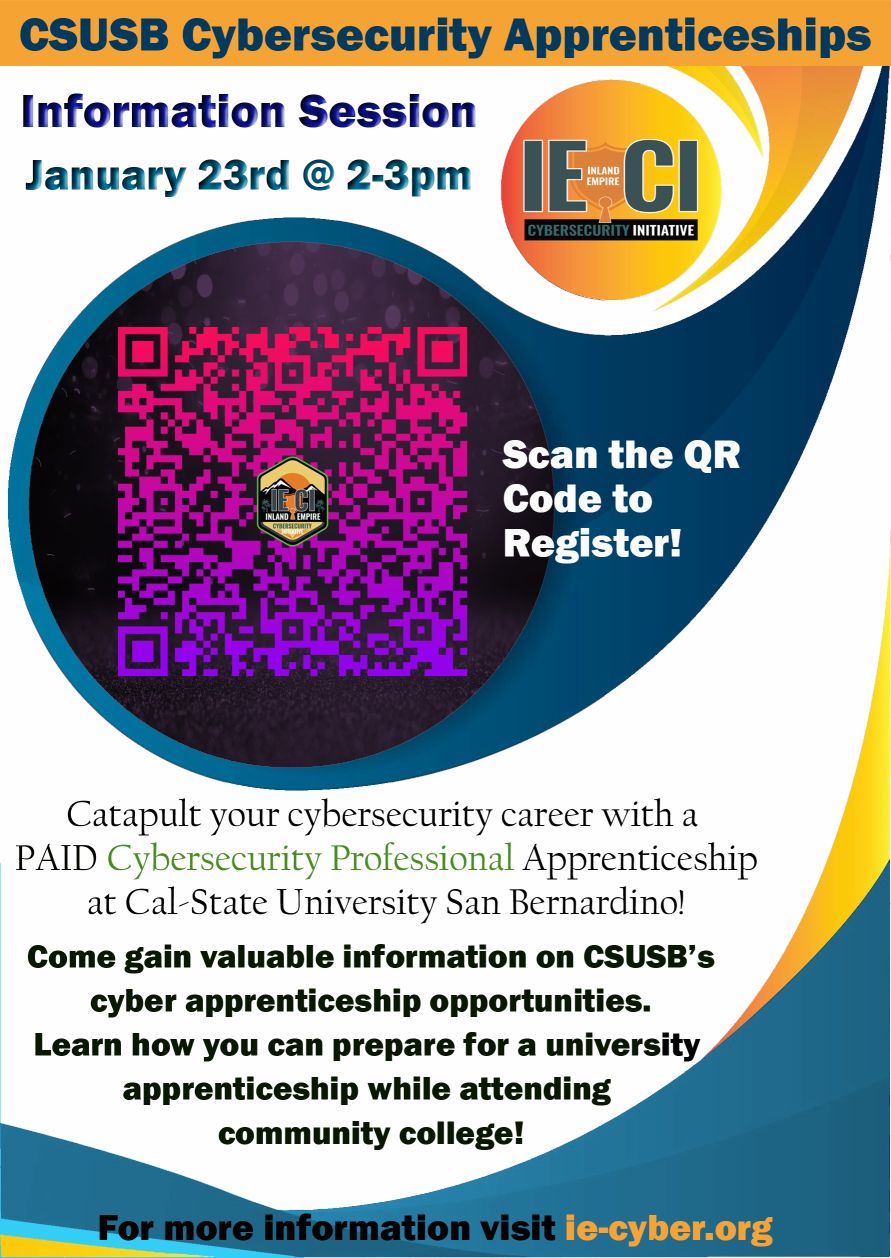 Department of Defense Cybersecurity Scholarship Information Session
The Cybersecurity Center is now interviewing candidates for the prestigious Department of Defense Cybersecurity Scholarship Program (DoD CySP). Applicants for 2023-2024 can now apply for either the 1 or 2 year scholarship, with a post-graduate obligation for the same number of years toward federal service! So, kick-start your cybersecurity career with the scholarship that can prepare you with confidence:
First step for applying is to fill out the scholarship interest form. Then, start the application online at the DoD website, and attend the scholarship info session Tuesday, December 13, 2022 at 1:00 PST
Click here for the Zoom session registration.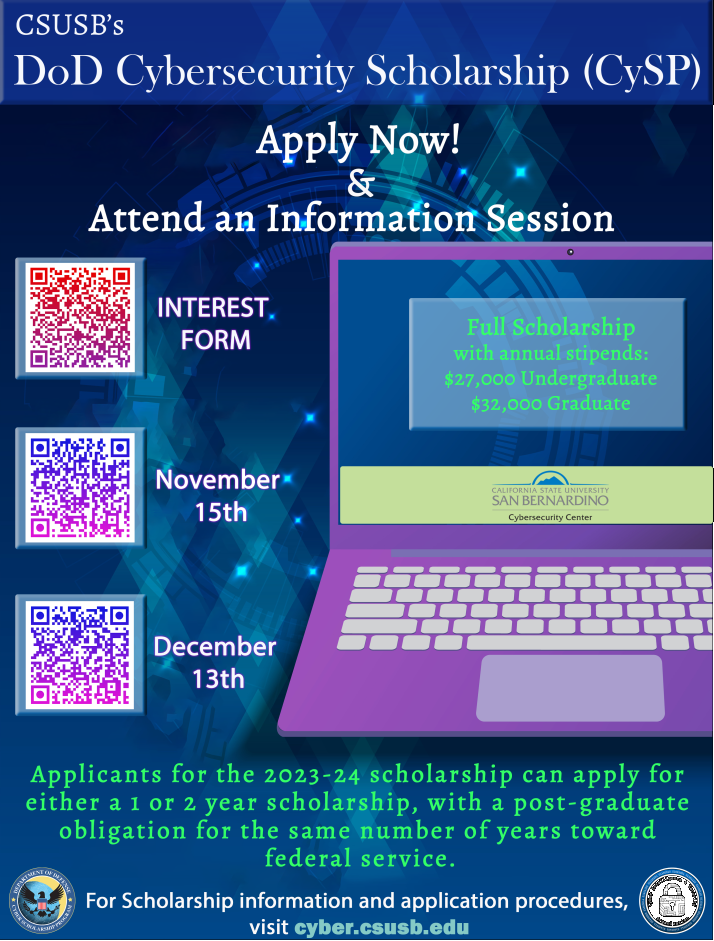 COVID-19 Disclosure
The health and safety of our students, faculty, staff, and participants in our upcoming events is our top priority. In awareness of the Coronavirus (COVID-19) pandemic, please be mindful that our events are subject to change (i.e. date changes, time changes, cancellations, etc). We sincerely apologize for any inconvenience that this may occur. If you have questions or need updated event information, please contact cyber@csusb.edu. 
There are no scheduled upcoming events at this time.