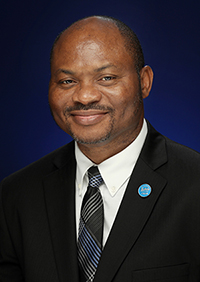 Dean's Message (updated 09/08/2020)
Dear College of Education community and our cherished community partners, you all know we are living in a challenging time, and a lot has changed this year about how we live our lives.  The College of Education, CSUSB, and the entire CSU system continues to be creative in our efforts to continue to serve our students and engage with our community partners.  First, let me make clear that the entire California State University system has continued to take all the necessary steps to mitigate the disruptions caused by COVID-19 while ensuring the health and safety of our students, faculty, staff, and communities.
As a college, all our classes have continued online, and our exceptional faculty members and their staff support have worked hard to prepare themselves to deliver instruction to our students by synchronous and asynchronous online models. Our goal is to continue to deliver quality instruction with compassion and efficiency. Our Instructional Technology (IT) team has worked hard to provide our students with needed technology tools to enable them to continue to learn without interruption. All students, staff, and faculty are working with precision and effectiveness.
As the K-12 districts are managing the delivery of instruction online, it poses challenges for our candidates who enter the K-12 settings for field work and clinical practice.  Some school districts are struggling to accommodate our teacher candidates in this online platform, and we are working closely with them to make that accommodation less stressful.  We continue to work closely with the California Commission on Teacher Credentialing (CTC) to ensure that our education candidates complete their programs and enter the job market on schedule. 
For those prospective candidates who were planning to enter our credentialing and master's degree programs in the spring, please know that we have continued to admit students into our programs.  Be assured that all CSU campuses are prepared to be as flexible as possible when working with spring 2020 applicants on meeting admission requirements and selection. This flexibility will vary by program application, based on the impact COVID-19 has on the application requirements. We continue to make necessary accommodations to ensure that applicants access the programs they are interested in entering. 
As our campus continues to operate remotely, we continue to process admission applications and continue to communicate with current students and program applicants. We would encourage all students and applicants to continue to check their emails and campus portals regularly. The best way to reach us during this season of working remotely is by use of emails.  However, when you call on the phone, the phone calls get directed to our emails and personal phone lines.  We want to stay in touch with you, so don't hesitate to call or email. We love to hear from you.
Be safe, wear face covering, keep the social distance, respect the Governor's mandate to stay home, and I look forward to seeing our students, faculty, staff and community partners when this dust settles.
God's blessings to you all.
Chinaka S. DomNwachukwu, Ph.D.
Dean, College of Education
(909) 537-5645
CE - 221J
Chinaka.domnwachukwu@csusb.edu