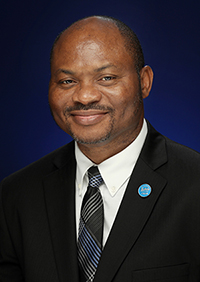 Dean's Message (updated 07/20/2021)
Welcome to California's reopening. Since March 2020, the world has suffered under the weight of a global pandemic that locked down government offices, service organizations, schools, and businesses. The effects of the pandemic on everyone, including Californians, have been hard and painful.  The academic year 2020/2021 ended up being 100% virtual across all CSUs. Our College of Education at the California State University, San Bernardino, was creative in our efforts to continue to serve our students and engage with our community partners. All our classes were conducted online, education candidates, their master teachers, their university mentors, and their K-12 students effectively navigated the clinical experience in an online platform. Despite the fact that CBEST, CSET, and RICA exam centers were closed, we still admitted, matriculated, and graduated many teacher candidates who are now ready to go into the K-12 classrooms in the region. 
This past year has exposed the dedication and ingenuity of our world class faculty and staff, as well as the grit and tenacity of our students and credential candidates. They all adjusted to this new normal, continued to engage, and remained focused on our goal of impacting the Southern California communities and our state at large through graduates from a diverse background ethnically, linguistically, and socio-economically, who would serve our communities with passion, compassion, and excellence. 
Despite the pandemic, we were able to graduate 563 degree and credential candidates in the 2020/2021 academic year.  Quite an accomplishment, given the impact of the pandemic on many students and their families.
In addition to these accomplishments, our college launched a major teacher pipeline initiative called Project Impact, in the midst of the pandemic. Project Impact is a community outreach program of the College of Education at California State University in San Bernardino, aimed at increasing the teacher pipeline in California, while at the same time working to help close academic achievement gaps in the K-12 settings through intentional recruitment, training, and deployment of minority male teachers (African American and Hispanic males) into the California classrooms. The establishment of this program in the spring of 2020 launched with 10 male teacher candidates, 8 of whom are finishing their program this fall.  We are looking at another cohort of 15 students starting this fall, and another 15 in the spring of 2022. This minority male teacher pipeline has become a regional initiative as more educational organizations have come together to join forces with us to make this happen. Among or partners is the Riverside County Office of Education, the San Bernardino County Superintendent of Schools, the Growing Inland Achievement (GIA) organization, the Blu Educational Foundation, and some local School Districts. Please learn more about Project impact program at https://www.csusb.edu/project-impact
Good News! Starting July, 2021, our administrative team and staff began to return to in-person operation.  By August 17, 2021, all faculty and students will return to in-person instruction. We are looking forward to employing the lessons we have learned from the pandemic to enhance our program quality and to better serve our students and the larger community.
Once again, thanks to all our donors and community partners who have stuck with us through this challenging time, we look forward to greater work together.
Chinaka S. DomNwachukwu, Ph.D.
Dean, College of Education
(909) 537-5645
CE - 221J
Chinaka.domnwachukwu@csusb.edu