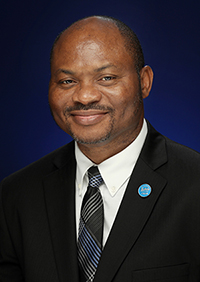 Dean's Message (updated 08/31/2022)
Dear friends,
Welcome to the 2022/2023 academic year at The James R. Watson & Judy Rodriguez Watson College of Education.  The College of Education ended the 2021/2022 academic on several high notes which set the stage for the exciting academic year ahead of us.  In spring 2022, the CSU Board of Trustees approved the naming of our college as the James R. Watson & Judy Rodriguez Watson College of Education. This naming is the result of a generous gift of $8.4 Million from the Watsons. Jim and Judy Watson have been strong advocates for education and early literacy for many years.  Previously they made a generous donation to establish the Watson & Associates Literacy Center, housed in the College of Education which serves K-6 students in the area of reading support and development.
This generous gift will fund various programs targeting the college's priorities among which are:
 Science Technology, Engineering, and Math (STEM) Exploratorium Lab creation.
Enhancement of our efforts to recruit, prepare, and deploy African American and Hispanic males into the teaching workforce through Project Impact; and,
Establishing the first-ever endowed chairs in our college and on the CSUSB campus.
In November 2021, we held our inaugural Educational Leadership Summit. The first event of its kind on our campus featured prominent speakers, including California Superintendent of Schools Tony Thurmond as the keynote speaker. Many other local educational leaders spoke and participated. This summit was a gathering of key educational leaders in the Inland Empire region and beyond, and it set the stage for continued engagement with regional educational entities. The summit for this academic year is scheduled for November 2, 2022, at our university's newly completed Santos Manuel Student Center.  Additional information on this conference is available on the Educational Leadership Summit website.
Our Project Impact (Minority Male Teacher Pipeline) program, which launched in 2019, saw a major boost last academic year. Our first cohort of teachers graduated, and many are employed in area school districts. We intensified our recruitment efforts and will be adding 30 more participants this academic year. Our partnership for this great work has expanded to include the Growing Inland Achievement (a non-profit), the BLU Educational Foundation (a non-profit), the San Bernardino County Superintendent of Schools, the Riverside County Office of Education, and Schools First Federal Credit Union.  
Our inaugural doctoral alumni homecoming, held in October 2021, was well attended.  One of our star alumni, Dr. Cherina Betters, Chief of Equity and Access at the San Bernardino County Superintendent of Schools, was the keynote speaker.  In October 2022, we will reconvene this group and will also invite to campus all our credential programs alumni for the first ever homecoming event for credential completers. We are estimating 1000 credential completers to be on campus for this special event.
As we enter this new and exciting academic year, I want to welcome all our new students in our credential and graduate programs. Our credential programs have seen an enrollment increase of more than 23% for this fall semester.  For fall 2022, our Doctorate in Educational Leadership program admitted 20 new doctoral candidates, and our master's degree programs have seen 11% or more increase in enrollment. 
Since 1965, the COE has graduated and credentialed more than 30,000 teachers, counselors, school psychologists, and school site administrators who have served and continued to serve this region in various capacities. 
Last academic year we credentialed 459 teachers, counselors, school psychologists, and school site administrators, and graduated more than 221 master's degrees and doctoral students.
Our mission as a college is to be the premier provider of teachers, counselors, and educational leaders in the Inland Empire region.  We are committed to this mission and are poised to continue to meet the challenge of our time by producing educators who are knowledgeable, skilled, and unabashedly committed to justice, equity, and inclusivity.
Thank you to all our friends, donors, and supporters to keep us focused on the goal of making a difference in our world.  Thank you for your gifts, suggestions, and encouragement.
God bless you all.
Chinaka S. DomNwachukwu, Ph.D.
Dean, College of Education
(909) 537-5645
CE - 221J
Chinaka.domnwachukwu@csusb.edu