Due to the ongoing COVID-19 social distancing regulations set forth by CSUSB, we have made the decision to host the CSET II Institute online via zoom.
The CSUSB Inland Counties Math Project, a branch of the California Mathematics Project, will conduct an online institute in Geometry, Probability & Statistics to review the mathematics content covered on the CSET subtest II. The registration fee is $100, which covers the workshop and book (book will be shipped).
Registration and Payment Deadline: April 1, 2020
CSET II Flyer (Spring 2020)CSET II Spring 2020 RegistrationPayment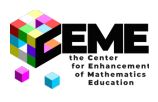 CSET II: Geometry, Probability, & Statistics
(Spring 2020)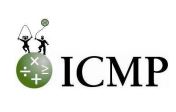 When: April 14 - May 14, 2020
Institute will meet online on the following days:

| Day | Date |
| --- | --- |
| Tuesday | April 14 |
| Thursday | April 16 |
| Tuesday | April 21 |
| Thursday | April 23 |
| Tuesday | April 28 |
| Thursday | April 30 |
| Tuesday | May 5 |
| Thursday | May 7 |
| Tuesday | May 12 |
| Thursday | May 14 |
Where: Online via Zoom
Event Details
When:
Tuesdays & Thursdays
April 14 - May 14, 2020
Time:
4:30pm-8:30pm
Where:

Online via Zoom


Must have access to a computer and internet. Access to a webcam is strongly suggested. 

Cost:
$100
Available Credits for Purchase:
4 math quarter units from the College of Extended Global Education for a additional fee.
Instructor:

Dr. Giovanna Llosent
Department of Mathematics,
California State University San Bernardino
Payment Methods
Cash Net

Once registered go to the payment link above under the registration and payment deadline
Select WORKSHOP: CSET II

PO/District Support Letter

If your fees will be paid by your district, have them fax, email, or mail us a completed District Support Letter. Our fax number and mailing address are located on our contact page and flyer. (Found on page 2 of the flyer)
CSET Refund Policy - Terms & Conditions
Dates are subject to change due to unforeseen emergencies or campus shutdowns.
In the event that a participant decides to withdraw from the CSET program, the following refund policy will be implemented:
Once your book has been shipped no book refund will be provided.
If you fail to attend a minimum of 70% of all institute meetings and fail to withdraw by the third class, you will be required to pay the $100 registration fee to cover instructor time and materials arranged for you.