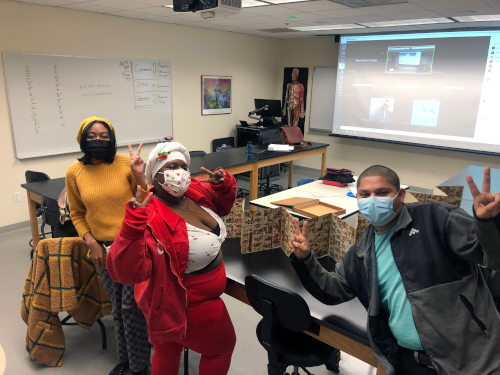 Students from ANTH 3201: The Archaeology of the Senses
Nestled against the foothills of the San Gabriel Mountains, California State University San Bernardino is an excellent choice for students to get a well-rounded and world-class education close to home, for minimal cost, and in a supportive environment.  The campus services students primarily from the surrounding Inland Empire community (Riverside County and San Bernardino County). A large percentage of CSUSB students are first-generation college students, and the campus is a designated Hispanic Serving Institution (HSI). The campus is easily accessible via public transportation, offers on-campus residential plans, and has ample parking available for daily commuters.
When looking to study the field of Anthropology, CSUSB is an excellent choice for an in-depth and broad-ranging education in the three primary fields– biological anthropology, sociocultural anthropology, and archaeology.
Highlights of the CSUSB Department of Anthropology include: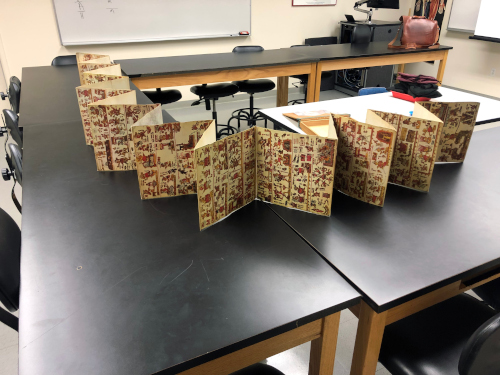 Check out a facsimile Mixtec Codex
Methodological training available in osteology, historical archaeology, experimental archaeology, laboratory analysis, ethnographic methods, and exhibition development and design
Three working laboratories, multiple study collections, and access to advanced analytical instruments and equipment
Diverse faculty regional foci, including the California coast, the American Southwest, Central America (especially Mexico), South America (especially Ecuador), Africa (especially Mozambique, Malawi and Kenya), and Asia (especially the Phillipines)
Small upper-division courses, including a cohort-building anthropological theory course (recommended for the junior year) and senior seminar (recommended for the senior year)
A thriving anthropology student group, ALPACA, with its own dedicated computer lab and social space
An Anthropology Museum located within the College of Social and Behavioral Sciences, offering opportunities for hands-on experiences in curation, collections management, administration, and exhibition development and design
Annual fieldwork, field school, and general scholarships specifically for students in the Anthropology Department
A department vehicle for faculty-led fieldtrips and excursions