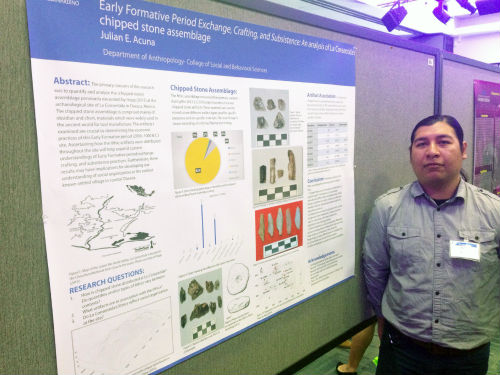 "Graduate student Julian Acuña presents the results of his MA thesis analysis of obsidian from Oaxaca, Mexico at the 2018 Meeting of the Minds event, CSUSB"
Advancement to Candidacy
In order to be formally advanced to candidacy, a student must have:
Achieved classified status;
Satisfied the Writing Requirement for Graduate Candidacy;
Secured a graduate advisor to supervise the course of study;
Secured a thesis committee to supervise the thesis project;

Completed, with the approval of the advisor, at least 9 semester units of graduate course work at this university and achieved a minimum grade point average of 3.0 ("B") in those courses;

Filed a graduate program plan approved by the student's advisor and the coordinator of the program;
Filed a thesis proposal approved by all members of the student's thesis committee.
Requirements for Graduation
A minimum of 30 semester units of acceptable graduate-level work, with at least 21 semester units completed in residence at California State University, San Bernardino. Twenty-three semester units must be in 5000- and 6000-level courses;
A minimum grade point average of at least 3.0 ("B") in all courses;
Successful completion of a thesis or project (ANTH 6970)
The Graduate Writing Assessment Requirement is met though the MA thesis proposal submitted during the first year of work for the degree.
Thesis/Project: Under normal circumstances, a student must complete a thesis that is approved by his or her thesis committee. The thesis must reflect original work and show a level of competence appropriate for a master's degree. The thesis committee shall consist of two or three faculty members, including the student's advisor, mutually agreed upon by the student and faculty. By mutual agreement between the student and advisor, the third committee member may be recruited from archaeologists in the southern California CRM community holding PhDs from accredited institutions. The student should enroll in ANTH 6990 (Continuous Enrollment) in the quarter when completion of the thesis is anticipated. On occasion a student may be allowed to substitute a completed project for the thesis. Such a project must have a completed product and would reflect at least the same amount of work as a thesis and be completed to the same standard. The content and appropriateness of the project will be determined by a project committee constituted in the same way as a thesis committee.
View CSUSB's Catalog for degree requirements and list of core and elective graduate classes.