Public Administration Program
Public administration is the field of public service and prepares students for employment in government and not for profit organizations. Students entering the field are committed to serving the public interest. Our mission is to offer a high quality education in public administration founded in democratic governance. Our faculty combine practical experience with high academic credentials, and our staff is dedicated to supporting student success.
Why Choose CSUSB MPA Program?
The MPA at CSUSB is offered through both on campus and online classes. All classes are offered each year in both formats so students can choose the method that fits their life and learning style.The Comprehensive Exam must be taken on the San Bernardino campus.
Convenience and flexibility: Online courses give students the opportunity to plan study time around the rest of their day, instead of the other way around. Students can study and work at their convenience. Course material is always accessible online, making special library trips unnecessary. All of these benefits help students balance work and family commitments with their education.
Fully Accredited Traditional & Online Program
Flexible Schedule and environment
Taking an online course also means that you don't have to commute to class, which means less time spent on the bus and more study time sitting on your couch, the sound of a crackling fireplace in the background. You no longer have to worry about driving in the snowstorm and missing an important class!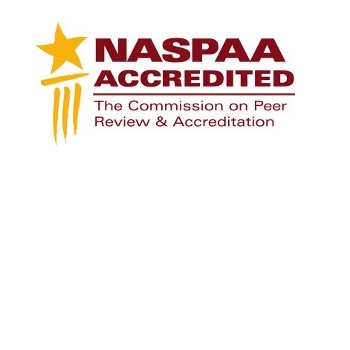 The MPA Program at CSUSB is proud to be nationally accredited by NASPAA, the Network of Schools of Public Affairs, Policy and Administration.
NASPAA's accreditation process, driven by public service values, is mission- and outcomes-based, and grounded in an in-depth self-evaluation of programs using the NASPAA Accreditation Standards – the quality benchmark of graduate public service programs around the world.