A Brief History of the Educational Opportunity Program (EOP) at
California State University, San Bernardino
The Educational Opportunity Program emerged from the Civil Rights movement in the late 1960's as a response to the call for access and equity in higher education. As a result of this hard fought, student led campaign, there is now an EOP Program at all 23 CSU campuses.

Before the official formation of EOP, there were many students and community members across California demanding the recruitment of and access for minority students in higher education. Their request also included diversity among faculty and staff and for the academic curriculum to reflect the historical perspective of diverse populations.

The California State College system's board of trustees selected a 430-acre site in north San Bernardino in 1963 to build the campus, and the college's official name at the time was California State College, San Bernardino.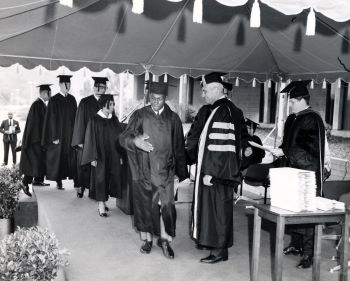 First CSUSB Graduating Class
1960's
October 1965: California State College, San Bernardino, a three-building campus, welcomed its first 293 students

June 1967: California State College, San Bernardino celebrated its first graduating class of 59 students.

September 1968: The California State College System began "Experimental," programs at a few CSU campuses. Participating campuses at the time were Long Beach, Los Angeles, Northridge, San Diego, San Jose, San Francisco and Cal State San Bernardino. The CSU initiated the start of these pilot programs to assess their success in serving underrepresented students. Shortly thereafter a bill was introduced for consideration for programs to be established across the state. 
 
Lawrence (Larry) Johnson was appointed Director of the "Experimental Admissions Program," which later become the Educational Opportunity Program. He and his small staff moved into the first office dedicated to EOP in one of three trailers behind old Library Building.
 
April 1969: Educational Opportunity Programs (EOP), are officially established in the California State College system by California Senate Bill 1072 (Harmer Bill). 

September 1969: EOP held an inaugural 9-day orientation program for 40 minority students attending California State College, San Bernardino. 
1970's
April 1970: Three EOP bills were introduced and passed in the State Assembly providing statewide EOP operational funding.

May 1970: President Pfau calls a meeting with administrators and faculty to discuss demands by African American students to increase campus minority representation and opportunities.

June 1970: George A. Meneses is named Assistant Director of the Educational Opportunity Program.

August 1970: EOP at California State College, San Bernardino coordinates and welcomes 105 new EOP students for orientation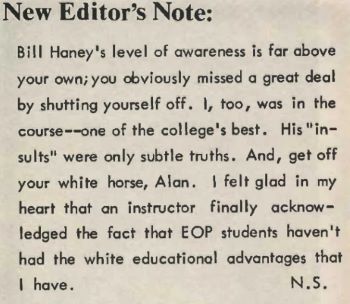 March 1971: California State College statewide system student body adopts a resolution opposing Governor Reagan's proposed cuts in the EOP budget. President Pfau announces that all EOP positions have been deleted.  The California State College Student Presidents Association condemned the discrimination inherent in the governor's proposed budget. EOP continues.

April 1971: George A. Meneses, Assistant Director of EOP is named Assistant Dean of Students replacing Robert F. Gentry.
 
May 1971: California State College, San Bernardino receives a $12,500 grant from the California Coordinating Council for Higher Education, and a $3,920 grant from IBM to support EOP.  The campus newspaper, new editor, responds to a letter about the services for EOP students:

June 1971:  CSUSB receives a $2,000 grant from the IBM Corporation to help fund EOP.  EOP moves into the old Library Building renamed Student Services Building after the completion of the new Library.

September 1971: George A. Meneses resigns as Assistant Dean of Students.

October 1971: The Black Student Union accuses the campus of not being supportive of Director of EOP program.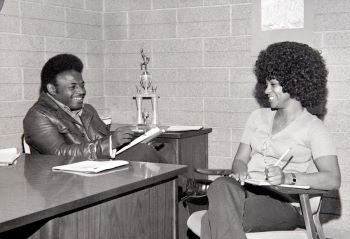 EOP Director Larry Johnson
Spring of 1972: EOP Director, Larry Johnson, and two Black faculty members quit via a letter to President John M. Pfau charging an inadequate Affirmative Action Program for Black faculty and administrators.
Summer 1972: The Dean of Students of California State College, San Bernardino, Dr. Kenton Monroe, recruited Dr. Tom M. Rivera to become the director of EOP. After much discussion, Dr. Rivera accepted the position when the College changed the title to Associate Dean of Educational Opportunity Program and when both President John Pfau and Dean Monroe committed to mainstreaming EOP as an integral part of the Student Services Division. It was also agreed at the time, that the EOP program would be moved and housed in the division's building, rather than in the trailers. Dr. Tom M. Rivera named Associate Dean of Students for EOP.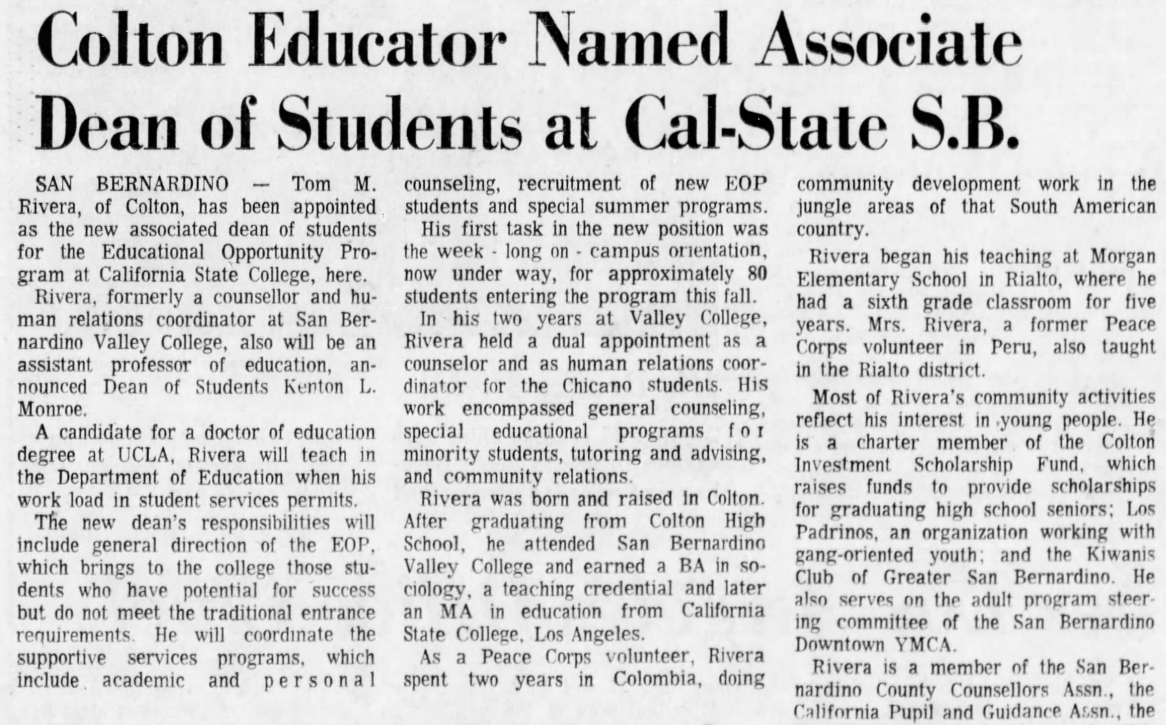 Dr. Tom Rivera had direct supervision over Educational Support Services, which included EOP for approximately 25 years and he and his team contributed a great deal in the growth for the student services division. They were instrumental in developing and expanding, outreach, retention and academic advising services for the unit. The Educational Support Services Office was eventually renamed to the Office of Undergraduate Studies.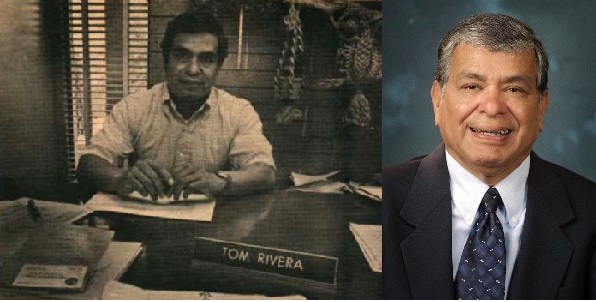 September 1972: State Assemblyman John P. Quimby and S.B. County supervisor, Nancy E. Smith meet with campus administrators and the African American faculty who recently resigned, and members of the local African American community in a attempt to address retention, promotion and tenure of African-American faculty.

Fall of 1972: EOP Coordinates orientation for 78 new EOP students.  Twenty-five of them becoming the first ever occupants of Serrano Village Residence Halls.  Presentations were provided by members of Student Services staff, including Dr. Ernest García, Professor of Education.
February 1973: First black principal for Pasadena City Unified School District and former EOP&S Director at Citrus College, Dr. Jesse D. Moses named special services Director for the Educational Opportunity Program (EOP) at California State College, San Bernardino.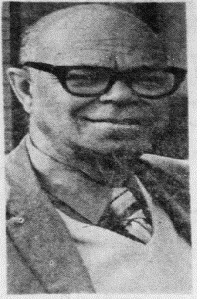 September 1973: Dr. Jesse D. Moses assumes new responsibilities as Placement Officer at California State College, San Bernardino and begins to work closely with Doyle Stansel, Associate Dean of Placement and Financial Aid, in developing new specialized program services that focused on offering career guidance and placement services for California State College, San Bernardino students and alumni. Dr. Jesse D. Moses strengthened CSUSB's efforts with employer groups in business, industry, government and education.

October 1973: Rudolph (Rudy) Johnson hired as new Director of Supportive Services for EOP, replacing Jesse D. Moses.  Johnson reported to Dr. Tom Rivera, Associate Dean of Students of EOP.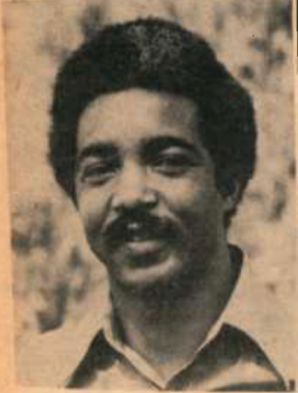 October 1973:  EOP staff submits a proposal to develop the first Upward Bound Program at California State College, San Bernardino. Campus receives a $64,000 grant from the U.S. Office of Education to establish an Upward Bound Program with Gilbert B. Lara named as the first director. This was the first ever federal grant received by the University.

September 1974: Walter S. Hawkins named Director of Upward Bound Program at CSU San Bernardino.

March 1975: CSUSB receives a $1,000 grant from Kaiser Steel's Manufacturing Division to help support the EOP Program.
August 1975: Walter S. Hawkins, Director of Upward Bound, named Director of EOP for Educational Supportive Services Unit. During his leadership and with the support of his team, and the Associate Dean, Dr. Tom Rivera, EOP continued to enhance and develop a very comprehensive list of student support services. These services included the first early warning/intervention system (progress reports) at the university, tutoring support (Learning Center) for students, specifically for math and English courses and expanded to other subject matters, such as a reading course which eventually evolved to University Studies 100 Seminar, regular mandatory academic advising procedures, and other support services which the university began to expand to other students in the late 1980's. After his leadership tenure with EOP, he went on to serve as the Director of Research & Policy for the Department of Undergraduate Studies at CSU San Bernardino until his retirement.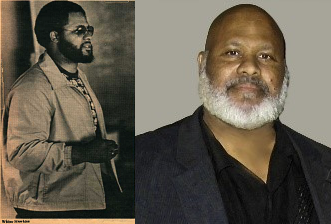 January 1976: Governor Brown's budget increases EOP's budget by 50%.
 
September 1976: Dr. Theron Pace, College Housing Coordinator, hired as EOP Researcher and Placement Counselor. Additional professional counselors/advisors with Student Services Professional classifications were hired to expand services to EOP students. EOP Club (Student Association) begins to be developed and organizes.
 
November 1978: Governor Brown suggests to the California State University College Board of Trustees that California State College, San Bernardino be combined with UC Riverside, due to low enrollment at both campuses.
 
1980's
September 1981: Walter S. Hawkins named Acting Associate Dean of Educational Support Services during a short absence of Dr. Tom M. Rivera.

November 1982: Dr. Anthony H. Evans becomes the 2nd President of Cal State San Bernardino.

January 1983: Dr. Tom Rivera returns and continues to serve as Associate Dean of Educational Support Services.
 
May 1984: The California Postsecondary Education Commission approves the application of California State College, San Bernardino to become a university, and the campus is officially renamed California State University, San Bernardino. New name is unanimously approved by the CSU Board of Trustees.

September 1984: Dr. Jean Peacock named Director of Student Assistance in Learning, SAIL, A Federal SSS Trio Program and the supervisor of the Tutoring Support Learning Center.
 
March 1985: President Evans appoints a 9-person Task Force on Minority Underrepresentation to suggest ways to increase minority faculty and students on campus.
 
June 1985: President Evans sends letter to CSU Chancellor Reynolds expressing his reservations over proposed reforms in Cal State admission standards, which he feels would limit minority student attendance.
 
July 1985: The campus receives funding $95,588 from the CSU Chancellor's Office to develop a summer transitional experience for incoming EOP students. Initially called the EOP's Summer Transition and Enrichment Program (STEP) at CSU San Bernardino now called Summer Bridge. EOP Summer Bridge programs were developed at San Bernardino and all CSU campuses.
 
September 1985: The first Academic Advising Center was created on first floor of Pfau Library to assist freshman and transfers with undeclared advising and basic skills placement. Prior to 1986, student academic advising was primarily done by individual faculty and the Educational Opportunity Program. The Student Assistance in Learning program (SAIL) also began to advise students on academic matters when established in the early 1980's.

October 1985: The Black Voice newspaper alleges that CSUSB has made insufficient efforts to recruit minority administrators, faculty, and students; President Evans responds with a letter to editor.

February 1986: Dr. Tom M. Rivera, Associate Dean of Educational Support Services, named Hispanic "Educator of the Year" by Caminos magazine in a ceremony held at the Bonaventure Hotel in Los Angeles with Lt. Governor Leo McCarthy presenting the award.
1990's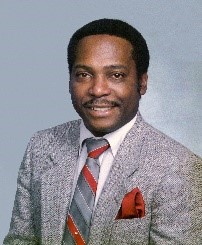 October 1991: Taft T. Newman Jr. a licensed Marriage, Family & Clinical Therapist was named Director of EOP. Prior to being named Director, he served as an EOP Counselor at CSU San Bernardino from 1978-1988 and as a Lead EOP Counselor Coordinator from 1988-1991. During his tenure with EOP he worked diligently in expanding community relations and partnerships, building rapport with CSUSB Faculty and had much success in increasing scholarships for EOP students. Most notably the JoAnne Vance Memorial Scholarship named after a former CSUSB EOP student and founder of the largest female-headed construction company in southern California at the time. Taft was also a founding member of Ecclesia Christian Fellowship Church in San Bernardino, CA. and founder and director of Agape Academy, a tutoring and motivational community program for high school students. For many years prior, he also served as a Deacon Board member for Loveland Church.

May 1992: EOP at CSU San Bernardino holds an inaugural EOP Graduate Celebration Ceremony.

Summer of 1997: Albert K. Karnig becomes third President of CSU San Bernardino

September 1999: EOP Celebrates 30th Anniversary statewide

September 1999: Enedina (Nadine) Chavez is named Interim Director of EOP, replacing late Taft T. Newman. Nadine started at CSU San Bernardino as an EOP Counselor in 1978. During her near 31-year tenure with EOP, she was coordinator of EOP Counseling services, assistant director and director of EOP.  Under her leadership the EOP Alumni chapter was established, EOP services were expanded to offer comprehensive direct support to Foster Youth by establishing the EOP Foster Youth pilot program. Due to the success of the CSUSB EOP program, she was asked to serve as a consultant to establish the first EOP program at CSU, Channel Islands a new campus that opened in 2002 within the CSU system. She also served as a team member of the American Association of State Colleges & Universities (AASCU) National Study of Hispanic Student Success.
2000's
January 2003: While attempting to balance the state's budget, then Governor, Arnold Schwarzenegger proposes the elimination of EOP and other outreach programs. The first ever CSU statewide EOP Alumni Chapter is formed at CSU San Bernardino in response to proposed program cut. Hundreds of CSU EOP Alumni, students and faculty travel to Sacramento to fight back and protest Gov. Schwarzenegger proposed elimination of EOP. After a tumultuous period, the EOP program continues within the CSU system.

Summer of 2003: With the support of CSUSB President, Dr. Albert Karnig, EOP establishes Foster Youth program services the first at CSU San Bernardino, a program committed to helping students who were current or former foster youth.

May 2004: Veronica Ramirez Amerson joined CSU San Bernardino as the new EOP Assistant Director.

Fall of 2007: EOP receives a grant from the California Wellness Foundation and the Children's Fund of San Bernardino county to provide comprehensive support services to foster youth students.
June 2008: Nadine Chavez, retires as EOP Director. Veronica Ramirez Amerson named Interim EOP Director.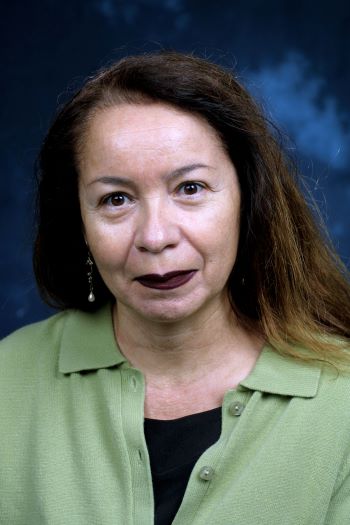 Spring of 2009: Veronica Ramirez Amerson announced Director of Educational Opportunity Program (EOP).