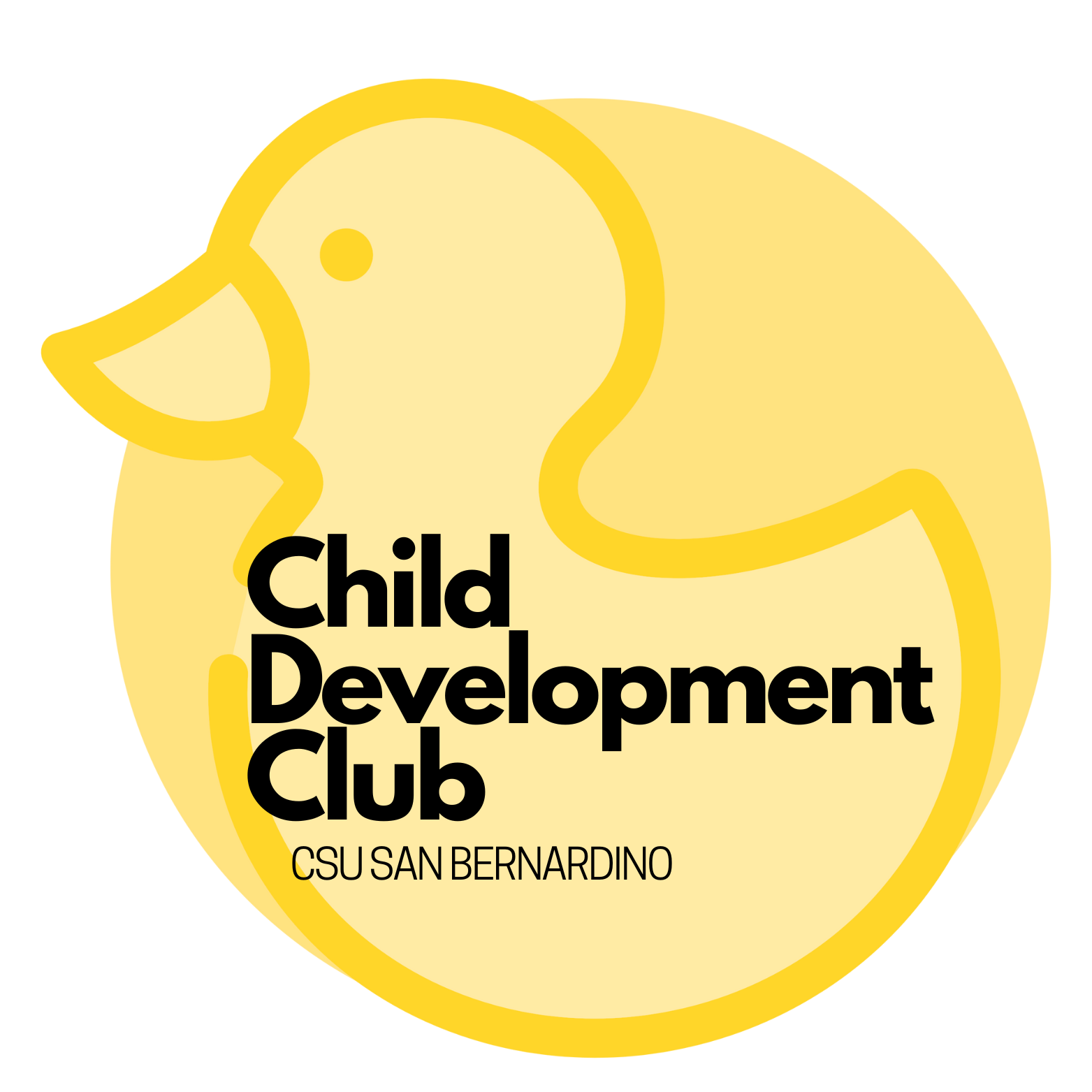 Child Development Club
The Child Development Club is student-led club for students to discuss child development related topics, host events, and participate in community service activities. It is a great way to get involved on campus, meet students and faculty in the Child Development Department, and to learn about topics that matter to you.
---
Join the CD Club to:
meet other CD students
gain professional development
get involved in our local community (children, adolescents, & adults caring for/educating youth).
Who can join?
Child Development majors, minors, and graduate students at the San Bernardino or Palm Desert campuses. Alumni also welcome.
---
Attend club meetings (about 2x / semester)

Come to club events (about once a month) and/or volunteer!

Join the club discord to chat with members, get resources, & keep updated on club events

Apply for club leadership positions. Applications for the 2023-2024 academic year are due on July 21st (due date extended!), 2023. Contact us if you have questions about applying!

Share ideas you have for the club
What Activities & Resources Does The Club Host?
social events (e.g., Einstein's takeovers)

fundraisers (e.g., book drives, toy drives)

professional development workshops (e.g., resume how-tos, careers in CD)

child development workshops (e.g., topics in gentle parenting)

study groups
Be a part of the CD Department (major, minor, or master's program), or have been a part previously (alumni)
Students at the San Bernardino and Palm Desert campuses are all welcome
No minimum GPA
$15 membership fee (fee pending until club gets re-chartered) for the year
Event and activity costs (food, drinks, decorations, etc...)

Advertising club events and printing

Outreach and promotion of the club at CSUSB and our local community

Supplies and materials (e.g., books, club materials)
Faculty Advisors: Dr. Manpreet Dhillon Brar & Dr. Stacy Morris
Each leadership role has at least one incoming and one outgoing position. Students begin their role in the incoming position, and get support and mentorship from the student in the outgoing position (i.e., students who were incoming leaders the previous year). The following year, incoming leaders move into the outgoing leadership roles.
2022-2023 Student Leadership Board:
Presidents: Sitlaly Jimenez Preciado (outgoing) & Stephanie Gomez (incoming)

Vice Presidents: Marie Romero (outgoing) & Mishon Johnson (incoming)

Secretaries: Esther Santiago (outgoing) & Jazmine Fort (incoming)

Treasurers: Joseph Toland (outgoing) & Linda Joanna Arana (incoming)

Marketing Team: Daisy Benitez (outgoing), Toni Hernandez (outgoing), & Elizabeth Salgado (incoming)

Grad Student Representatives: Angelina Saucedo (outgoing), Lauren Olivas (incoming), & Sarina Sauceda (incoming)
If you're interested in joining the leadership team, apply for a position! Applications for the 2023-2024 academic year are due on June 21st, 2023 (deadline extended!). Contact us if you have questions about applying!
---