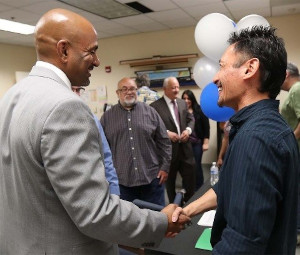 Eugene Wong wins 2016-2017 Outstanding Professor Award and Outstanding Advisor Award
Dr. Eugene Wong has been a stellar member of our faculty for 23 years. He is an essential contributor to our human development and psychology undergraduate programs, as well as the masters programs in clinical counseling (MSCC) and child development (MACD). A winner of the 2004-2005 Golden Apple Award for Excellence in Teaching, and the Western Psychological Association Teaching Award for 2014-2015, Dr. Wong provides classroom instruction of the highest quality. Students uniformly describe Dr. Wong as extremely knowledgeable and skilled at explaining complex concepts in ways that are both understandable and compelling. Students invariably find him to be clear, responsive, relevant, accessible, organized, thorough, supportive, and kind. They praise his interactive teaching style and his commitment to student understanding. They applaud his use of real life examples and the ingenious ways he brings clinical practice into the classroom as a teaching tool. Dr. Wong's teaching prowess extends well beyond the classroom to include his very labor-intensive work as a mentor. Over the years, he has mentored over 35 thesis students in our honor's program as well as our child development and clinical/counseling psychology masters programs. He has also mentored our MARC students and McNair Scholars. Dr. Wong's desire to engage students in the process of research is evident in the fact that he has consistently published and presented with students throughout his career. His contributions as a mentor were recognized in 2016 by the Western Psychological Association (WPA) whose membership granted Dr. Wong Fellow status in this organization.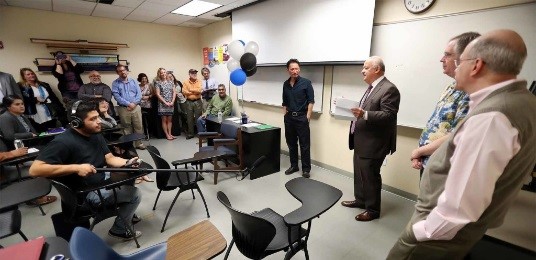 Dr. Wong's professional activity is extensive and, in all respects, blends seamlessly with his teaching. He is very active in research and scholarship, having published 24 papers in top professional journals and handbooks. His work on targeted cognitive training (primarily with K-12 students) and teaching effectiveness (both at the collegiate and early childhood levels) is of high scientific value and holds significant promise for rich applications to both K-12 education and higher education. His cognitive training research, in particular, demonstrates that deficits in working memory and cognitive control processes can be remediated through appropriately designed computer-based training. Such deficits impair learning in the classroom and are widespread in student populations at all levels of the educational system. His work stands to make a significant difference for children and adolescents in the IE and beyond. In addition to his scholarly work, Dr. Wong has been consistently active as a school and clinical psychologist. These experiences are a rich source of material for his teaching and for his mentoring of our clinical/counseling psychology graduate students. Dr. Wong's involvements are even more extensive. Most recently he and his students have been working with San Bernardino adolescent boys and girls who have experienced behavioral and academic problems in high school, helping them to achieve academic and vocational success. Finally, Dr. Wong has served for years as Coordinator of the human development undergraduate program. In this capacity he individually advises over 150 students. 
Dr. Eugene Wong is a highly valuable asset to this university. He is a first-rate instructor, an active researcher, a talented school and clinical psychologist, and a professional who strives to make a real difference in the lives of our students. We could not be prouder of the work he has done at CSUSB for over two decades.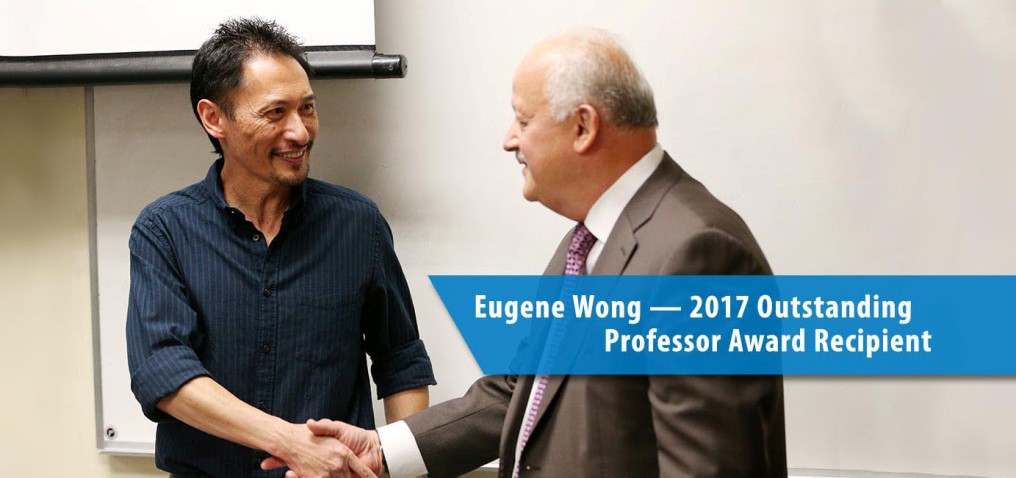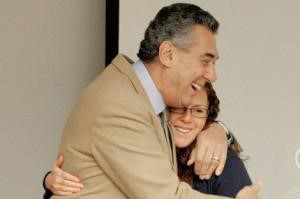 Amanda Wilcox-Herzog wins the 2011-2012 Golden Apple Award
Dr. Amanda Wilcox-Herzog has established herself as one of the premier instructors on this campus. Her exceptional student evaluations, significant devotion to mentoring and guidance outside the classroom, extensive contributions to curricular development on campus, and State-wide recognition as an expert in early childhood education constitute an exceptional record of success as an educator. In reviewing her teaching records, Dr. Tapie Rohm, Chair of the selection committee, concluded that "Dr. Wilcox-Herzog is the best of the best when it comes to teaching — a real teacher's teacher". And University President Al Karnig noted that "student comments are effusive in describing her remarkable ability to explain complex issues and to skillfully ground theory in real-life situations." One faculty member who is herself an award-winning instructor commented that "if modeling is an effective source of learning, then Dr. Wilcox-Herzog's classroom provides ample opportunity for [beginning instructors] to develop an enduring appreciation of how it should be done".
Dr. Wilcox-Herzog has also been active in mentoring and one-on-one instruction outside of the classroom. She has supervised numerous undergraduate honors theses and Master's theses and projects, and she has trained future teachers at virtually every level of the educational system from preschool teaching to college instruction. Dr. Wilcox-Herzog's exceptional dedication was previously recognized through the 2006 CSBS Teaching and Instruction Award.
In her capacity as a leader in the field of early childhood education, Dr. Wilcox-Herzog has made some of her most important contributions to this University and its surrounding communities. She is the principle architect of the University's Infant Toddler Lab School. The ITLS plays a key role in the education of early childhood specialists enrolled in the University's undergraduate and graduate child development programs. In addition to its educational and training roles, the School is actively involved in the generation of new knowledge and the development of innovative educational practices. The School is a truly unique resource for parents of young children in the Inland Empire. Dr. Wilcox-Herzog has also secured hundreds of thousands of dollars in subsidies to support student parents at the University through the Child Care Access Means Parents in School (CCAMPIS) Program, authorized by the Higher Education Act and administered by the U.S. Department of Education. This government program supports the participation of low-income parents in postsecondary education through the provision of campus-based childcare services. Dr. Wilcox-Herzog has also spearheaded extensive efforts to enable child care facilities in the IE to demonstrate best practices in early childhood education.