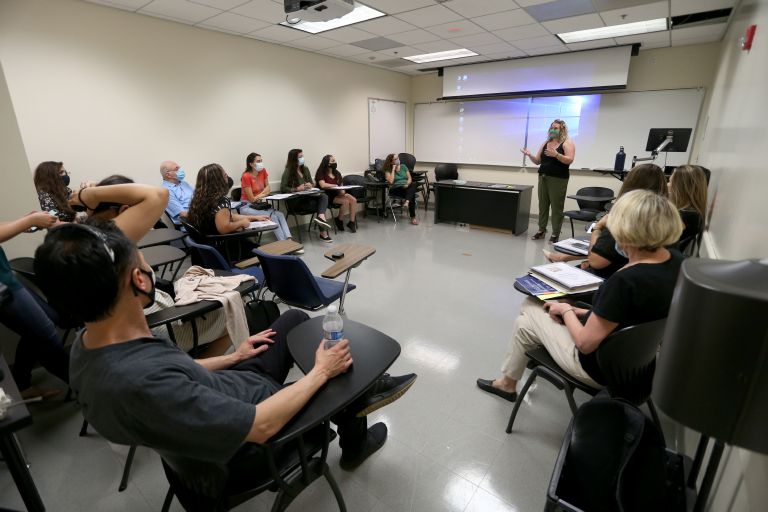 The MA in Child Development (MACD) Program accepts students with a bachelor's degree in human development, child development or related fields. Students may transfer graduate credits if the courses are relevant to the master's program of study. Each case will be reviewed on an individual basis. The MACD program at CSUSB has adopted a rolling deadline procedure. You may submit your application any time prior to the deadline. We review applications as they come in. Therefore, priority will be given to early submissions. See below for details.
 
Deadlines for turning in your application is: 
Program Application with all materials attached via Cal State Apply is: Tuesday, April 30th, 2024
 
Applications and all supporting materials must be received by April 30th to be considered for fall admission. Applicants are admitted to the fall semester only.
Ideal candidates will have met these prerequisites (or equivalent) prior to admittance:
A course in introductory psychological statistics
A lower division course in child development
A minimum G.P.A. of 3.0
Strong applicants who have not met the above prerequisites may still be considered for admission.
PROGRAM APPLICATION
In addition to completing the University Application, students must also complete a program application for Child Development. Department applications will be submitted online only using Cal State Apply. Once you create a Cal Apply Account you will select CSU San Bernardino and the Graduate Program M.A. Child Development. This will provide instructions on what additional materials you need to submit. We have also provided a description of them below.
Application Materials
            i.      After submitting your application online, you will be given a confirmation receipt; please save this page and include it in your records as proof of applying to the university.
            ii.     A copy of (unofficial) transcripts from each college and university you have attended, regardless of whether you received a degree.
            iii.    Statement of Purpose
                    A 1-2 page typewritten description of a) the career and specific professional activities you wish to pursue following receipt of the Master's Degree in Child Development, b) the type of training you hope to receive in our program, c) the reasons why you have chosen our program as opposed to other related programs, and d) your qualifications for graduate study (e.g., academic accomplishments, research experience, practical or applied experience). The statement must be attached at the end of your application. 
            iv.    Three Letters of Recommendation/LOR (The Cal State Apply system will help you send direct links for letter writers to submit their LOR). At least TWO letters should come from faculty instructors who know the quality of your academic work and can make relevant comments on your likely success in a graduate program.
If you have any questions related to the admissions process or have issues downloading any of the above forms, please send an email to childdevelopment@csusb.edu.
Thank you for your interest in our program.