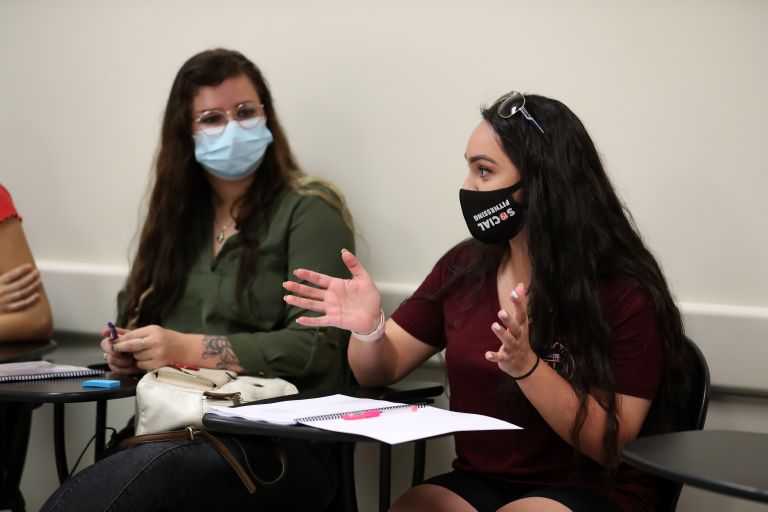 The Master of Arts Program in Child Development (MACD) is a 2-year, 38-40 units evening program that strives to foster an understanding of the major theories and empirical research in child development from infancy through adolescence. This includes an understanding of the core psychological domains of cognition, language, physiology, and emotions, personality and social behavior, along with an understanding of developmental methods. An emphasis will be placed on understanding development in the contexts in which children live their lives including family, school, and peer groups.
Attend an Information Session in-person or virtually!
We strongly encourage you to attend one of our MACD Info Sessions. In each information session you will learn about the program, opportunities, application process, and potential careers in Child Development and have an opportunity to ask questions.
Next Information sessions:
Dates will be announced at the start of Fall 2021 Semester
Why choose our M.A in Child Development?
The Child Development Program provides research and professional opportunities with a diverse population.
This degree leads to the highest early education teaching permit with the ability to direct multiple child care sites.
Externships in the community
Applied experiences: teaching undergraduate courses, research assistants on grant funded projects, and local child and family agencies.
Institute for Child Development and Family Relations
Get involved with conference presentations and publications.
2 NAEYC accredited centers: the Infant-Toddler Laboratory, which serves children aged 0-2 and The Children's Center, which serves children aged 3-5.
Requirements
View the current Catalog.

To apply to the MA Child Development program, please visit our Graduate Admissions webpage for deadlines and step-by-step instructions.
For more information, contact
Ask Us A Question!
For more information contact the director of the Child Development program, Dr. Amy Van Schagen via telephone at (909) 537-3841; via e-mail at amy.vanschagen@csusb.edu or in person in her office (SB-508) by appointment.
What can I do with this degree?
This program will provide students with an in-depth background in child growth and development. As such there is a growing need for highly educated adults to work with children and their families.

We have a strong track record of preparing students who plan to pursue doctoral-level studies in related fields.
 
Jobs MACD graduates are qualified for:
Child and Family Advocate for non-profits
Community College Professor
Parent Educator
Adjunct instructor at 4-year institutions
Child Development Coordinator
Director of Early childhood programs (single and multiple sites)
Early Interventionist/Child Development Specialist
Early Childhood Educator
 
Graduates from our program have been employed with:
Research Institutions
Child and Family non-profits
San Bernardino County Schools
City and State positions
Community College Professor
To apply to the MA Child Development program, please visit our Graduate Admissions webpage for deadlines and step-by-step instructions.
Award Winning Faculty
Outstanding Professor, Outstanding Student Awards, Golden Apple Teaching Award. 
Provide diverse and innovative courses that promote a deep understanding of child development. 
Engaged in meaningful research and service in areas including cognitive interventions, enhancing school engagement, teacher development and preparation, clinical counseling, romantic relationships, parenting, family, working memory development, and diverse contexts.
Many of our Child Development faculty are involved with the Institute for Child Development and Family Relations which does community-based research and outreach.
Stay relevant national and international conferences, and publishing in distinguished academic journals and featured on NPR and Sirius XM radio and in the Huffington Post, and Teen Vogue.
 Our MACD graduates are highly sought after, following graduation!