2021 - 2022 College of Social and Behavioral Sciences Award Recipients
Graduate Research Award: Tara O'Malley
Tara defended her thesis proposal on the impact of screen time on child development – her defense has been praised, with faculty commenting that it is "exceptionally thoughtful and well-conceptualized." She has presented her work at a conference for the Western Psychological Association, and is recently recruited to be the coordinator for the Racial Equity and Higher Education work conducted through ICDFR.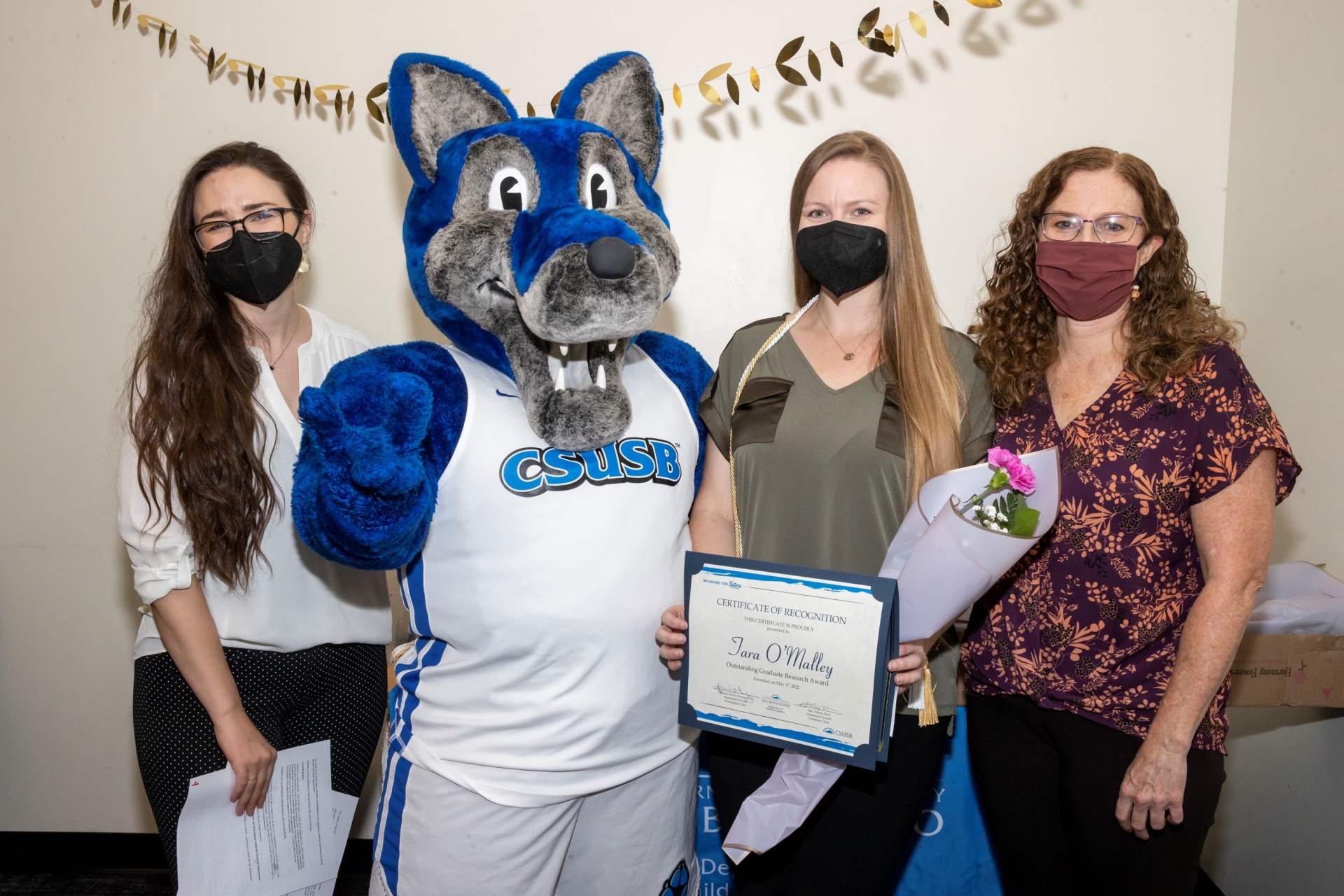 Graduate Service Award: Jennifer Perez-Kowalsky
Jennifer has been heavily involved in working to foster well-being – both physically and mentally – for children. She created a yoga program, and has provided in-class and community-level yoga sessions for local children; teachers observing these sessions have enthusiastically requested Jennifer's training and support. She also presented a webinar through the ICDRF on the importance of yoga for children.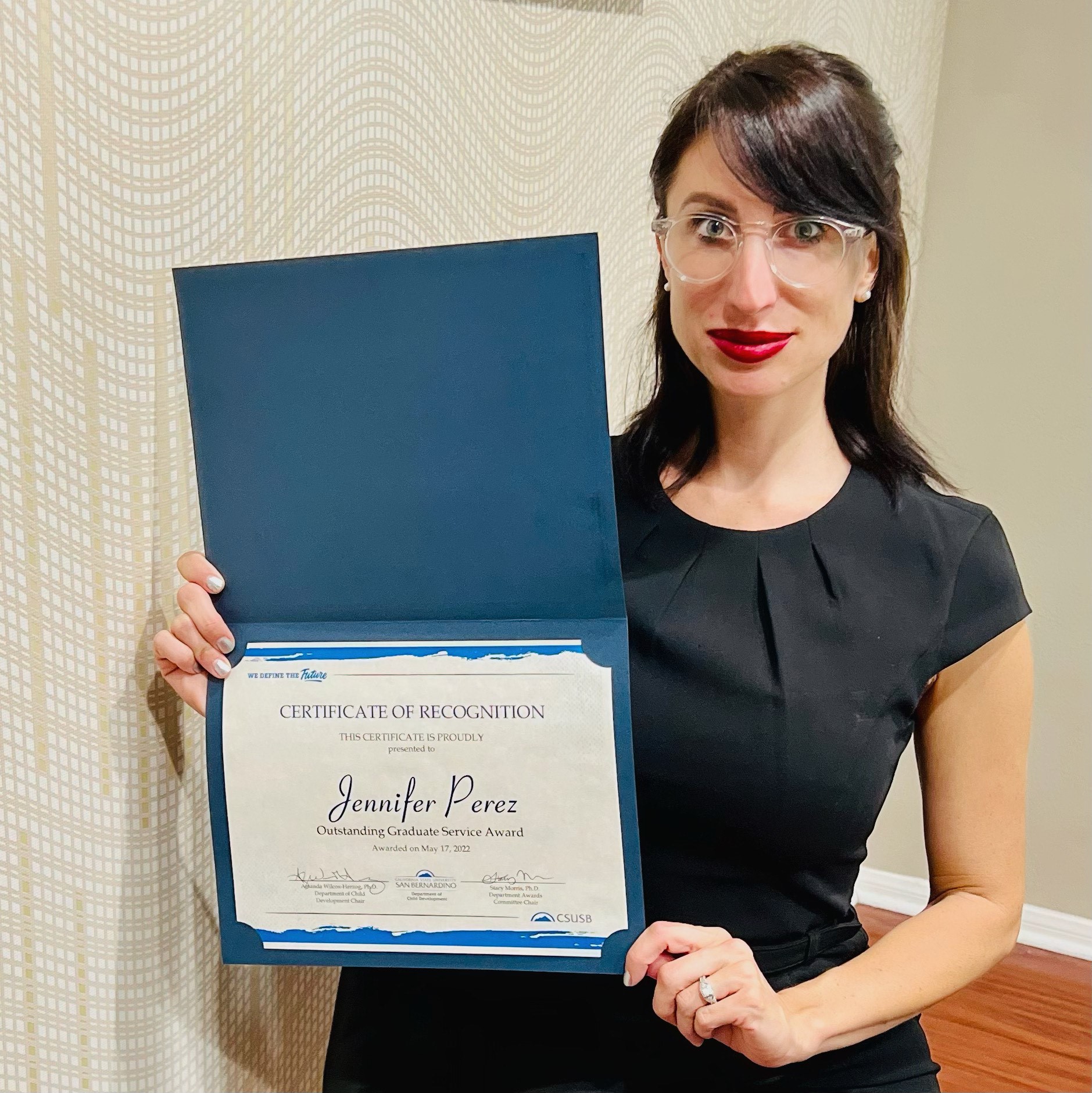 Graduate Teaching Award: Emma Herzog
Emma has excelled in her graduate student teaching, earning incredible SOTE scores. She is the master teacher in the Infant/Toddler Lab School, working in the 2-year-old room, and is teaching a course in the ECTIC program. She has also co-presented a webinar on suicide prevention and awareness for the Institute of Child Development and Family Relations.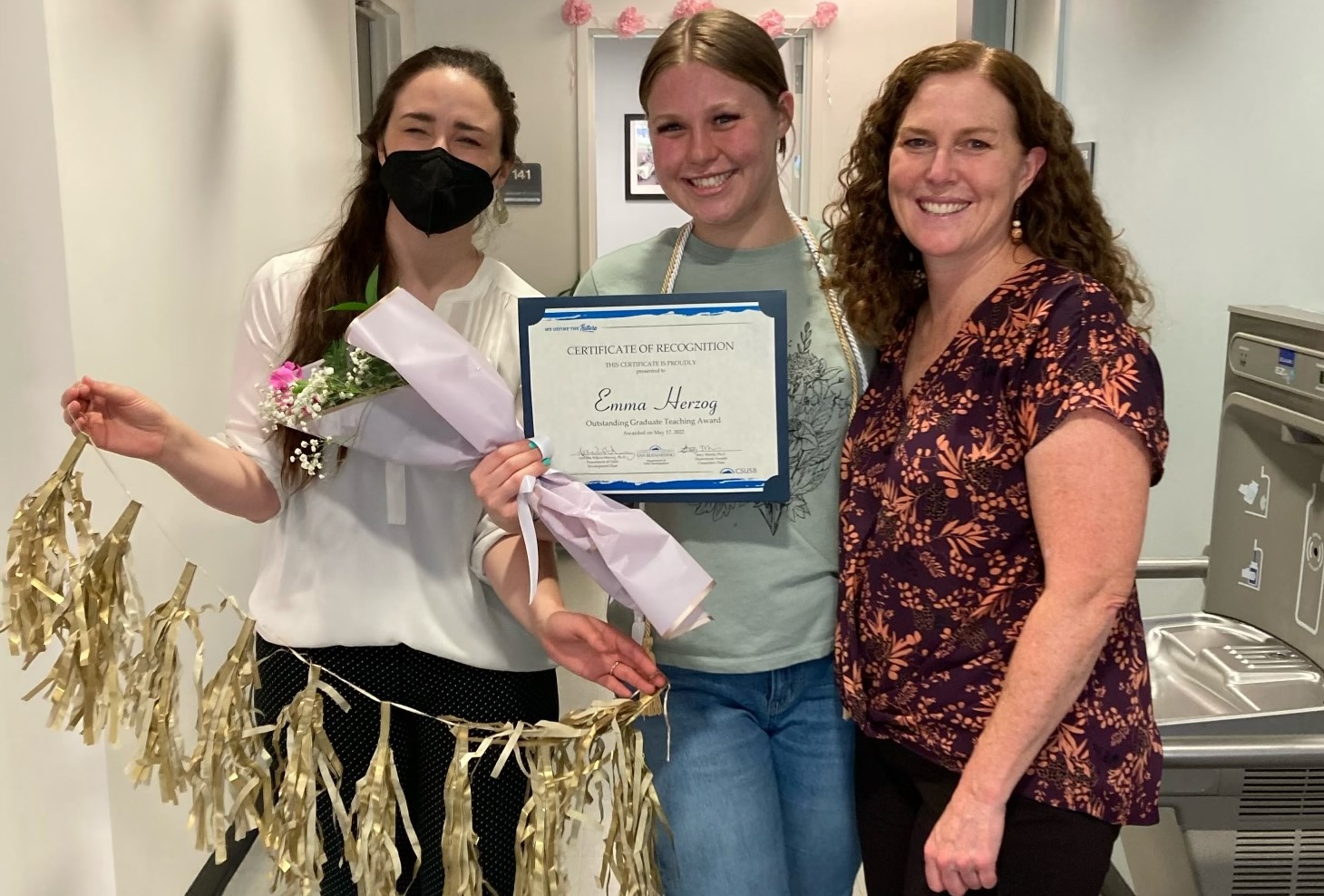 Undergraduate Research Award: Anabell Ramos
Anabell is involved in several research labs and has presented at multiple conferences.  She has gotten funding to support her research, engaged in research activities outside of CSUSB, and was recently accepted into a PhD program to continue on with her impressive line of research. Congratulations, future Dr. Ramos!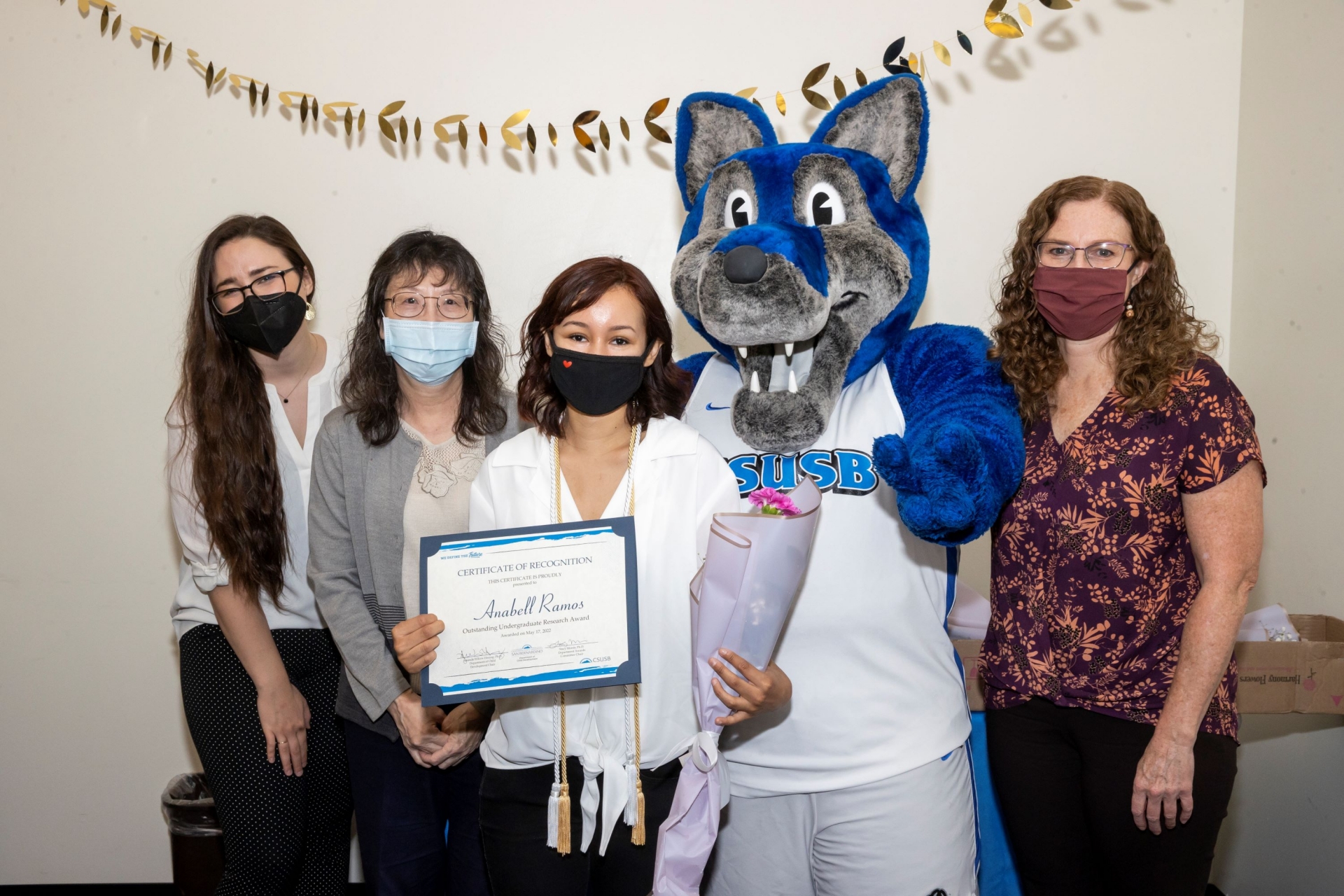 Undergraduate Service Award: Sunshine Ray
Sunshine has made huge contributions to her community, in many ways. One notable contribution is Nanny's Book Garden, a non-profit that Sunshine founded and runs. Through this non-profit, Sunshine has collected mountains of books for children under 17 in the community, and has given these books away in community pop-ups. Sunshine has created a space for learning – and further, a space for joy and wonder for young people in the San Bernardino area.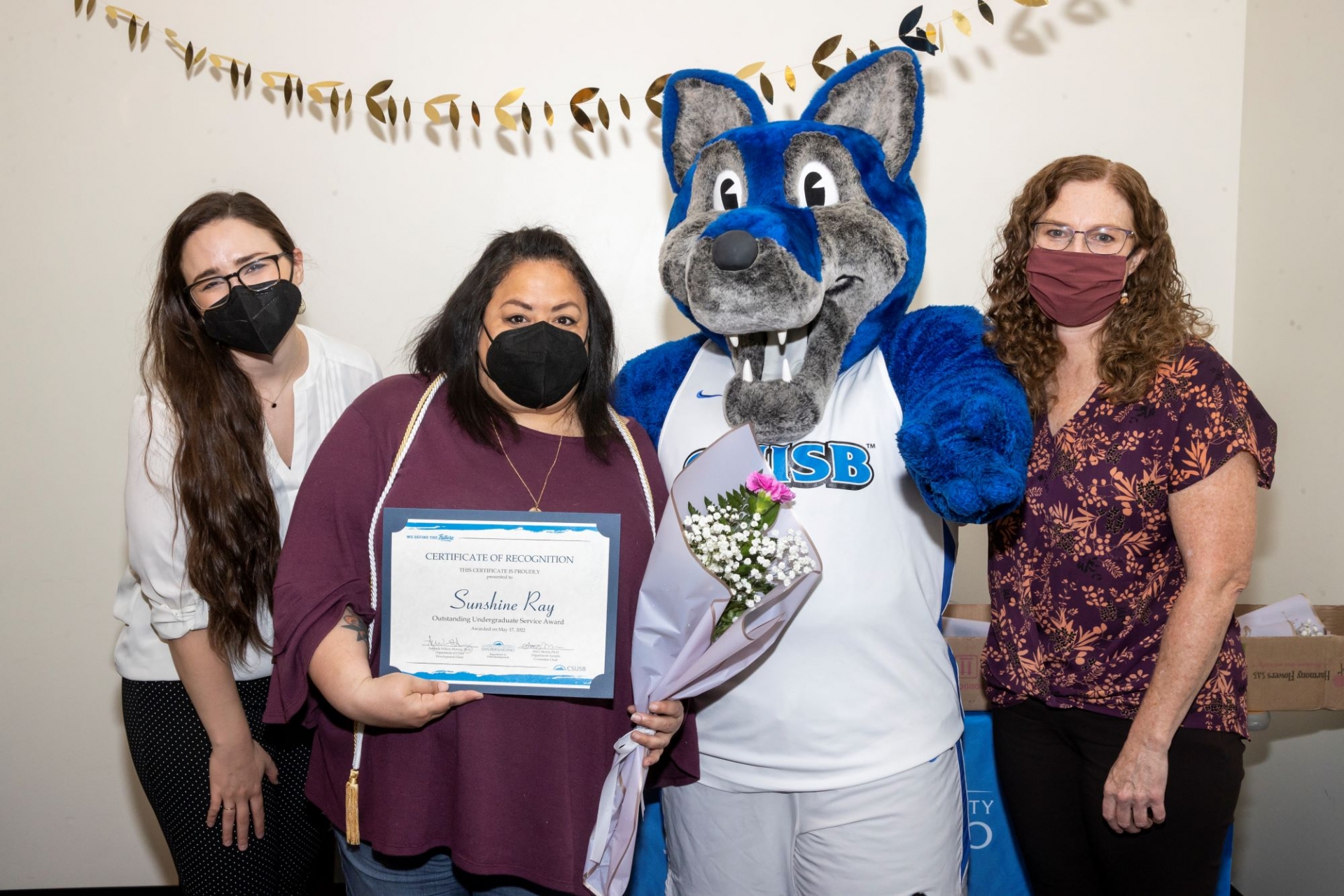 2021 - 2022 Department of Child Development Award Recipients
Outstanding Graduate Student Award: Karina Ventura
Karina has worked with Dr. Van Schagen, and has taken on leadership roles. She has an impressive track record of conference submissions and presentations, along with her work on publications. She does work with parent education, and does this work very conscientiously. Additionally, she has made thoughtful contributions in the classroom environment.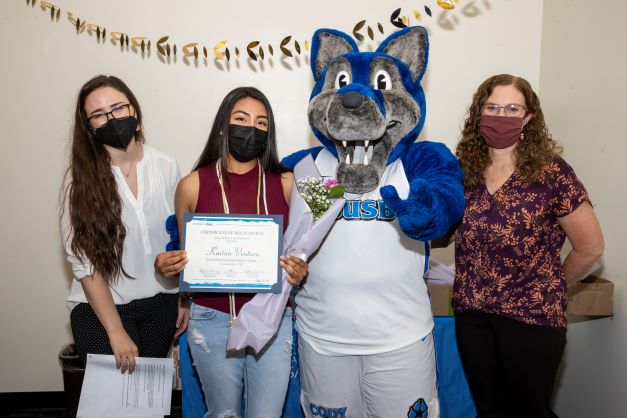 Outstanding Graduate Student: Emely Lugo
Emely has a long history of research, working with Dr. Wong since she was an undergrad to the present. She has presented at several conferences, and is working on a publication with some collaborators. Emely has served as the PsiChi president, helping to provide research and career opportunities to our students. Further, she has helped to promote energizing discussions in her graduate classes.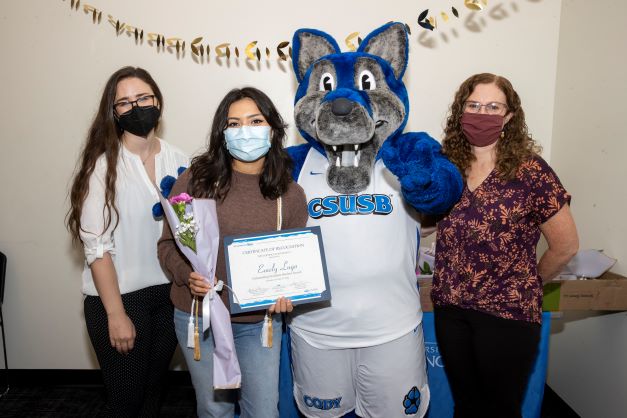 Outstanding Graduate Student Award: Imalay Rivera
Imalay has all but run a research lab for Dr. Morris and Dr. Dhillon-Brar. She has also balanced collaboration with Dr. Wong and the BeFAST project, alongside several conference presentations and her work on a publication with her collaborators. She has provided excellent learning opportunities for her students as a graduate student instructor, and has been a strong student in her own classes.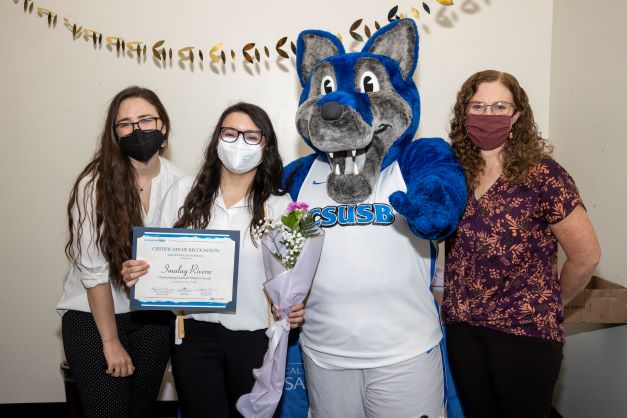 Outstanding Undergraduate Student Award: Vanessa Popoca
Vanessa has been a strong student in her time at CSUSB, and makes an excellent candidate for this award. She has contributed and been a solid presence in her classes, and has consistently put great effort into the thoughtful work that she has submitted in her classes. Vanessa's commitment to excellence in her education has been greatly appreciated.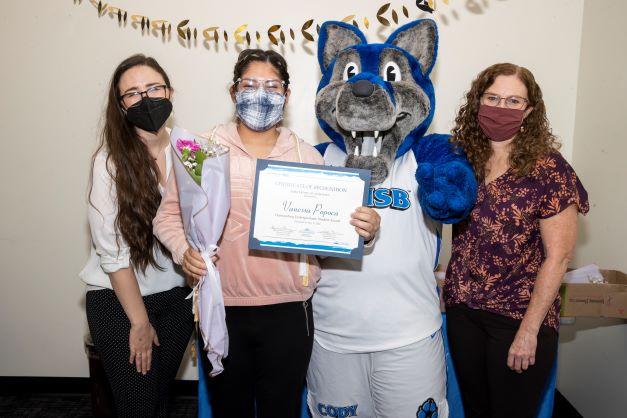 Outstanding Undergraduate Student Award: Pauline Rocha
Pauline has had a stellar track record of completing incredibly thoughtful work in her classes. She has been a consistent contributor in the classroom environment a warm, engaging one – even in an online setting. Further, she works young people in the community (for example, with her work as an AVID tutor). Pauline's commitment to her education, and the well-being of young people has been appreciated.
Outstanding Undergraduate Student Award: Anabell Ramos
Anabell is a repeat winner. She has submitted consistently thoughtful work in her time as a student here. Additionally, her roles as the Child Development Club president and her involvement in PsiChi are appreciated – in these roles, she has contributed to the opportunities available to our CD students.