We are open and ready to support you!
We are open and ready to support you! As we continue to monitor and meet established safety guidelines in response to the novel coronavirus (COVID-19) outbreak, our offices are still open and operating in a virtual format. You can reach us by phone at (909) 537-5024 or via email at provost@csusb.edu. We will respond as quickly as possible. Please keep a close watch for new announcements. Many of them, as well as several resources, can be found on CSUSB's dedicated COVID-19/Coronavirus Information web page.  Thank you and stay safe.
Call Provost OfficeEmail Provost OfficeCOVID-19/Coronavirus information
Welcome to Academic Affairs
Welcome to the Office of the Provost and Division of Academic Affairs at Cal State San Bernardino. Driven by the core values of the university, our areas of focus center on the success of our diverse and growing student body and supporting the esteemed educators who enrich and inspire them.  Specifically, the division is charged with overseeing the university's five academic colleges as well as several related entities, including enrollment management, academic programs, academic research, budget and planning, graduate studies, undergraduate studies, community engagement, the John M. Pfau Library, faculty affairs and development, extended and global education, and our expanding Palm Desert campus. 
I invite you to explore our webpages to learn more about our array of programs and resources, which aim to foster professional, ethical and intellectual development on our campus and beyond.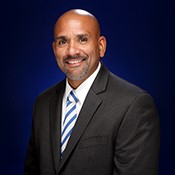 A. Rafik Mohamed, Ph.D.
Interim Provost and Vice President for Academic Affairs
Phone: 909-537-5024
Office: AD-101
Rafik.Mohamed@csusb.edu