Welcome!
The Water Resources Institute is an academic partnership with the Southern California communities we serve driven by the vision that sustaining water resources rests on sound research, analysis and public policy collaboration.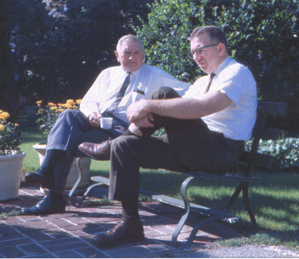 W.P. Rowe and Joseph Rowe
Commonly referred to as the WRI, we were founded in 1999 when Cal State San Bernardino accepted a premier collection of historical water resource materials from Joseph Andrew Rowe. Additional archival materials have been donated by an array of public agencies, private firms and individuals, including elected officials, engineers, attorneys and business leaders. The collection contains technical journals, engineering and planning reports, well records, maps, aerial photos, pamphlets, government documents and books.

The WRI collection was named the Joseph Andrew Rowe Water Resources Archives (Archives) in 2008 in recognition of an endowed gift by the daughters of Mr. Rowe, Mary Ann McVey and Patricia Rowe Watt.

Using the links on the bar at the top of the HOME page and the items listed in the column to your left, you may access additional information about the Archives.

Over the last decade the WRI has received funding from a variety of public agencies, non-governmental organizations and foundations at the federal, state and local levels to support sound research, analysis and public policy collaboration in partnership with the communities we serve.
WRI Internship Opportunities
WRI Data and Images Used In Two New Books
San Bernardino Valley Municipal Water District published "Delivering the Future: 60 Years of Vision and Innovation at San Bernardino Valley Municipal Water District" using quotes from WRI Archivist, Suzie Earp, and images from The Archives. The printed book is available through SBVMWD and the e-book can be accessed on their website.
Donald Laine Clucas used data and photos from The Archives in his book, "Too Much Water" which tells stories of flooding in California. The book is available through Amazon.
Take a look at our newsletter to find out what's new at the WRI. We highlight some of our student interns, opportunities for faculty research funding, our archives at the Palm Desert Campus, and more: WRI Newsletter, November 2014
The WRI is pleased to announce that the nationally acclaimed Water Resources Center Archives has changed its name to the Water Resources Collections and Archives and moved from its previous home at the University of California, Berkeley to the WRI Archives in CSUSB's Pfau Library and the library at University of California, Riverside. "This collaboration between UCR and CSUSB will serve all campuses of our two systems, as well as the public," said Albert Karnig, president of CSUSB. "It's further evidence of the close cooperation between the state's two systems of higher education and the importance placed on our state and region's water legacy."