Welcome!
The Water Resources Institute is an academic partnership with the Southern California communities we serve driven by the vision that sustaining water resources rests on sound research, analysis and public policy collaboration.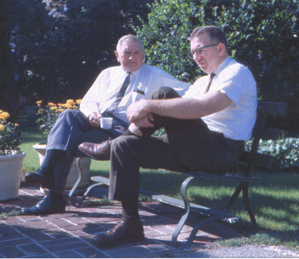 W.P. Rowe and Joseph Rowe
Commonly referred to as the WRI, we were founded in 1999 when Cal State San Bernardino accepted a premier collection of historical water resource materials from Joseph Andrew Rowe. Additional archival materials have been donated by an array of public agencies, private firms and individuals, including elected officials, engineers, attorneys and business leaders. The collection contains technical journals, engineering and planning reports, well records, maps, aerial photos, pamphlets, government documents and books.

The WRI collection was named the Joseph Andrew Rowe Water Resources Archives (Archives) in 2008 in recognition of an endowed gift by the daughters of Mr. Rowe, Mary Ann McVey and Patricia Rowe Watt.

Using the links on the bar at the top of the HOME page and the items listed in the column to your left, you may access additional information about the Archives.

Over the last decade the WRI has received funding from a variety of public agencies, non-governmental organizations and foundations at the federal, state and local levels to support sound research, analysis and public policy collaboration in partnership with the communities we serve.