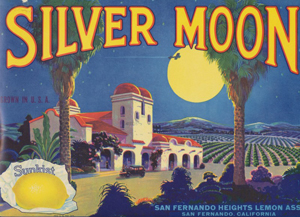 Silver Moon brand citrus label
The History:
From the 1880s to the mid-1950s California's citrus growers and packers vied for wholesalers' attention through the colorful citrus labels affixed to the ends of the wooden crates in which the fruit was transported. In the 1950s the wooden crates were replaced with pre-printed cardboard cartons. Pre-printed citrus labels were no longer used. Interest in the labels revived in the 1960s when historians and those interested in art and printing began collecting citrus labels.
The Collection:
Johnnie Ann Ralph (who worked at Pfau Library from the 1970s until she retired in mid-2007, first as a librarian and eventually as Library Dean) was interested in the Inland Empire's local history and called Sunkist to ask about citrus history. They put her in contact with a local collector who worked with her to help Pfau Library acquire its collection of citrus, fruit, and vegetable labels.
The Finding Aid:
To use the citrus/fruit/vegetable label collection use the Finding Aid. (The Finding Aid requires Microsoft Excel)