Joe Gutierrez | Office of Strategic Communication | (909) 537-5007 | joeg@csusb.edu
'Desire to Succeed' drives CSUSB's Cybersecurity Center Director Vincent Nestler
---

---
October is National Cybersecurity Awareness Month, and in a Sept. 30 proclamation, President Joe Biden noted the growing threat of malicious cyber activities, encouraged Americans to increase cybersecurity at home, at work and in schools, and emphasized that everyone must do their part to keep the nation safe and secure.
Since 2008, Cal State San Bernardino has been doing its part, and much more, through its pioneering Cybersecurity Center. A national model for excellence in cybersecurity education, the center's mission "is to provide not only an excellent education, but unparalleled opportunities and training for the next generation of cybersecurity leaders," according to Vincent Nestler, director of the center. 
Nestler, an associate professor in the Department of Information and Decision Sciences, joined CSUSB in 2012, and with him, brought a healthy dose of ganas, a Spanish word meaning "a desire to succeed." (It's also a term made popular by teacher Jaime Escalante in the movie "Stand and Deliver," Nestler points out.)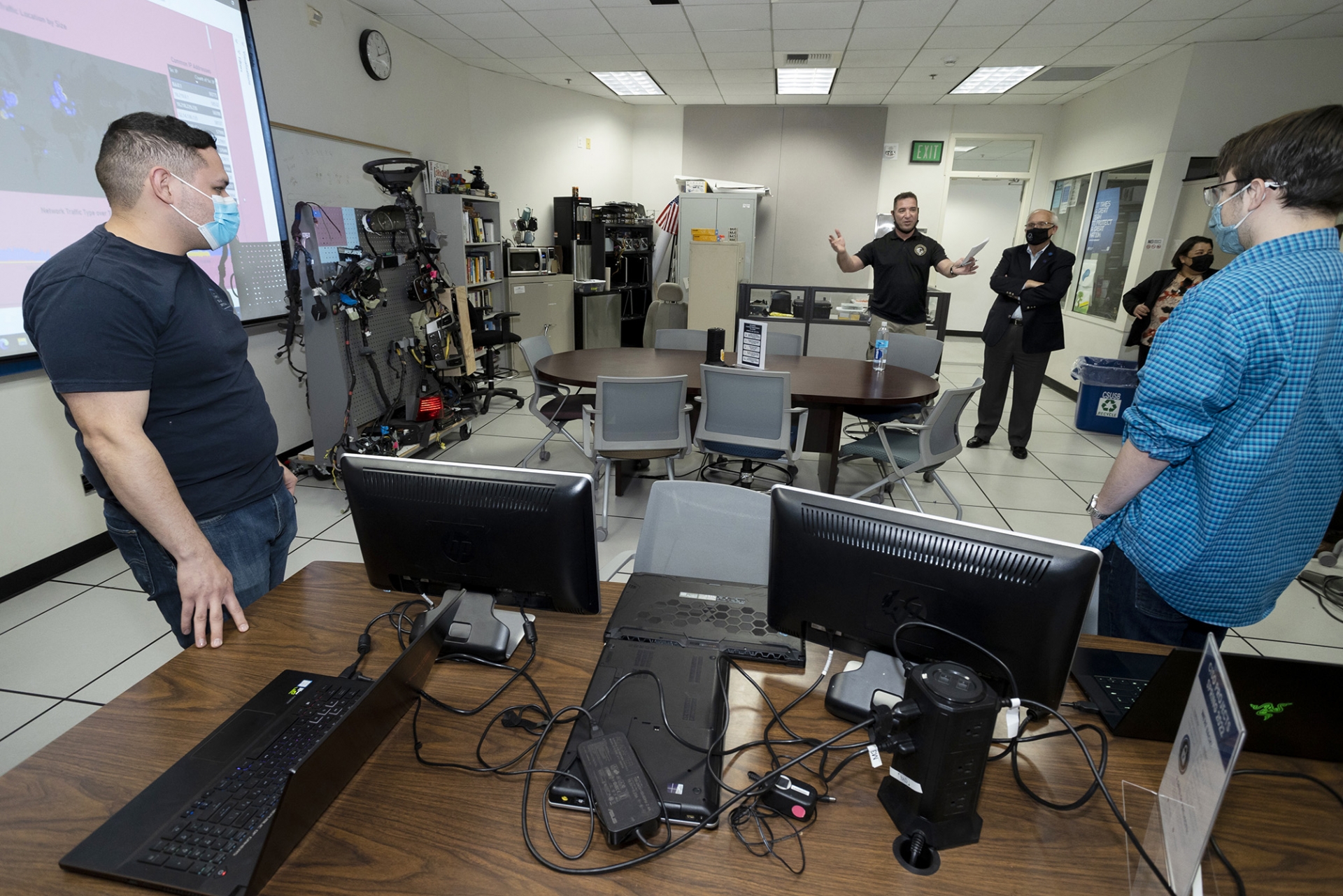 And while he's been with the university for 10 years, his connection to the Cal State San Bernardino family goes back more than 35 years, to his undergraduate education at the State University of New York, New Paltz in 1987. Nestler participated in the Educational Opportunity Program (EOP), which gives academic support and financial assistance for underrepresented students who have the potential to succeed.
"At the time, I didn't know what college was all about. I walked into the EOP office and met my EOP advisor, the person who would guide me through college. His name was Tomás Morales," he recalls.
Yes, that Tomás Morales, now president of CSUSB.
"I like sharing that because you can't make this up. Of all the colleges for me to land as a faculty member, I wind up at the one where I'm now able to serve the person who is responsible for starting my academic career – just as he is at the peak of his academic career," he says.
Nestler was recruited to CSUSB by Tony Coulson, executive director of the Cybersecurity Center and professor of information and decision sciences. Nestler had completed his Ph.D. at Idaho State University and was training students there in the National Science Foundation's CyberCorps Scholarship for Service program, as well as in computer network virtualization, both of which were on Coulson's radar as growth areas for CSUSB's Cybersecurity Center.
While excited about the opportunity, Nestler hesitated – the position was as a non-tenure-track adjunct professor. "But I knew this is where I wanted to be. I could just feel it. The logical, financial side of me was saying, 'Are you out of your mind?'" he recalled. "But when the universe puts certain things in front of you, even though it doesn't really make logical sense, you can just feel that's the way you're supposed to go," he said.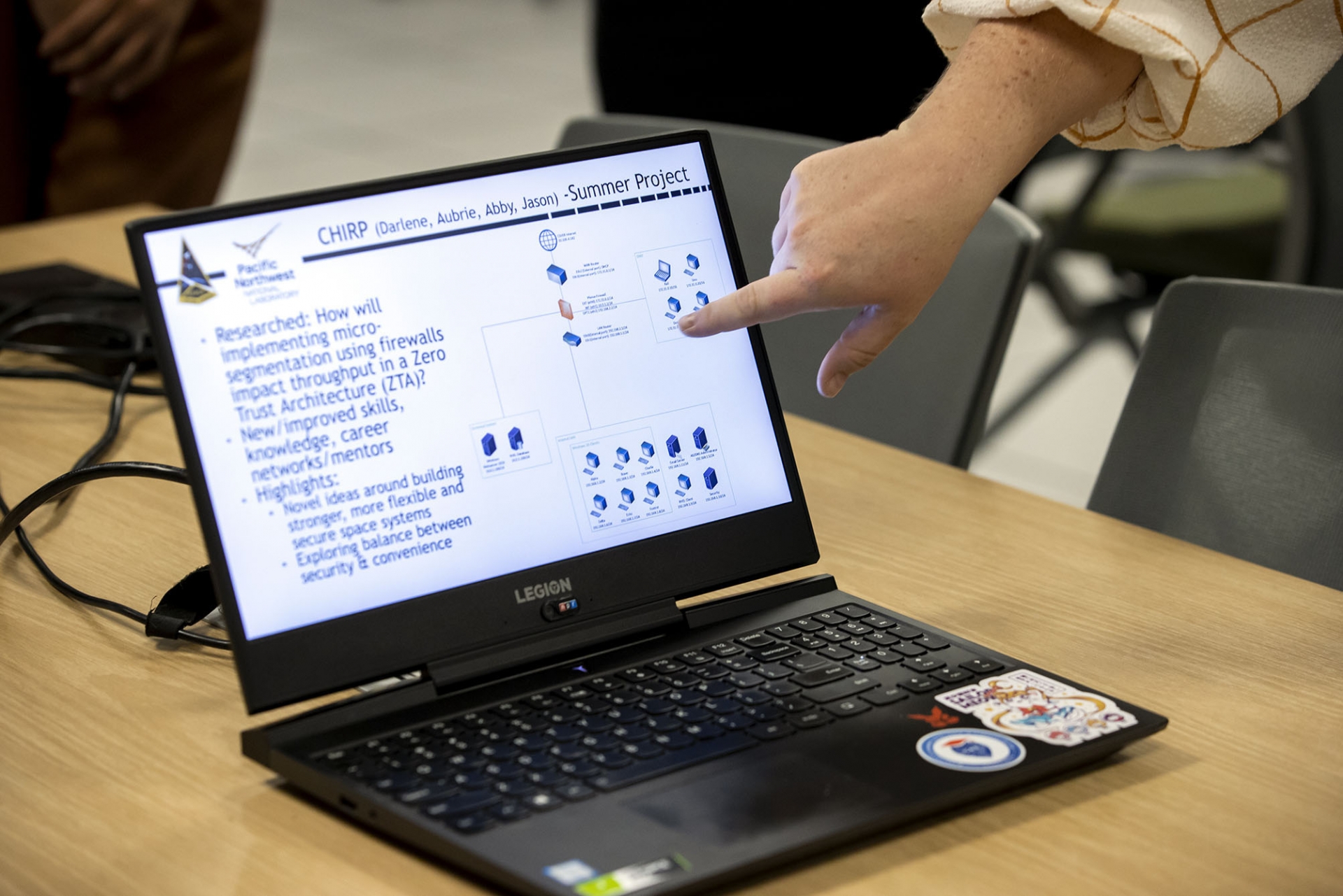 Today, 10 years later, Nestler has no doubt that he's where he belongs. He's integrally involved with students, teaching upper-level courses in the Information Systems and Technology – Cybersecurity academic program, including the Capstone class, Digital Forensics, Cyber Investigation and Ethical Hacking, which Nestler describes as a highly technical, very challenging class. "I get to teach people how to hack," he says, laughing. "It's fun." The cybersecurity program offers both bachelor's and master's degrees, with more than 500 students enrolled.
And the Cybersecurity Center has grown remarkably in national stature and reputation. Between 2010 and 2022 alone, it has received more than $75 million in grant funding.  Since 2009, the center has provided more than $15 million in scholarships through various programs to more than 130 students who have completed the program, and 100% of the students have been placed in career positions.
One of the center's flagship programs and just one of the many opportunities available to CSUSB students is the previously mentioned CyberCorps Scholarship for Service program, funded by the National Science Foundation. During their junior and senior years, between seven and 12 CSUSB participants each year receive full tuition, books, a stipend, an internship, professional development and specialized training. Upon graduation, they will likely get a job with a federal agency (though it can be state, local or tribal as well) with a two-year commitment.  
"We tell the students, 'If you join this program, with ganas, in two years, we can completely change your trajectory. But you're going to give us two good years – your nights, weekends, your holidays are all pretty much going to be spoken for. You're not just going to be doing well in your classes. We have other things we have to teach you.'" Those other things include a variety of topics and activities, ranging from how the federal government works and how to dress for a job interview, to dining etiquette during a formal meal and mock job interviews.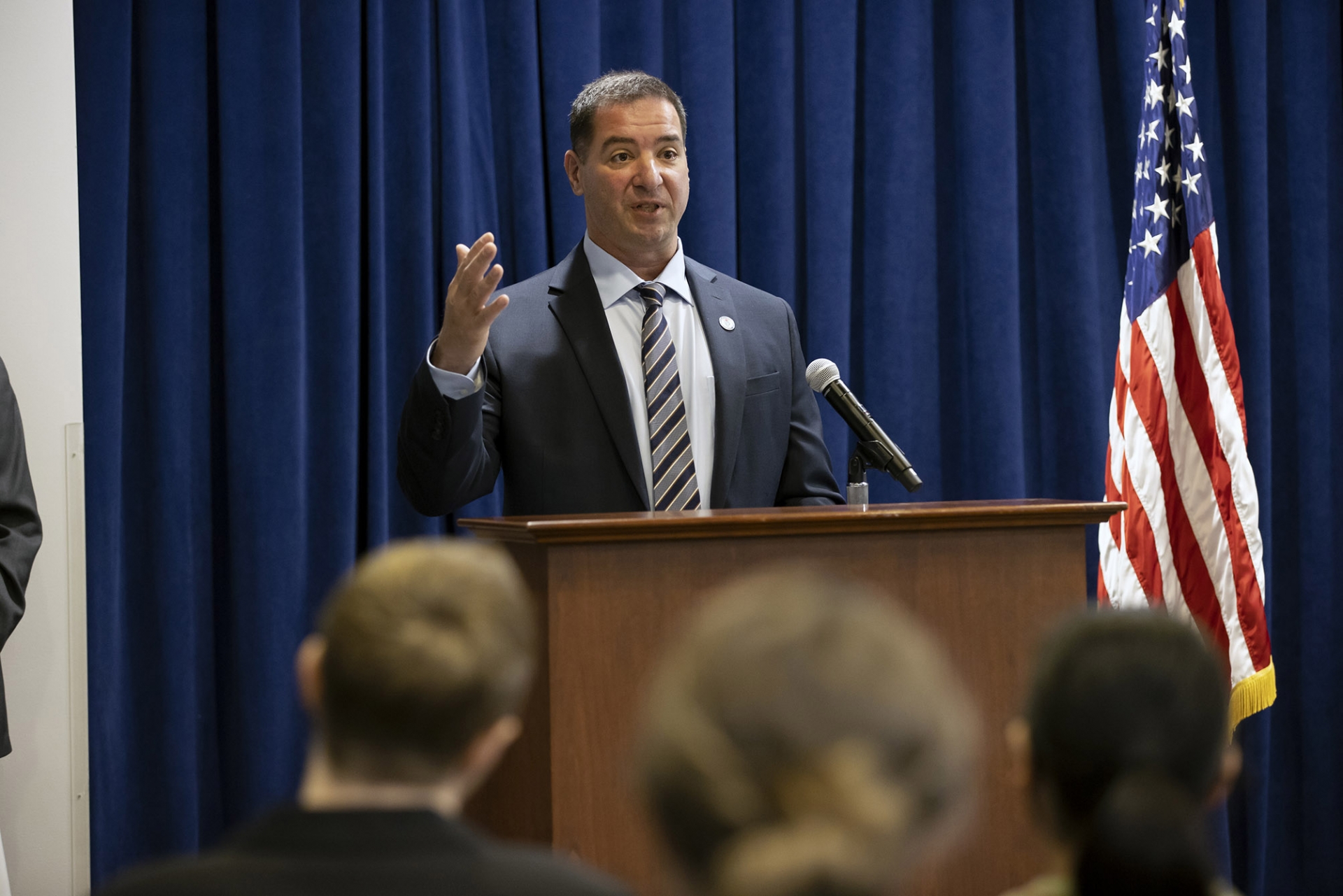 Most recently, in May, CSUSB became the first university to join a new program by the U.S. Space Force's Space Systems Command (SSC) and the Pacific Northwest National Laboratory (PNNL) designed to grow the cybersecurity workforce to build stronger, more flexible and secure space systems. The Cyber Halo Innovation Research Program (CHIRP) will give students a direct two-year pathway to a cybersecurity career at SSC or their industry partners. Students selected for CHIRP will receive a Space Cyber Research fellowship and commit to working at SSC or a selected industry partner, such as PNNL, after receiving their degree.
CHIRP students will receive two years of intensive training specifically designed to equip them for careers protecting vital space-based technologies from cyber threats. Initially, Nestler said, four students will receive fellowships, and he anticipates more being added in the future.
"I admit, I have a penchant for looking at the marvel and wonder and the magic of a moment, but imagine being able to tell a student who is struggling to make ends meet in the day-to-day grind that they have an opportunity to not only get out of the current situation, but to have your education paid for, that you are guaranteed a job in the space industry and that you will be helping America figure out how to get to and secure space," he said. "It doesn't get much better than that."
Nestler enjoys telling a story that illustrates how far the Cybersecurity Center has come in the past 15 years. In 2008, the center was designated as a Cybersecurity Center of Academic Excellence (CAE) by the Department of Homeland Security and the National Security Agency.
---
 "We tell the students, 'If you join this program, with ganas, in two years, we can completely change your trajectory. But you're going to give us two good years – your nights, weekends, your holidays are all pretty much going to be spoken for. You're not just going to be doing well in your classes. We have other things we have to teach you.'"
Vincent Nestler
---
However, when Tony Coulson first applied for the designation in 2007, the application was rejected. "He was told, 'You won't be able find the caliber of students in San Bernardino who will be able to complete a cybersecurity program,'" Nestler says.
Coulson appealed the decision, received CAE designation "and fast-forward to 2020," Nestler recalls. "We were named the Centers of Academic Excellence in Cybersecurity (CAE-C) Community National Center by the NSA," which selected the center for a $10.5 million grant and directed the university to be a leader of the agency's core workforce development initiative, the Centers of Academic Excellence (CAE) in Cybersecurity Community.
"Today, we're not just showing that we can keep up with everybody else. We're leading the pack," Nestler says with a laugh. All it took was a healthy dose of ganas.