Earn Your Cybersecurity Degree at CSUSB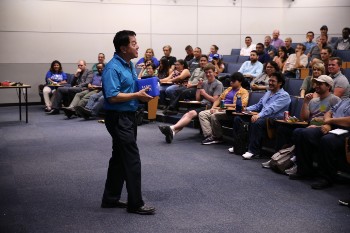 The Cybersecurity program within the Department of Information and Decision Sciences (IDS) at California State University, San Bernardino (CSUSB) is one of the best programs in the Nation. Expanding from the original Business Administration with a Cybersecurity concentration to include cybersecurity programs in Criminal Justice, Public Administration, and National Security Studies, our comprehensive program offers a variety of options. Many of our programs include extracurricular activities and include industry certification training (Security +, CISSP, CISM, FTK).  
Our excellent curriculum and faculty expertise in cybersecurity provide students with skills that meet the immediate needs of employers. Because of our training and education, our graduates are in demand. Working all over the Nation, our graduates are involved in current cybersecurity policy, defense, and operations.
Through our relationships, CSUSB created a unique curriculum and programs that customize the skill set of our students. A graduate of our program may have technical skills in Cisco, Linux, VMWare, Windows Servers, Oracle, SAP, and ArcGIS. Because the Jack H. Brown College of Business and Public Administration houses the IDS department, our graduates also have expertise in traditional business subjects. A graduate of our program may have skills in project management, accounting, finance, economics, law, enterprise architecture, intelligence, supply chain, computer forensics, ERP systems, business intelligence, asset tracking, and more. 
While the Center works closely with the IDS department, we do not manage courses or degree programs at CSUSB. To get a full listing of the degree plans, classes, and programs offered, you must visit the IDS website for more information.
Degree programs available through the Department of Information and Decision Sciences (except where noted):
Bachelor of Arts
Administration, Information Security
Bachelor of Science
Information Systems & Technology, Cybersecurity
Information Systems & Technology, National Security
Intelligence and Crime Analysis, Cybersecurity*
Master of Science
Cybersecurity (coming soon, online)
Information Systems & Technology, Cybersecurity
National Cybersecurity Studies**
Master of Public Administration, Cybersecurity***
Master of Business Administration, Cybersecurity
*Department of Criminal Justice
**Department of Political Science
***Department of Public Administration