University Diversity Committee
Presented three times per year (Fall, Winter and Spring quarters), the COD sub-committee strives to bring three renowned speakers to campus on a specific topic of diversity.
University Diversity Committee
This interactive workshop explores aspects of human difference, prejudice, biases, and disparities of power in our society.
Yote Talks at CSUSB
The University Diversity Committee launched a new speaker series during the 2015/2016 academic year to address a need that was not being met.  
In order to explore diversity issues and promote a positive attitude toward diversity on campus, in 1993, Callifornia State University, San Bernardino established a standing University Diversity Committee (UDC) which reports to the university president. The UDC is composed of a cross section of university representatives, including key administrators appointed by the president, faculty members appointed by the Executive Committee of the Faculty Senate, students appointed by Associated Students, and university employees appointed by the Administrative Council. 
Save the Date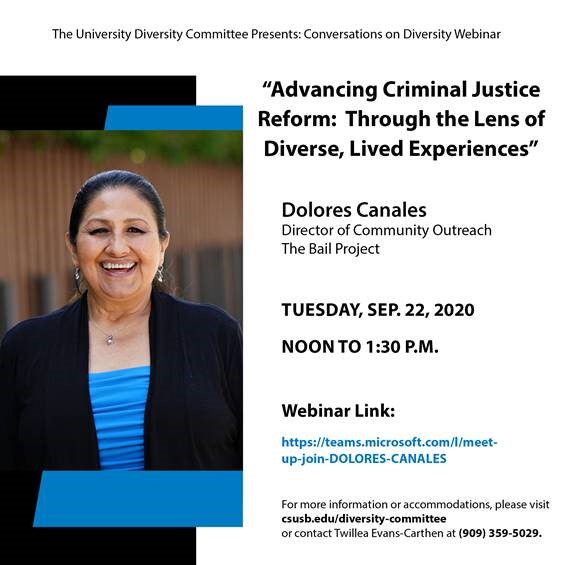 Portrait of Dolores Canales, and event information – UDC Conversations on Diversity Presents: "Advancing Criminal Justice Reform: Through the Lens of Diverse, Lived Experiences"
Date: Tuesday, September 22, 2020
Time: Noon to 1:30 p.m.
Location: https://teams.microsoft.com/l/meet-up-join-DOLORES-CANALES
Dolores Canales, Director of Community Outreach The Bail Project
For accommodations and more information, please contact Twillea Evans-Carthen at (909) 537-3103.

There are no scheduled upcoming events at this time.