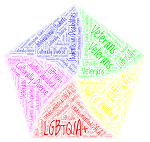 Welcome
The CSUSB Career Center provides services to students inclusively and respectfully to ensure that all students needs are met. The frequently asked questions and resources for special populations were developed to meet the under-served needs of the following populations of students:
LGBTQIA+ 
Veterans
International 
Students with Disabilities
Undocumented / DACA
Justice Involved (Fomerly Incarcerated)
Culturally Diverse 
If you would like to request additional information or a special population be added to this page, or if you have any questions regarding the content presented, please email us at careercenter@csusb.edu. Thank you.
Frequently Asked Questions