Visitas en Español
¡Nos complace darle la bienvenida a la Universidad Estatal de California, San Bernardino, en persona, para que vea por sí mismo cómo es la vida en el campus! Nuestro recorrido de 60 minutos mostrará los puntos de acceso del campus y las universidades académicas específicas de su interés.
Visitas a la Escuela se ofrecen a los estudiantes de primer año, los estudiantes de transferencia prospectiva, y los estudiantes que han sido admitidos. Esta visita te familiarizará con diversos aspectos del campus y la universidad.
Visita Presencial Al Campus
Duración: 1 h 30 min
Ubicación: 5500 University Parkway San Bernardino, CA 92407
Hasta 4 invitados
Agenda
Presentación CSUSB (30 minutos)
Recorrido del Campus (60 minutos)
Llegando a CSUSB
Si navega al campus por GPS, incluso a través de servicios de viajes compartidos, use las siguientes direcciones para la entrada al campus más utilizada:
Entrada a la Universidad Parkway
5500 Universidad Parkway
San Bernardino, CA 92407
Se puede acceder a CSUSB a través de la línea verde sbX y múltiples rutas de autobús OmniTrans. Visite el sitio web de OmniTrans para planificar su viaje.
Información de Estacionamiento
Cuando llegue al campus, diríjase a nuestro Centro de información en nuestra entrada principal a través de University Parkway. Infórmele al encargado del centro de información que está aquí para realizar un recorrido por el campus y le entregará un pase de estacionamiento temporal.**
Alternativamente, puede comprar un pase de un día ($ 6) en un dispensador de estacionamiento cercano.
Estacione su vehículo en el estacionamiento D.
**Si está aquí para la visita del sábado, deberá estacionarse en el estacionamiento de 30 minutos y luego visitar nuestra oficina primero para recoger su pase de estacionamiento.
Cómo Encontrar El Centro de Recorridos Y Visitantes
El Campus Tours and Visitor Center se encuentra a entre 5 y 10 minutos a pie de la mayoría de las entradas al campus. Nuestro centro está ubicado dentro de University Hall, ubicado directamente frente al estacionamiento D.
Además, ¡recuerda que los coyotes son amigables! Si necesita ayuda, pídale a alguien en el campus que lo dirija hacia los recorridos del campus y el centro de visitantes.
Si está buscando algo para comer durante su visita, le recomendamos que visite el sitio web de Yotie Eats para conocer todas las opciones de comidas abiertas.
Debido al personal limitado de guías turísticos, los recorridos dirigidos por estudiantes tendrán un período de gracia de 15 minutos para las llegadas tardías. Si llega más de 15 minutos tarde a su recorrido programado dirigido por estudiantes, tendremos que reprogramar su visita.
Publicaciones y Videos Útiles
A medida que comienza a explorar diferentes aspectos universitarios de la vida en el campus. ¡Descubre qué hace que Coyote Life sea tan genial en nuestro campus de San Bernardino!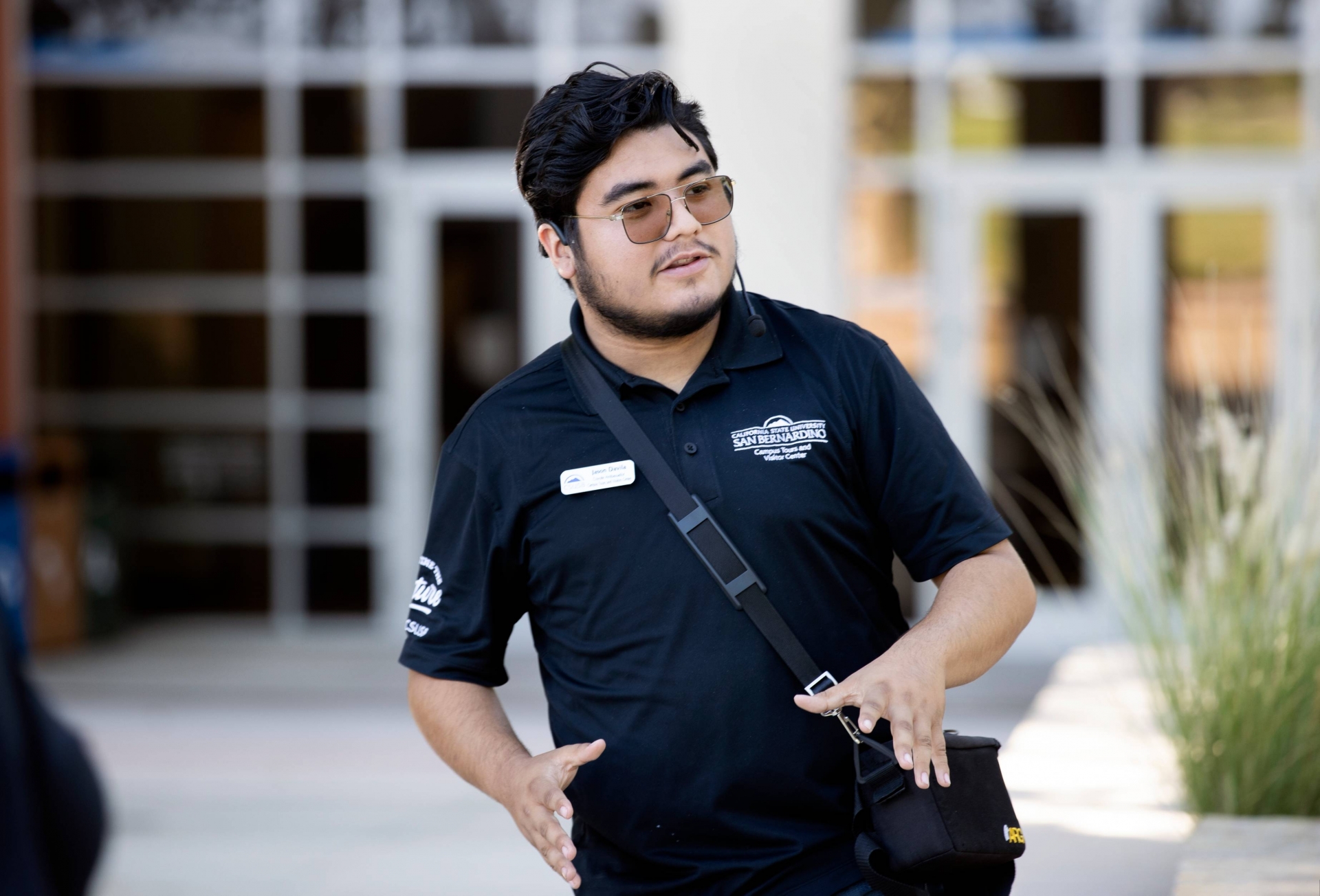 ---
Solicitud de Alojamiento
Las personas con discapacidades que necesiten adaptaciones para asistir a nuestras visitas pueden comunicarse con un representante del Campus Tours and Visitor Center enviando un correo electrónico a tours@csusb.edu. Se solicita que las personas que requieran adaptaciones o ayudas auxiliares, como intérpretes de lenguaje de señas y materiales de formato alternativo, nos notifiquen al menos 7 días antes de su visita. Se hará todo esfuerzo razonable para proporcionar adaptaciones razonables de manera efectiva y oportuna.
---