Ready to Join our Team?
The Coyote Ambassador Program is one of the premier on-campus student jobs here at CSUSB! Working directly under the Campus Tours and Visitor Center, Coyote Ambassadors get to represent the University to prospective students and families in a variety of ways. Ambassadors conduct daily campus tours and virtual tours as well as work on a variety of projects with the Campus Tours and Visitor Center. Coyote Ambassadors serve as the student voice for CSUSB and collaborate to work on student events as well as other projects that come up for prospective students!
Application
This program is a great way to sharpen your leadership and communication skills and learn how to work in a professional office. On top of this, the Coyote Ambassador community is full of extremely passionate and involved students who create one of the best co-worker environments in town! Interested? You can apply today! The application closes on January 30, 2023!
Frequently Asked Questions
What does being a Coyote Ambassador mean?
Sharing the history and culture of the campus, as well as their experiences as Coyote, ambassadors help people get to know and appreciate CSUSB. As prospective students and their families primarily gain knowledge about a university through campus tours, Coyote Ambassadors can play an important role in college decisions.
What kind of work do Coyote Ambassadors do?
Coyote Ambassadors lead tours; serve visitors at the Campus Tours and Visitor Center; support programs; and staff special events for the Department of Orientation and Transition Programs, as well as a growing number of other unique assignments. The Campus Tours and Visitor Center offers walking tours for individuals and families (prospective and newly admitted students) and groups (middle and high school students, distinguished guests, donors, guests of campus departments, and government officials). Tours are usually 45-60 minutes long. At the Campus Tours and Visitor Center, Coyote Ambassadors act as campus concierges by greeting guests, signing guests in for tours, providing information, and answering questions. 
What are the work hours? How many hours a week do you work?
The Campus Tours and Visitor Center operates six days a week. Coyote Ambassadors are scheduled to work as their availability permits. During the Fall and Spring semesters, ambassadors must be available to work a minimum of 3 tours on weekdays between the hours of 8:30am - 5:00pm with additional hours on the weekends; work at major campus events; and attend bi-weekly staff meetings every other Friday of the month from (unless you have class during that time). Coyote Ambassadors must be available at least one day a week (Monday-Saturday).
What do you look for when hiring a Coyote Ambassador?
Students who reflect the diversity of the student population. Students who are active on campus and in the community. Love to share their enthusiasm for the university. Have customer service experience. Speaking multiple languages is a plus (we offer Spanish visits once a month).
How does the application process work?
Submit your application by the published deadline. Qualified applicants will be invited to a comprehensive group interview. Hiring and training take place in January and February. New Coyote Ambassadors will generally begin to lead tours in March/April.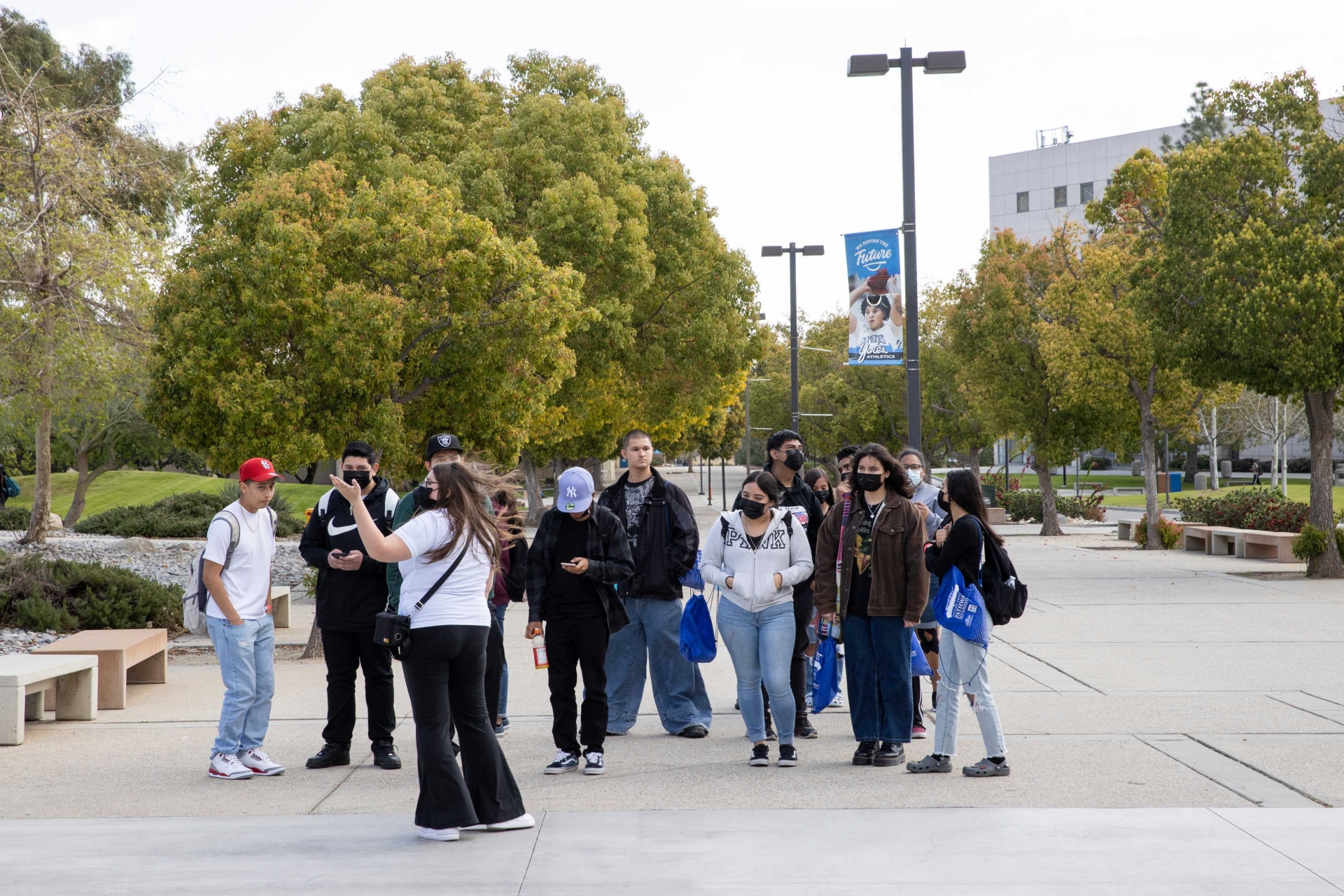 Top 5 Reasons To Become A Coyote Ambassador
1. You can entertain your friends and parents for hours with CSUSB facts
2. You always know the cool stuff happening around campus
3. You meet visitors from around the world
4. You help people make good decisions about choosing a school
5. With at least 25 people hanging on your every word, you look super popular