CSUSB is currently home to four National Pan-Hellenic Council, Incorporated (NPHC) organizations. The NPHC is currently composed of nine (9) International Greek letter Sororities and Fraternities; Alpha Kappa Alpha Sorority, Inc. Alpha Phi Alpha Fraternity, Inc., Delta Sigma Theta Sorority, Inc., Zeta Phi Beta Sorority, Inc., Iota Phi Theta Fraternity, Inc., Kappa Alpha Psi Fraternity, Inc., Sigma Gamma Rho Sorority, Inc. Phi Beta Sigma Fraternity, Inc. and Omega Psi Phi Fraternity, Inc. The nine NPHC organizations are sometimes collectively referred to as the "Divine Nine". The CSUSB NPHC promotes interaction through forums, meetings and other mediums for the exchange of information and engages in cooperative programming and initiatives through various activities and functions
For more information on NPHC, please e-mail nphc.csusb.pres@gmail.com 
National Pan-Hellenic Council (NPHC) Fraternities 
National Pan-Hellenic Council (NPHC) Fraternities 

| CSUSB Fraternities | Greek Letters | Council Affiliation | Organization Contact |
| --- | --- | --- | --- |
| Kappa Alpha Psi | ΚΑΨ | National Pan-Hellenic Council (NPHC) | HZNupes@gmail.com  |
| Iota Phi Theta* | ΙΦΘ | National Pan-Hellenic Council (NPHC) | iotaphitheta.ie@gmail.com |
National Pan-Hellenic Council (NPHC) Sororities
National Pan-Hellenic Council (NPHC) Sororities

| CSUSB Sororities | Greek Letters | Council Affiliation | Organization Contact |
| --- | --- | --- | --- |
| Alpha Kappa Alpha*  | AKA | National Pan-Hellenic Council (NPHC) | prettygirl19.rhodelta@gmail.com |
| Delta Sigma Theta* | ΔΣΘ | National Pan-Hellenic Council (NPHC) | |
| Zeta Phi Beta* | ΖΦΒ | National Pan-Hellenic Council (NPHC) | zphib.epsilonsigma@gmail.com |
*=These chapters are provisionally chartered through the Office of Student Leadership and Engagement due to membership requirements. They are actively looking for members and will become fully chartered upon reaching the five required members.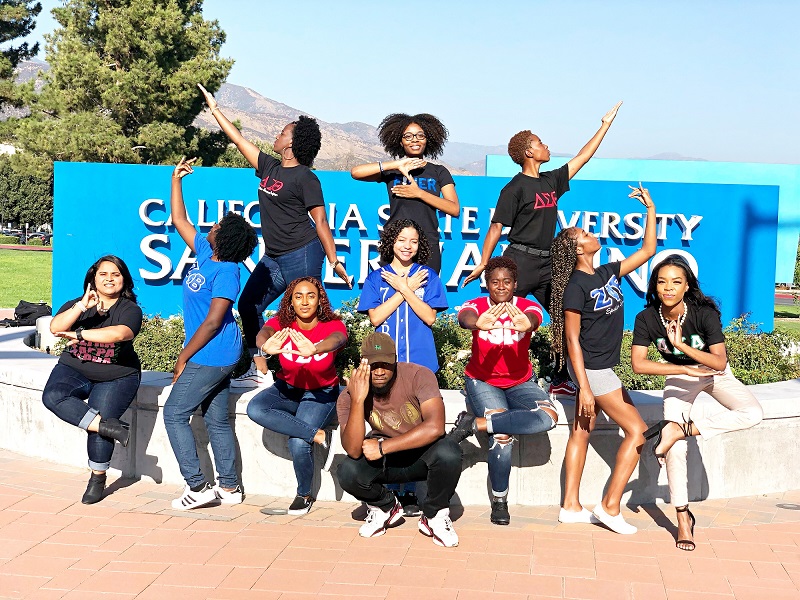 National Pan-Hellenic Council (NPHC) Recruitment Process:
The National Pan-Hellenic Council recruit effective leaders that will promote a stronger presence on CSUSB's campus and the community. Each organization conducts membership intake/selection at various time during the academic year. Membership intake is a 5-6-week process in which qualified candidates obtain membership. To join a NPHC organization, a student must be enrolled in at least twelve (12) units at CSUSB, have a cumulative collage GPA of 2.5 or higher, and be at least a second term freshman (individual chapters may have a higher GPA and unit requirement to join). Interest students are encouraged to ask each organization about their specific requirements.
*Please note that the following former NPHC Chapters are no longer recognized or affiliated at CSUSB:
Alpha Phi Alpha Fraternity Inc.