Marc Arsell Robinson
Assistant Professor
Contact
Assistant Professor
History
Office Phone
(909) 537-5528
Office Hours
Tuesday:
1:00 pm - 2:00 pm, 4:00 pm - 5:00 pm
Bio
Marc Arsell Robinson (he/him/his) earned his PhD in American Studies from Washington State University in 2012. His research focuses on the Civil Rights and Black Power Movements in the Pacific Northwest. He came to California State University, San Bernardino (CSUSB) in 2018 and teaches courses on African American and US History. In addition to his faculty role at CSUSB, in fall 2022 he will be Visiting Fellow in Equity, Justice, and Inclusion at the University of Oregon's Clark Honors College.
Robinson's forthcoming monograph, Evergreen Ungawa: The Black Student Union of Seattle, the University of Washington, and Washington State University, 1968 to 1970, will be published as part of the Black Power Series of New York University Press (expected Fall 2023). The text re-positions debates about the Civil Rights Movement, placing the Pacific Northwest within that framework. It is the first monograph to uncover the inspiring activism and outstanding contributions of the Black Student Union in the state of Washington. This organization of intrepid college students spearheaded a number of racial injustice campaigns, including a Seattle-wide youth outreach program, a sit-in and occupation of the University of Washington president's office, confrontations with law enforcement in rural Washington, and successful initiatives for Black Studies and other reforms in higher education. Moreover, the monograph expands knowledge of the black freedom struggle: complicating conventional narratives, chronologies, and geographies of 1960s black activism. Locating the Civil Rights and Black Power Movements in the Pacific Northwest adds new dimensions to existing scholarship and broadens our understanding of the period.
His has published two, single-author, scholarly articles: "The Black Campus Movement in the Evergreen State: The Black Student Union at the University of Washington and Washington State University, 1967-1969," in the Pacific Northwest Quarterly 103:2 (Spring 2012): pp. 55-66, and "Black Student Unions to the Gang of Four: Interracial Alliances and Community Organizing from San Francisco to Seattle," in California History, Vol. 98, No. 2 (Summer 2021), pp. 24–49. Also, Robinson co-authored an article on using primary sources in teaching: Hauck, Janet and Marc Robinson, "Of Primary Importance: Applying the New Literary Guidelines," in Reference Services Review Vol. 46 No. 2, (Aug 2018), pp. 217-241.
He has contributed other essays and book reviews in platforms such as Blackpast.org, The Western Journal of Black Studies, The Journal of Black Studies, The Journal of African American History, and Race in American Television: Voices and Visions That Shaped a Nation.
Before CSUSB, Robinson was Visiting Assistant Professor of History and Ethnic Studies at Whitworth University from 2016 to 2018, where he was bestowed with the 2017 Provost's Junior Faculty Award for outstanding teaching and service. Prior to that, he was an Instructor in the Department of Critical Culture, Gender, and Race Studies at Washington State University, and was also a diversity affairs administrator. 
His media appearances include Byrdie, Empire KVCR, The I.E. Voice, NBC Palm Springs, San Bernardino Sun, and So Cal Voices. 
Robinson was born and raised in Seattle, WA
Click HERE for continuing CSUSB News coverage of Dr. Robinson 
Other duties include:
Co-Advisor, History Club & Phi Alpha Theta, National History Honors Society, CSUSB
Board of Directors, Faculty Representative, Santos Manuel Student Union, CSUSB
Member, Planning Committee, Bridges that Carried Us Over Project
Member, Black Faculty, Staff, and Student Association, CSUSB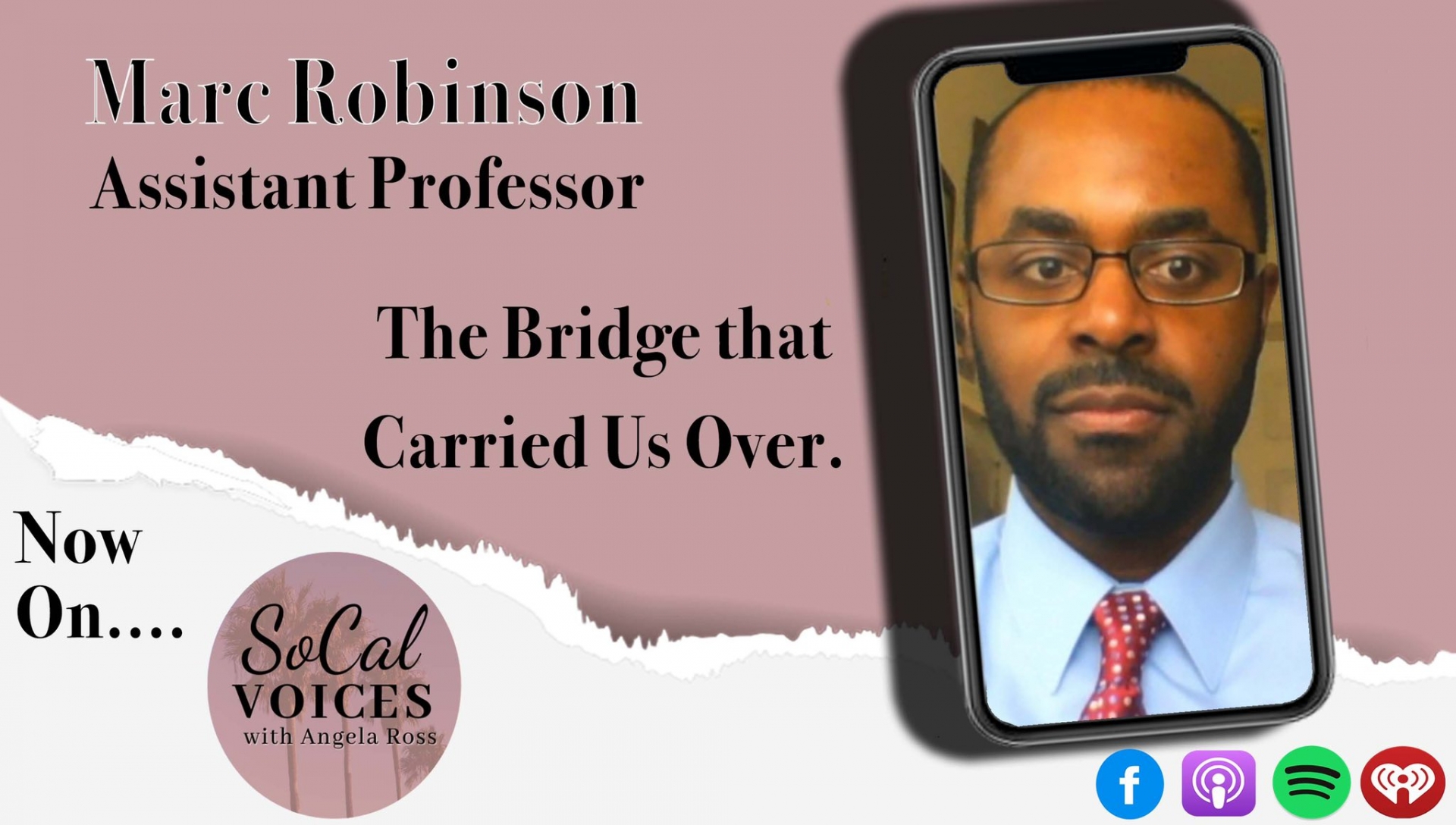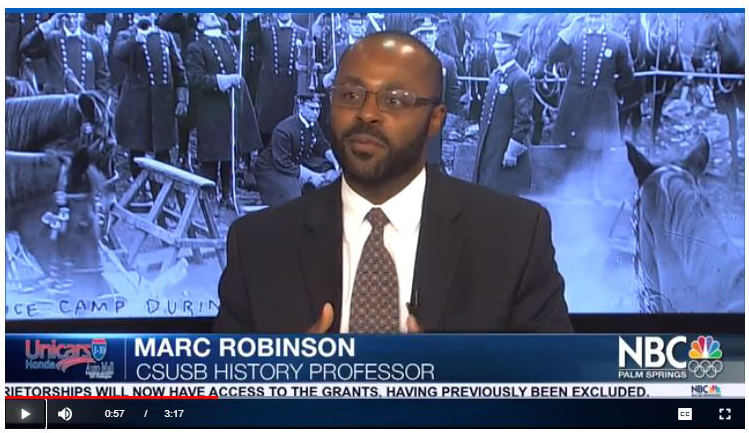 Education
PhD, American Studies, Washington State University Pullman (2012). BA, History, University of Washington Seattle (2004).
Courses/Teaching
HIST 2010 United States History 1865 to Present
HIST 3400  African-American History, 1620-1865.
HIST 3410 African-American History, 1865-Present
HIST 3460 Women in the Black Freedom Movement
HIST 3950 Topics: Civil Rights in Memory and Film 
HIST 3950 Topics: Black Popular Culture
HIST 5470 African American Intellectual History
Specialization
Civil Rights and Black Power Movements
Research and Teaching Interests
US History, African American History, Oral History, Pacific Northwest