Marc Robinson, CSUSB assistant professor of history, named a Mellon Emerging Faculty Leader
The Institute for Citizens & Scholars has named Marc A. Robinson, assistant professor of history, as one of 10 scholars who are Mellon Emerging Faculty Leaders (MEFL) for 2022.
Funded by the Mellon Foundation, the MEFL Awards support junior faculty whose research focuses on contemporary American history, politics, culture, and society, and who are committed to the creation of an inclusive campus community for underrepresented students and scholars.
"It was both the promise of Marc's research and the way he's become an early-career campus leader who's committed to mentoring students, to building bridges, to serving the institution in a way that makes everyone feel more included," said Frances Hannan, director of multimedia projects for the Institute for Citizens & Scholars. "The MEFL Award emphasizes early-career leaders who are 'triple threats' in research, teaching, and campus engagement/leadership, and the selectors felt that he was really a model of that standard, deeply committed to his students and colleagues."
The announcement by the Institute for Citizens & Scholars in late April also coincided with Robinson learning that he was the 2021-22 recipient of the College of Social and Behavioral Sciences' Outstanding Junior Faculty Award.
"It is a great honor to be selected for the Mellon award, and I am especially pleased to bring this recognition to CSUSB," Robinson said. "I believe my selection is a reflection of all the great work, and great people, at CSUSB. I am also very proud to win the SBS Outstanding Junior Faculty Award. Both, the Mellon and SBS awards, reflect the fantastic support and mentorship I have received at this institution.
"So many people have encouraged and helped me, I appreciate them all," he said. "But, in particular, I want to acknowledge Tiffany Jones, my department chair, Tom Long, my faculty mentor, and Rafik Mohamed, my dean. The success I have had would not have been possible without them."
Said Jones, "Dr. Robinson is a vital and committed member of our department and university at large and this award is no doubt reflective of his promise and his important contributions to civil rights history.  He has already built a formidable reputation both on and off campus.  We are extremely happy for him."
Robinson, who began teaching at CSUSB in 2018, earned his Ph.D. in American Studies from Washington State University in 2012. Robinson specializes in areas of U.S. and African American history, with his research focusing on Black student activism, the Civil Rights Movement, and the Black Power Movement in the Pacific Northwest. His forthcoming monograph (expected in fall 2023), Evergreen Ungawa: The Black Student Union of Seattle, the University of Washington, and Washington State University, 1968 to 1970, will be published as part of the Black Power Series of New York University Press. He has also published two single-author journal articles, along with several essays and book reviews.
At CSUSB, he teaches courses on African American and U.S. History, and has contributed to the university in numerous service roles. For instance, he is involved in a project to document the Inland Empire's Black history, serving on the planning committee of the Bridges That Carried Us Over Project, which is digitally archived at CSUSB's John M. Pfau Library. In addition, he is a co-advisor for the History Club & Phi Alpha Theta, the National History Honors Society at CSUSB; a faculty representative on the Santos Manuel Student Union Board of Directors; and a member of the CSUSB Black Faculty, Staff and Student Association. In 2020, he helped launch the Conversations on Race and Policing series, and separately has addressed various campus and community events, speaking on topics such as American Exceptionalism, Wilmington Massacre, the war on drugs, reparations for slavery, and African American art. Impacting news media in the Inland Empire and beyond, his media appearances include Byrdie, Empire KVCR, The I.E. Voice, NBC Palm Springs, San Bernardino Sun, and So Cal Voices. 
Adding to his accolades, in fall 2022, Robinson will be one of three visiting fellows in the inaugural cycle of the University of Oregon's Visiting Fellowship in Equity, Justice and Inclusion for its Clark Honors College (CHC) – said to be the first such fellowship in the nation. In this role, he will teach a senior-level undergraduate course on the Black Panther Party of the Pacific Northwest, and he will lead a faculty workshop on interracial coalition activism in Seattle.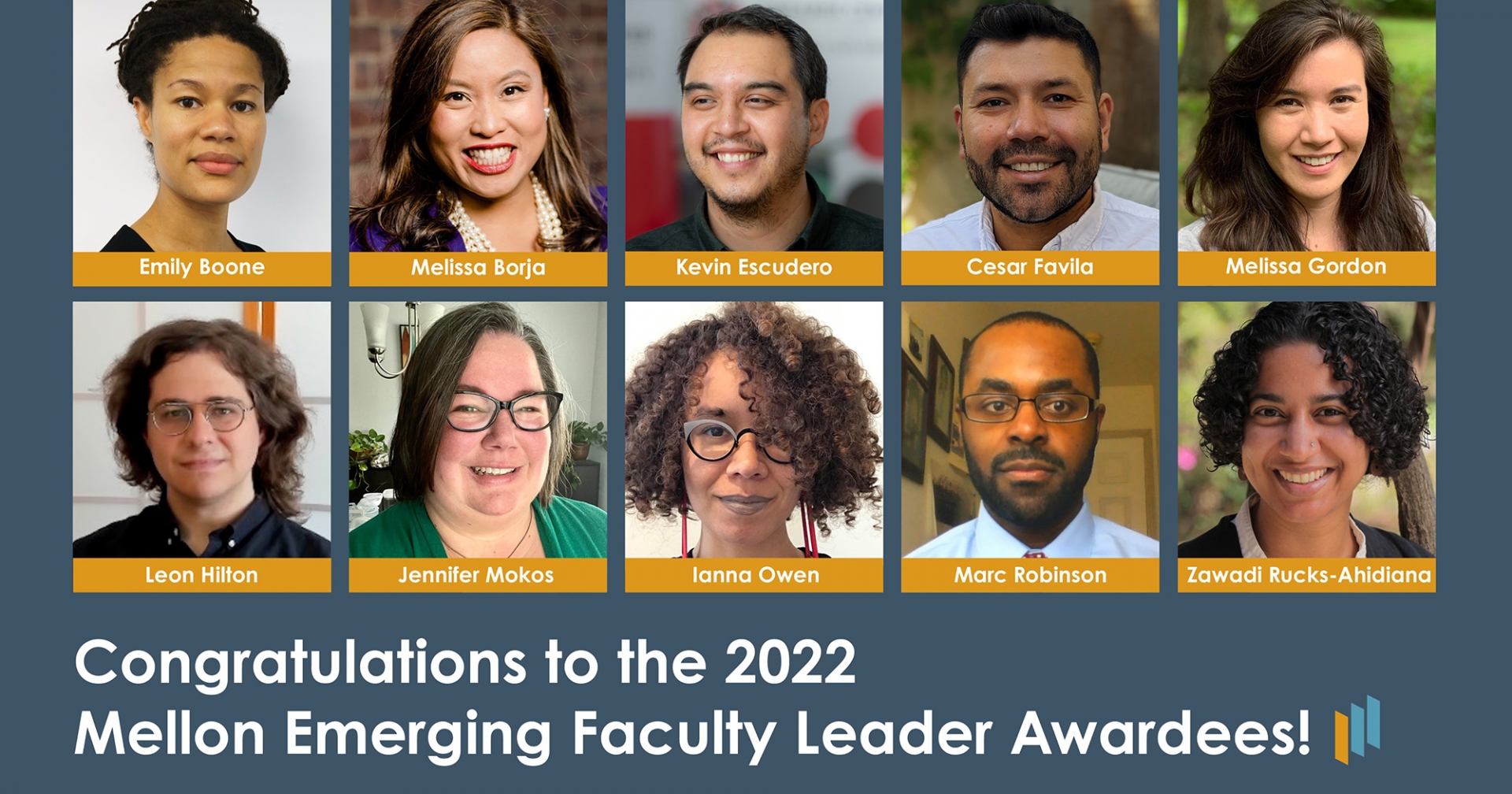 The other awardees selected as part of the 2022 cohort of Mellon Emerging Faculty Leaders were: Emilie Boone, CUNY New York City College of Technology, African American studies; Melissa Borja, University of Michigan, American culture; Kevin Escudero, Brown University, American studies; Cesar Favila, University of California, Los Angeles, musicology; Daanika Gordon, Tufts University, sociology; Leon Hilton, Brown University, theatre arts and performance studies; Jennifer Mokos, Coastal Carolina University, HTC Honors College; Ianna Hawkins Owen, Boston University, English and African American studies; and  Zawadi Rucks-Ahidiana, University at Albany, State University of New York, sociology.
About the Mellon Emerging Faculty Leaders Award
The MEFL Award seeks to free the time of junior faculty working toward tenure – including those from underrepresented groups and others committed to eradicating disparities in their fields – so that they can both engage in and build support for systems, networks, and affinity groups that make their fields and campuses more inclusive. Each recipient receives a 12-month stipend of $17,500 while working toward tenure.
The exceptional early-career professors in this year's class work in fields such as African American studies, sociology, history, and musicology. Awardees' scholarship focuses on critical issues such as depictions of gentrification in the media, anti-Asian racism and anti-racist activism, and community policing. In addition to pioneering research, they also take on additional campus responsibilities like mentoring, serving on advisory councils, working with underrepresented students, and giving additional talks and lectures. 
The 2022 class comes from a diverse and competitive applicant pool. The final MEFL awardees were selected through an interview process by a selection committee of four former and current university leaders with various academic and research backgrounds.
Established in 2015, the program has now supported more than 60 junior faculty who represent the next generation of leaders and scholars in the humanities and social sciences and who are poised to play a significant role in shaping American higher education. Through their own work to make their fields and institutions more inclusive, they are expanding young people's understandings and frameworks for active roles in civil society.
For more information about the MEFL Award cycle, visit the institute's Mellon Emerging Faculty Leaders Award webpage.  
About the Institute for Citizens & Scholars   
Formerly the Woodrow Wilson National Fellowship Foundation, the Institute for Citizens & Scholars is a 75-year-old organization that has played a significant role in shaping American higher education. Now, with an expanded mission, Citizens & Scholars prepares leaders and engages networks of people and organizations to meet urgent education challenges. The overarching goal is to shape an informed, productively engaged, and hopeful citizenry.