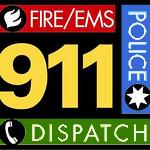 The 9-1-1 dispatchers are trained to always confirm your location. Be aware that if you are calling from a cell phone or a land line phone sometimes your location may not show up in the Enhanced 9-1-1 System.
When calling 9-1-1, please be sure to tell the dispatcher the exact nature of your problem. Make sure to tell the dispatcher exactly where you located. For example, whether you are inside a building, dorm room, vehicle, etc.
Please also share with the dispatcher the telephone number you are calling from so that they can call you back should you become disconnected or if more information is needed at a later time.
Do not hang up until the dispatcher tells you to do so or when help has arrived. Again, the more detail you are able to provide, this will help the 9-1-1 dispatcher assess your situation and direct the proper resources to you in a timely manner.
Below are some helpful 9-1-1 Do's and 9-1-1 Don't:
DO call 911 from a safe place if possible
DO stay calm while speaking slowly & clearly
DO answer all of the questions you are asked
DO follow exactly as the dispatcher says
DO NOT hang up until you are told to do so
DO NOT call 911 to ask about road conditions
DO NOT call 911 to ask about school closings
DO NOT call 911 to ask about road conditions
DO NOT call 911 to ask when power will be resorted, instead contact Facilities/Maintenance Department
DO NOT hang up if you call 911 by mistake. Remain on the line & explain to the dispatcher what happened
Dial 9-1-1 only for an emergency
An emergency is any serious medical problem, any type of fire, or any life-threatening situation. University Police urges students, faculty and staff to use 9-1-1 to report crimes in progress, whether or not a life is threatened. All 9-1-1 phone calls made from Cal State San Bernardino will be handled by the University Police Department.
Do not dial 9-1-1 for a non-emergency. Instead, if it is on campus, call University Police at 909-537-7777 or ext. 77777 from any phone on campus. You can also dial the University Police non-emergency telephone number of 909-537-5165. Please do-not call a police officers direct phone line to report an emergency or crime.
Let the dispatcher ask you questions
The dispatchers have been trained to ask questions that will help prioritize the incident, locate it and speed an appropriate response. If you are not in a position to give full answers to dispatcher (the suspect is nearby), stay on the phone and the dispatcher will ask you questions that can be answered "yes" or "no."
Try to give as detailed of a location as possible.
Be prepared to describe the persons involved in any incident
This includes their race, sex, age, height and weight, color of hair, scars, tattoos, description of clothing, and presence of a hat, glasses or facial hair.
Be prepared to describe any vehicles involved in the incident
This includes the license plate number, color, year, make, model and type of vehicle (sedan, pick-up, sport utility, van, tanker truck, flatbed, etc.). If the vehicle is parked, the dispatcher will need to know the direction it is facing. If the vehicle is moving or has left, the dispatcher will need to know the last known direction.
Listen to the dispatcher's instructions for assistance if YOU are in danger
The dispatcher may tell you to leave the building, secure yourself in a room or take other action to protect yourself.