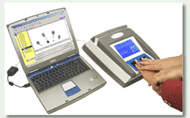 (Available Tuesday, Wednesday and Thursday)
Please call to make an appointment or if you have additional questions at (909) 537-3552. Payment can be made the day of the Live Scan by cash or check.
Fees
Department of Justice fee(s),
plus $20.00 (Admin/roll fee)
Department of Justice Fee varies depending on the type of application.
Required on the day of appointment
Photo identification - (Government ID of some type, California Drivers License preferred)
Please complete an Applicant Submission form prior to arriving for your appointment. The form can be obtained at the police department, front counter, or you can Download the Fingerprint  Application form in PDF format.
Live Scan Services
Departments on Campus
For departments on campus requiring Live Scan Services for employment purposes of students only, please complete the following forms and forward to this department. Any staff/faculty related request will need to be handled through Human Resources.
Additional Links