The University Police Department strives to provide "Quality Service" by providing professional service with honor, integrity, and a commitment to excellence to the community. We perform our mission through diligent crime prevention, victim assistance and emergency response preparedness. We believe campus safety is a community effort and embrace a community partnership and problem-oriented policing philosophy. We strive daily to live by our department motto, "Campus Safety through Service."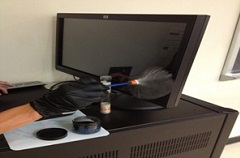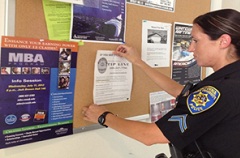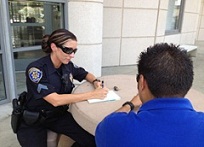 CSUSB Police Detectives investigate all types of crimes reported to the CSUSB Police Department. Detectives follow up on crime reports with workable leads or those that constitute part of an ongoing crime series. They secure, process, and dispose of physical evidence as well as establish and maintain liaisons with other law enforcement agencies, local courts, the District and City Attorney's Offices. The bureau participates in all forms of investigative activities including: conducting surveillance, undercover operations, serving arrest warrants and search warrants. Detectives are also responsible for monitoring and registering habitual offenders.
Typical crime caseloads include:
Crime Prevention Tip
"Lock it or Lose it"
Vehicle burglaries can be prevented by simply locking vehicle doors and not leaving items of value in plain view.
To contact a Detective, please call 909-537-7591. Please have your report number if applicable. You can also email at: reportcrime@csusb.edu
To leave an anonymous tip, please call 909-537-7786.