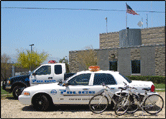 The University Police Department is a duly authorized, sworn law enforcement agency in accordance with state law. As such, the department is bound by local, state and federal laws, including the California Government Code, California Penal Code, California Education Code, Public Records Act and the Freedom of Information Act pertaining to the reporting and disclosure of crime information. The department is committed to the honest and forthright reporting of all crime for the protection and education of the campus community. To this end, crime reporting occurs in the following circumstances:
All calls for service that involve crimes or possible crimes are appropriately documented and kept in Department records. It is the policy of our department to document all crimes committed on campus.
A daily incident report is e-mailed to the campus administration, Housing, and the Chronicle reporting Police Activity for each 24-hour period. This report is also available to the public and can be accessed through this site.
The Clery Report is completed each year and posted to our website. This shows criminal statistics on and adjacent to Cal State.
Our Crime statistics are reported to the California State University Chancellor's Office on a yearly basis.
The crime statistics are also reported monthly to the California Department of Justice and become part of the Uniform Crime Report.
Criminal statistics for the campus are included in this report. A more detailed report is available upon request from University Police.
Enforcement and Safety
The department takes a proactive approach to the protection of the campus and enforcement of law. Under Campus-Oriented Problem Solving (COPS), crime problems are addressed with the resolution of the underlying problems when possible. Enforcement action is taken to prevent, as well as react, to crime. Tactical Action Planning, or the organized efforts at enforcement, is utilized to attack criminal activity and prevent its reoccurrence. The underlying goal is the safety of the campus community, so that the educational process may occur as intended. Campus safety is the paramount goal and the single most important core value of the University Police Department.