University Police Department / Parking and Transportation Services
Coin Collector Challenge
If you collect coins and are interested in purchasing one or more, you can do so by going to this link Cashnet on Campus.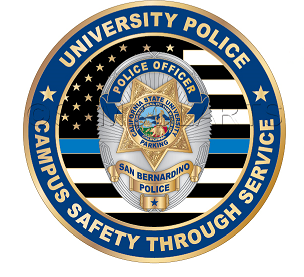 Each Coin is $20
Please save your receipt, you will need to present your receipt to be able to obtain your coin. Your coin will be available for pick up at the University Police Department. Please contact Elizabeth Mendoza at 909-537-7492 or by email at emendoz2@csusb.edu to schedule pick up.
If you are not a CSUSB Student or Employee, you may contact Elizabeth Mendoza (same as above) to arrange delivery options. 
Pictured above are two coins. First one has "University Police-Campus Safety Through Service" with flag and blue line and police badge in the background.
The second one has "CSU San Bernardino-Parking and Transportation Services" with mountains, trees and coyotes statue in the background.