A great program cannot be envisioned without individuals that are truly prepared in all aspects of the field. The Department of Marketing is home to a team that is rich with real-world marketing experience and academic preparation - we practice what we teach! Although marketing is all about product, price, promotion, and distribution, our team follows another set of P's that will help you succeed in your academic and professional careers. They are:
Personable: Our team is knowledgeable and easy to get to know. Their focus is on you and your success in your educational pursuits. Essentially, we want to know about you to help you achieve your goals at CSUSB.
Practical: Our team is well aware of the rising costs of education and will help you achieve your educational endeavors in the time frame that you desire.
Polite: Our team will work with you in a professional manner.  You are our customer, and as our customer we want you to be happy with your choice to pursue marketing as a career and welcome the opportunity to assist you.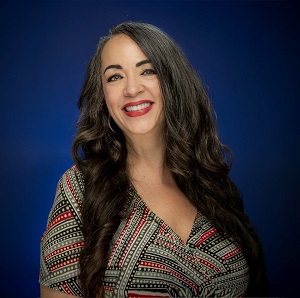 Lisa Gordon | Administrative Support Coordinator II
EMAIL: lgordan@csusb.edu | PHONE: (909) 537-5749 | OFFICE: JB-458
Biography: Lisa Gordon is the Academic Support Coordinator for the Department of Marketing and is active in her community. Along with her department responsibilities, Lisa is a member of the Jack H. Brown College Branding Committee, JHBC Impact Magazine as well as a Social Media Specialist for the College. Lisa has served on the board of the American Advertising Federation managing their social media, served as a CSUSB Diversity Trainer, Eat & Be Well Steering Committee Member and is Co-Founder of Embrace The Change Annual Event. Lisa is currently serving on the advisory board for Cedar House. 
Lisa's interests include communication and media innovation, digital marketing, advertising, business development and consulting, and public relations.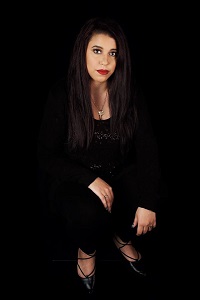 Marina Kamel | Administrative Support Coordinator I
EMAIL: marina.kamel@csusb.edu | PHONE: (909) 537-5158 | OFFICE: JB-458
BIOGRAPHY:  Marina Kamel began her career at Cal State University, San Bernardino (CSUSB) as a student intern at Coyote Advertising where she began exploring web design and content writing. She was later recruited as a student assistant. This is where her marketing experience originated. Now, Marina joins various offices in the Jack H. Brown College of Business and Public Administration. She is working for the Department of Marketing alongside the department Chair and Coordinator. She also works for the JHBC Office of Academic Equity and works directly with the office director. Marina heads the Beta Gamma Sigma (BGS) CSUSB chapter. She graduated from CSUSB with a B.A. in English – Creative Writing. Alongside her job at CSUSB, she is a freelancer doing affordable website designs, content writing, and marketing for local businesses and individuals. Marina opened her business, Dreams Map The Heart, in 2017 to help local businesses market their company or product at an affordable price. Since 2009, she has been promoting Asian Entertainment through her website where she covers various concerts, events and interviews artists on a regular basis. Most recently, photography has been her passion and she is seen holding photoshoots that is affordable for everyone outside of work. 
---
HOSPITALITY MANAGMENT PROGRAM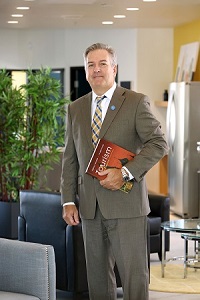 Joseph Tormey | Hospitality Management Program Director, D.HTM
EMAIL: joseph.tormey@csusb.edu | PHONE: (909) 537-8213 | OFFICE: iHUB Building (Palm Desert Campus)
BIOGRAPHY: Doctor of Hotel and Tourism Management, The Hong Kong Polytechnic University, China;  Master of Science in Hospitality Management, Fairleigh Dickinson University; BBA in Finance, Pace University NYC; Certified Hospitality Educator
Dr. Joseph Tormey joined CSUSB in 2019 as the founding director of the hospitality management program on the Palm Desert Campus.  He has taught and held administrative positions at the university, community college and vocational high school levels in hospitality management and culinary arts.  Among his favorite subjects are anything related to travel and tourism, restaurants, events, and education abroad.  His past professional experience includes having worked in a variety of management and consulting positions in industry and academia, in the U.S. and internationally.  Joe serves on numerous advisory committees and professional organizations in the Greater Palm Springs, Inland Empire and beyond.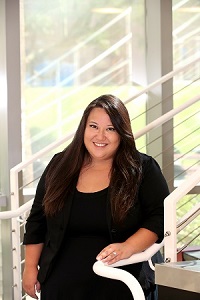 Regina L. Garrison | Administrative Support Coordinator 
EMAIL: rgarriso@csusb.edu | PHONE: (760) 341-2883 ext. 78221 | OFFICE: iHub 101 (Palm Desert Campus)
Regina Garrison is the Administrative Support Coordinator for the Hospitality Management Program at CSUSB Palm Desert Campus (PDC). Regina began her career at PDC in 2009 working as the Administrative Assistant for the College of Education. Throughout her time at CSUSB,  Regina was recruited to work with several university departments and organizations including the Coachella Valley Health Collaborative, Osher Lifelong Learning Institute, World Affairs Council of the Desert and The Priscilla and Charles Porter History Social-Science Resource room. In 2013 Regina was hired as the Public Affairs/Communication Specialist for the Palm Desert Campus where she served as the Indian Wells Theater Box Office manager, coordinated and created systematic communication efforts to PDC Student, faculty and staff and created digital and print marketing materials needed for the Palm Desert Campus. In 2017, Regina was promoted to Administrative Analyst Specialist for the office of Special Events and Guest Services and there she gained a wealth of knowledge, planning, implementing and executing high level events, conferences and furthered her experience in the hospitality industry. In 2020, Regina had her first child and decided to take a less demanding role with the university and found the perfect fit working in her current role, with the Hospitality Management Program. Regina is an alumna of CSUSB and holds a BA in Career & Technical Education.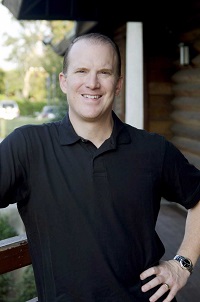 Haakon Brown |  Department Chair Professor, Ph.D
EMAIL: hbrown@csusb.edu | PHONE: (909) 537-5716 | OFFICE: JB-458
BIOGRAPHY: Dr. Haakon Brown is a Professor of Marketing at California State University, San Bernardino and is currently the Marketing Department's Interim Chair. He came to CSUSB in 2009 after completing his Ph.D. in marketing from the Kellogg School of Management at Northwestern University. His research interests include self-control and consumer behavior, cultural effects on consumption, and the consumption of sport. His dissertation examined how mentally simulating future behaviors affects attitude certainty, demonstrating an additional pathway to attitude certainty that does not rely on previous experience or knowledge.
Haakon's teaching interests include consumer behavior, marketing principles, sports marketing, and international marketing. He is passionate about teaching and believes that learning should be fun, so he works hard to make his classes entertaining and enjoyable.
Prior to his academic pursuits, Haakon spent a number of years working in consulting, first for CSC Consulting and then subsequently Deloitte Consulting. He scored in the 99th percentile on the GMAT and has been helping students with their preparation for the exam for more than 7 years. He is originally from New England and as such he is an avid New England sports fan (even though that causes some problems here in Southern California), and also enjoys cooking, reading, music, photography, and the piano. In addition to his Ph.D., he also holds an MBA from the MIT Sloan School of Management and a BS in Mechanical Engineering from Columbia University.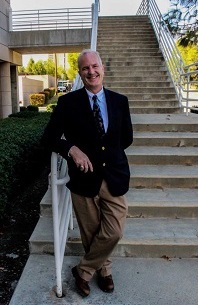 Eric Newman | Professor, Ph.D
EMAIL: enewman@csusb.edu | PHONE: (909) 537-8241 | OFFICE: iHub 110 (PDC)
BIOGRAPHY: Dr. Eric Newman is a Marketing Professor at the Jack H. Brown College of Business and Public Administration at California State University San Bernardino – Palm Desert Campus.   He received his BS and MBA from the University of Montana and a Ph.D. from Washington State University.  Dr. Newman has worked in a number of industries including travel, hospitality, sports entertainment, real estate, and the technology industry.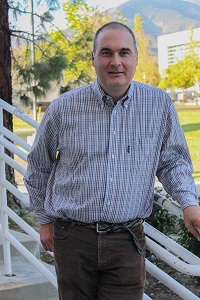 Jason Ryan | Professor, Ph.D
EMAIL: jryan@csusb.edu | PHONE: (909) 537-3779 | OFFICE: JB-421
BIOGRAPHY: Dr. Jason Ryan joined CSUSB in 2011 from the University of Redlands as an Associate Professor of Marketing. At Redlands, he taught in the full-time undergraduate business program for four years and was granted early tenure and promotion. Jason has ten years of teaching experience in institutions of higher education in Ireland, Finland, Spain, Morocco and the United States. Prior to moving to California in 2007, Jason was employed by Saint Louis University for two years to teach international business at its overseas campus in Madrid, Spain. He also has six years of industry experience at Price Waterhouse Coopers, America Online, Inc. and Sigma-Aldrich Corporation.
Jason likes to describe his personal and educational backgrounds as eclectic. Jason was born and raised in France to an American father and an Iranian mother. He moved to the US in 1991 as a teenager to attend Swarthmore College, where he majored in History. After graduation, he worked for Price Waterhouse Coopers as an IT Consultant for two years before attending graduate school at Washington University in St. Louis. There, he earned an MBA and an MA in International Affairs. After working for both America Online and Sigma-Aldrich, Jason decided that his true calling was teaching. Jason moved to Dublin, Ireland, to attend the PhD program at the Smurfit Graduate School of Business at University College Dublin. While studying in Ireland, Jason met his wife, Sari Silvanto, who hails from Finland. Jason and Sari both earned their Ph.D's in 2007 from University College Dublin and the University of Warwick (Warwick Business School), respectively.
Jason's research interests are branding and the global mobility of skilled professionals. His articles on these topics have appeared in the Journal of Brand Management, the Journal of Travel & Tourism Marketing, the Marketing Review, the Journal of Global Mobility, Marketing Intelligence & Planning, Place Branding and Public Diplomacy, Career Development International and the European Journal of International Management.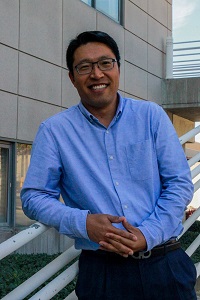 Chanho Song | Associate Professor, Ph.D
EMAIL: Chanho.song@csusb.edu | PHONE: (909) 537-5323 | OFFICE: JB-432
BIOGRAPHY: Dr. Chanho Song is an Associate Professor of Marketing at California State University, San Bernardino. He holds a PhD in Marketing from Kent State University and an MBA from the University of California at San Diego. He is originally from Korea where he received an MS in marketing and a BS in business administration. 
Chanho's primary research focuses on incentive programs in marketing areas such as firm strategy, consumer word of mouth and service quality. He is also interested in behavioral experiments. His dissertation examines the effectiveness of referral rewards from the perspective of three parties: the firm, the recommender, and the receiver. He has experience with both laboratory and field experiments as well as secondary data analysis.
Before joining the faculty at California State University, San Bernardino, he taught at Kent State University for five years. He has taught a wide array of courses including Advertising and Promotion Management, International Marketing, and Marketing Applications. Prior to entering academia, he worked as a manager for his family's business and also worked as a consultant regarding employee education and training.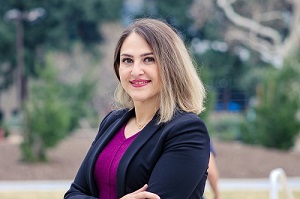 Melika Kordrostami | Associate Professor, Ph.D
EMAIL: melika.kordrostami@csusb.edu | PHONE: (909) 537-5774 | OFFICE: JB-415
BIOGRAPHY: Dr. Melika Kordrostami is an assistant professor in the Marketing department. She has a Ph.D in Marketing from Iowa State University. She also has an MBA and bachelor's degree in industrial engineering. Before joining Academia, she worked in different multinational companies such as Nestle and Siemens. She has taught executive workshops in the areas such as change management and gender balance etc. 
Dr. Kordrostami has taught Marketing classes at Iowa State University and CSU San Bernardino such as Marketing Principles and Consumer Behavior. Her great passion towards empowering women led her to focus her dissertation on female power portrayals in advertising. Moreover, she is engaged in other research projects concerning consumer behavior, culture and consumption, emotion, and branding. She won the best "Three Minutes Thesis Presentation" at Iowa State University. Her research has been published in high impact marketing journals such as Journal of Marketing Management and Journal of Product and Brand Management.
In her free time, she enjoys working out, reading, movies, and discovering art exhibitions and galleries.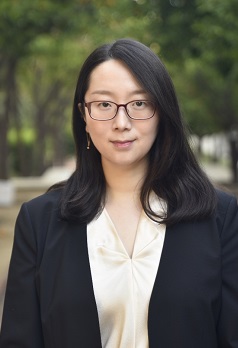 Sung-Hee Wendy Paik | Assistant Professor, Ph.D
EMAIL: SungHee.Paik@csusb.edu | PHONE: (909) 537-5785 | OFFICE: JB-419
Sung-Hee Wendy Paik completed her Ph.D. in marketing from the Lundquist College of Business at the University of Oregon. Her research focuses on consumer behavior such as perception, product aesthetics and design, and consumer inference-making. Domain-wise, she is interested in consumer donation and health-related consumptions. Her research has appeared in Journal of Public Policy & Marketing and Journal of Business Research.
For her doctoral dissertation, she was honored with a University of Oregon Doctoral Dissertation Research Fellowship. In her dissertation, she investigated how visual elements in donation appeal, such as color and victim image resolution, influence consumers' donation intentions. Before joining CSUSB, she taught marketing research at the University of Oregon as a graduate teaching fellow. Her teaching interests include marketing research, marketing principles, digital marketing, and consumer behavior.
Prior to her Ph.D., she earned her master's degree and bachelor's degrees at Yonsei University, South Korea. While pursuing her Master of Science in Business Administration, she participated in various business research projects with well-known private firms in South Korea, including Samsung Electro-Mechanics and Korean Air, as well as the government organization, Korea Consumer Agency.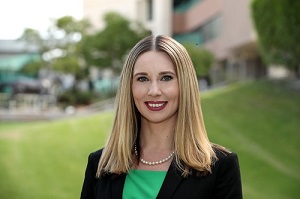 Michelle Russen, Assistant Professor, Ph.D.
 Michelle Russen | Assistant Professor, Ph.D
EMAIL: Michelle.Russen@csusb.edu | PHONE: (909) 537-8226 | OFFICE: IW 113 (PDC)
Dr. Michelle Russen brings 10 years of hospitality experience to the classroom including restaurant management, event management, human resources, and hospitality leadership consulting. She received her Doctor of Philosophy in Hospitality Administration from University of Houston and her Master of Science in Hospitality Management from University of South Florida. Prior to joining CSUSB as an Assistant Professor, she taught undergraduate courses at University of Houston Conrad Hilton College and the Art Institutes of Houston including Human Resource Management for Hospitality, Hospitality Organizational Behavior, Food and Beverage Operations, and Hospitality Marketing. She hopes to continue building connections with the hospitality industry to improve the landscape for both business and employees through guiding future leaders toward success and researching pertinent topics.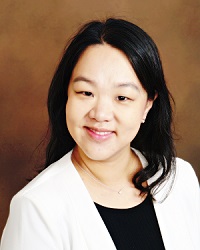 Ari Kim, Assistant Professor, Ph.D.
Ari Kim | Assistant Professor, Ph.D
EMAIL: Ari.Kim@csusb.edu | PHONE: TBA | OFFICE: JB-411
Dr. Ari Kim holds a Ph.D. in Sport Management from the University of Florida, along with an M.S. in Marketing and a B.B.A. from Yonsei University in South Korea. Her expertise centers around consumer behavior and strategic marketing communications, specifically focusing on crafting inclusive marketing communication strategies within the sports domain. 
Dr. Kim's objectives encompass forging valuable connections with the local sports and entertainment sector, comprehending student interests, and advancing her research in collaboration with fellow colleagues and students at CSUSB. Beyond her campus commitments, she also takes on leadership roles such as a chair of the Marketing & Communication Committee for the North American Society for Sport Management (NASSM) and a director of programming for the Korean American Association for Sport Management (KAASM). 
Prior to joining CSUSB, Dr. Kim served as an assistant professor at Towson University, where she instructed a range of courses spanning sport marketing, marketing analytics, and strategic sport communication. Her background also features substantial industry experience, including roles as a marketing research consultant at Kantar and a marketing intern at L'Oréal.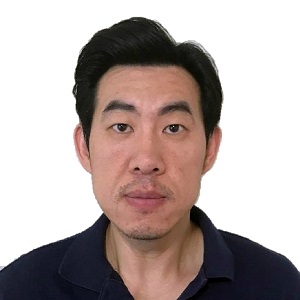 Moonhoon Choi | Adjunct Professor, MA
EMAIL: Moonhoon.Choi@csusb.edu 
Moonhoon Choi joined California State University, San Bernardino in 2023, coming from Gallaudet University in D.C. At Gallaudet, he was an assistant professor and taught various communication courses like Intro to Mass Communication, Communication Theory, Organizational Communications, and Sports Communication. Moonhoon also taught Consumer Research and Analysis at the University of Wisconsin-Madison in the Department of Consumer Science.  
Moonhoon earned his M.A. in mass communication from the University of Florida and is currently finishing his Ph.D. in mass communications at the University of Wisconsin-Madison. His research lies in individual information processing, with a particular focus on the role that media plays in shaping public opinion and influencing attitudes toward societal matters. Before diving into academia, he worked as a Public Affairs Officer in the Korean Army, which provided him with a distinctive perspective that enriches his academic and research endeavors.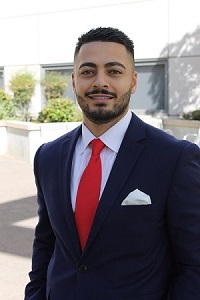 Adeeb Hattar | Adjunct Professor, DBA
EMAIL: adeeb.hattar@csusb.edu 
BIOGRAPHY: Dr. Adeeb Hattar is an Adjunct Professor of Marketing at California State University, San Bernardino (CSUSB). He completed a B.S in Business Administration from CSUSB in 2010, an M.B.A from the University of Redlands in 2012, and a D.B.A from Walden University in 2016. Dr. Hattar's doctoral dissertation explored strategies that leaders of a successful U.S. bank used to identify efficiency changes occurring during a financial crisis.

Furthermore, Dr. Hattar is president of Hattar Investments, a corporation whose main business is holding and managing assets for investment purposes. He ensures operational excellence for the business to run effectively and cohesively. Dr. Hattar is result driven with an effective record in generating tremendous business solutions.

Additionally, Dr. Hattar has a 9-year banking career with Bank of America distinguished by a commendable performance of accomplishing large-scale goals. He would challenge his staff by implementing problem solving exercises and disruptive innovation. Also, Dr. Hattar encouraged the development of intellectual curiosity in financial services including processing new account transactions and account management.

Dr. Hattar believes in giving back to the community. As an alumnus from CSUSB, his focus is to help students earn a college education. As an entrepreneur and an adjunct professor, Dr. Hattar aims to inspire students on a daily basis. His objective is to share his knowledge and experience to help direct the next generation into their future careers.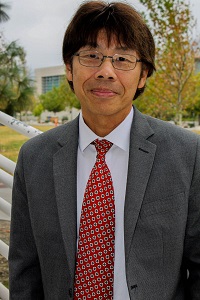 Kim Tan | Adjunct Professor, MBA
EMAIL: ktan@csusb.edu
BIOGRAPHY: Kim Tan joined California State University, San Bernardino in 2007 with over 20 years of industry work experience in marketing research and business consultancy. With his professional experience, Kim taught both MBA and undergraduate students at various institutions including Chapman University, University of California Riverside, University of La Verne and University of South Australia. He was also the Vice Dean with the School of Business Management at Nanyang Polytechnic in Singapore where he was heavily involved in institutional research and promotion, academic personnel recruitment and management, as well as work involving institutional networking and strategic partnerships.
Kim is a graduate from Louisiana State University (LSU) in Business Administration with a concentration in marketing. He also earned a MBA with distinction from LSU specializing in strategic management and quantitative business analysis. Upon graduation, he went on to pursue a career in marketing management with Electrolux and Nestle. Prior to joining the education industry, Kim worked as a Senior Marketing Research Consultant for Price Waterhouse helping clients such as Intel, IBM, Coca Cola and Yellow Pages through marketing research and organizational development projects. Kim is currently serving as a Director on the Board of Directors of 2 wholesale enterprises in the marketing and distribution of consumer products to retail organizations. Apart from his work as an instructor and a business adviser, Kim also worked on academic research, contributing scholarly research work for publications especially on areas pertaining to professional selling, sales management and services marketing.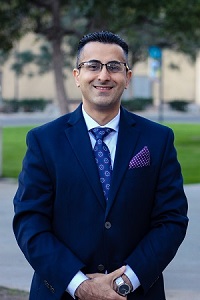 Rami Tameez | Adjunct Professor, DBA
EMAIL: rtameez@csusb.edu 
BIOGRAPHY: Dr. Rami Tameez is a financial professional who focuses on protecting and preserving the wealth of his clientele. His goal is to assist his clients in creating lasting strategies that protect their hard earned assets and give them the independence and control needed for the future.
As one of the founding leaders of Legacy Financial and Insurance Services, he leads his team to help local clients with retirement and insurance strategies. Rami's mission is to educate the public on financial topics and techniques that help reduce taxes, create guaranteed income streams and offer protection in the volatile marketplace.
Rami is a graduate of CSUSB with a degree in Management. He also received a Masters Degree in Management from National University, Doctorate in Business Administration at Columbia Southern University, and holds additional financial designation including: Accredited Asset Management Specialist (AAMS) and Accredited Wealth Management Advisor (AWMA) through the College for Financial Planning.
Rami is very active in the community as well. He is on the board of JJ Smiles Foundation, a non-profit organization dedicated to bettering the lives of children.
Now, you'll find Rami teaching as an adjunct professor at CSUSB and La Sierra University.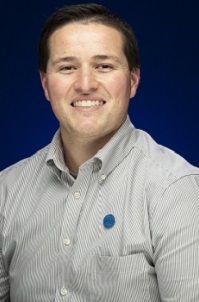 Sean Kinnally | Adjunct Professor, MBA
EMAIL: Sean.Kinnally@csusb.edu 
BIOGRAPHY: Sean Kinnally is an Adjunct Professor of Marketing at California State University, San Bernardino. He came to CSUSB in 2009 as a student and graduated in 2013 from the Sports and Entrainment Marketing department. Completed his master's degree in Sports Management in 2015 from the University Wichita State.  Has worked in events, marketing and facility management at UCLA, UNLV, Wichita State and CSUSB. Before coming back into the education world, he worked for Wasserman Media Group in the team sports division for NBA and MLB clients. He is passionate about teaching marketing and wants students to have fun in class while learning.  Works hard to make classes enjoyable and exciting for students. He is originally from San Diego, but moved around every 3 years because father was in the military and favorite place lived was Frankfurt Germany for 6 years.  He enjoys reading, playing golf, cooking and traveling.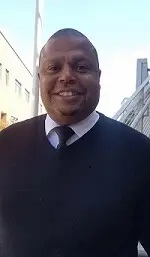 Duane Cofield | Adjunct Professor, MBA
EMAIL: duane.cofield@csusb.edu 
BIOGRAPHY: Duane Cofield obtained his undergraduate degree from California State University San Bernardino in Marketing while starting a career in radio sales at Wild96.1FM . His career in radio led him to work for Stevie Wonder's 102.3 KJLH as a digital marketer and although he enjoyed his job and career there, he was also going to school at night to obtain his Master's Degree. In 2014 Duane graduated from California State University Long Beach with an MBA and started an online beauty company during his last year of study. Duane recently fulfilled his lifelong dream of teaching at University when he received the opportunity to teach Personal Selling and Social Media at CSULA.
In addition to running a business and teaching, Duane also host a Podcast titled Drug Dealers to Businessmen Podcast: Converting Street Skills into Millions which has been well reviewed and received. In his spare time Duane loves to spend time with family, surf the best beaches and hike the best hikes with his wife Lei Lani.