IMAGINE
Can you imagine a world without your favorite car, your favorite ice cream, personal computer, smartphone or any other essential or desired product or service. That would be a world without MARKETING! Marketing establishes and maintains relationships and engaging with customers is what Marketers do every day. As consumers, you are involved with marketing everyday through the products and services you buy and use, the price you pay, where you purchase them from and the messages that resonate with you.
Creating customers means identifying needs in the marketplace, deciding on which needs the organization can profitability serve, and developing a product or service offering to turn potential buyers into satisfied customers. Marketers facilitate the exchange between buyers and sellers through strategic planning that is essential to a company's success.
Many CEO's of today's corporations come from Marketing backgrounds, so target your success here!
SKILLS
Career opportunities abound in Marketing and employers are looking for individuals with this background.  As well, employers are seeking individuals that have these skills: (from The Global Achievement Gap by Tony Wagner, 2008, 2010, Basic Books: NY)
Critical thinking and problem solving
Collaboration and team playing
Initiative and entrepreneurial thinking
Accessing and analyzing information and data
Curiosity and imagination
Effective oral and written communication skills
Flexibility and adaptability
Your marketing coursework will prepare you for your career with real-world client projects and experiences that will be challenging and fun, as well as, help you master the skills listed above.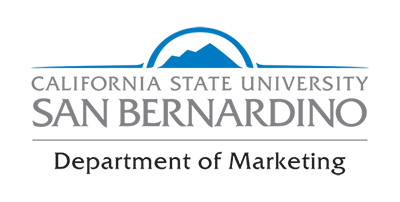 Join us in Targeting your Success and Defining the Future! 
Victoria Seitz, Ph.D., Chair | Email: vseitz@csusb.edu