CSUSB Will Continue Virtually Throughout 2020
As the CSUSB campus continues into all virtual and online courses for the rest of 2020, the Department of Marketing will remain open virtually to assist everyone.
Please call 909-537-5749 for any questions or concerns! We are accepting calls from 8am-5pm (Monday-Friday).
Department contacts:
Dr. Victoria Seitz, Department Chair: vseitz@csusb.edu
Lisa Gordon, ASC: lgordon@csusb.edu
Marina Kamel, ASA: marina.kamel@csusb.edu
For departmental inquires including enrollment, overloads, waitlists, and more, please email both Lisa Gordon lgordon@csusb.edu AND Marina Kamel marina.kamel@csusb.edu to ensure emails are received and answered in a timely manner.
Online Processes:
ADDING A COURSE: If you are trying to add a course with open seating and you meet the requirements, please follow these instructions to add the course via MyCoyote. If there are issues with this process, email Lisa or Marina for assistance.
WAITLISTS: The Department of Marketing are still utilizing the online waitlist system as has been followed in the past. If you are in need of a class and there are currently no seats open, please be sure to get yourself added to the waitlist. After the first week of classes, the waitlist will no longer be active, and faculty may begin emailing the department to assist with adds. Email your instructor if you wish to be added to blackboard for the time being. 
OVERLOADING: If you are overloading, please fill out the virtual overload form in its entirety. Forward the document to the faculty member teaching the course.  If the instructor approves, the faculty member will notify the department by emailing Lisa or Marina. Someone in the Marketing team will review eligibility requirements before proceeding to forward to the department chair.
For any other requests, concerns, or questions please email Lisa Gordon (lgordon@csusb.edu) AND Marina Kamel (marina.kamel@csusb.edu).
Thank you for patience as we go through these changes together.
---
DEPARTMENT CHAIR OFFICE HOURS:
Dr. Victoria Seitz
Email: vseitz@csusb.edu
FOR FACULTY OFFICE HOURS, PLEASE EMAIL:
Dr. Haakon Brown
Email: hbrown@csusb.edu
Dr. Melika Kordrostami
Email: melika.kordrostami@csusb.edu
Dr. Jason Ryan
Email: jryan@csusb.edu
Dr. Chanho Song
Email: Chanho.song@csusb.edu
Dr. Eric Newman
Email: enewman@csusb.edu
The following faculty members can meet with students by appointments. To virtually meet with these professors, please email them:
Kim Tan: ktan@csusb.edu
Dr. Rami Tameez: rtameez@csusb.edu
Dr. Adeeb Hattar: adeeb.hattar@csusb.edu
Duane Cofield: duane.cofield@csusb.edu
For questions or concerns pertaining to the Hospitality Management Program, please contact Dr. Joseph Tormey at joseph.tormey@csusb.edu
---
IMAGINE
Can you imagine a world without your favorite car, your favorite ice cream, personal computer, smartphone or any other essential or desired product or service. That would be a world without MARKETING! Marketing establishes and maintains relationships and engaging with customers is what Marketers do every day. As consumers, you are involved with marketing everyday through the products and services you buy and use, the price you pay, where you purchase them from and the messages that resonate with you.
Creating customers means identifying needs in the marketplace, deciding on which needs the organization can profitability serve, and developing a product or service offering to turn potential buyers into satisfied customers. Marketers facilitate the exchange between buyers and sellers through strategic planning that is essential to a company's success.
Many CEO's of today's corporations come from Marketing backgrounds, so target your success here!
SKILLS
Career opportunities abound in Marketing and employers are looking for individuals with this background.  As well, employers are seeking individuals that have these skills: (from The Global Achievement Gap by Tony Wagner, 2008, 2010, Basic Books: NY)
Critical thinking and problem solving
Collaboration and team playing
Initiative and entrepreneurial thinking
Accessing and analyzing information and data
Curiosity and imagination
Effective oral and written communication skills
Flexibility and adaptability
Your marketing coursework will prepare you for your career with real-world client projects and experiences that will be challenging and fun, as well as, help you master the skills listed above.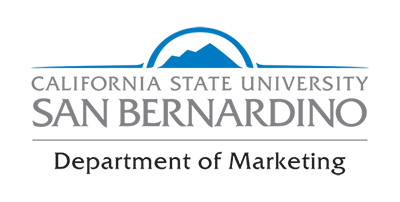 Join us in Targeting your Success and Defining the Future! 
Victoria Seitz, Ph.D., Chair | Email: vseitz@csusb.edu