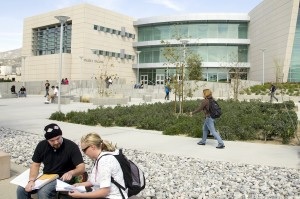 The Instructional Design and Technology (IDT) program offers one master's degree (Master of Arts in Instructional Design and Technology) and two certificates (Educational Technology, e-Learning). The MA in IDT degree requires 30 semester units while the certificate requires 21 semester units (Educational Technology Certificate) or 12 semester units (e-Learning Certificate).
The Instructional Technology program is hands-on and student-centered. Students who enter the master's program may choose to focus on research or in development through course selection. The ETEC program is challenging and at the same time, achievable. It is possible for students to complete the ETEC program within one and a half year.
Degree & Certificates Offered
Important Information regarding the MA Degree
M.A in Instructional Design and Technology
The Master of Arts in Instructional Design and Technology at CSUSB prepares students to be instructional designers, improve use of instructional design & technology and support the use of technology in a variety of career paths:
Technology Coordinator at a school or district level,
Instructional Materials Developer,
Online Instructor,
Online Course Developer
Corporate Trainer, and
Digital Media Designer and Developer
Students are strongly encouraged to determine before entering the program which track they want to pursue. Permissions from program advisor and coordinator are required for changes made after entering the program.
Students do not have to have extensive technology experience prior to entering the ETEC program, however successful students bring with them to the program a love of learning technology and an ability to explore new technologies independently as well as in the classroom and/or corporate settings.
Master of Arts in IDT Graduates will demonstrate the following Program Learning Outcomes (PLOs):
PLO1 Candidates communicate in a scholarly manner both orally and in writing about relationships among underlying principles, historical developments and emerging issues in the field of Instructional Design & Technology. 
PLO2 Candidates create, use, evaluate, and manage learning environments to problems of learning and professional practice based on effective implementation of instructional design processes and educational technologies.
PLO3 Candidates explore, evaluate, synthesize, and apply methods of inquiry to enhance learning and improve performance.
PLO4 Candidates understand local and global societal issues in an evolving digital culture and exhibit legal and ethical behavior in their professional practices and provide leadership in their professional community. 
Certificates
The Instructional design and Technology Program offers two Certificates.