CSUSB to recognize eight accomplished alumni at inaugural Hall of Fame celebration
As California State University, San Bernardino celebrates 60 years of higher education excellence, it is launching its inaugural Alumni Hall of Fame Awards to recognize the professional accomplishments and community service of distinguished alumni.
The alumni will be honored during a dinner and award ceremony on Friday, Feb. 16, at Santos Manuel Student Union North Ballrooms.
"Our alumni are leaders in their fields, from the arts to the sciences, to education and philanthropy and more," said CSUSB President Tomás D. Morales. "The inaugural Hall of Fame celebration is an unparalleled opportunity to honor our outstanding alumni and community members who have made a difference in the future of our university, our region and far beyond."
Three university-wide awards – Distinguished Alumni, Emerging Leader and Coyote Spirit – will be presented, as well as the Paw Print Awards, which honor esteemed alumni from each of the university's five colleges.
The honorees include:
Distinguished Alumni Award: Ellen Weisser, BA, English, '68
The Distinguished Alumni Award recognizes an achievement of noteworthy value, a series of such achievements or a career or humanitarian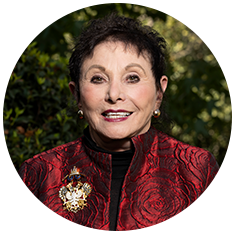 effort of noteworthy accomplishment.
A tireless advocate for Cal State San Bernardino, Ellen Weisser served as the honorary co-chair of "Our Defining Moment: The Campaign for CSUSB," which was launched in 2022, and has been an integral member of the CSUSB Philanthropic Foundation Board. As a founding member of the President's Philanthropic Board, she has served as chair of the organization for many years. She is the immediate past president of the College of Arts and Letters Community Leaders Board and is active in the Golden Grad program.
Weisser was integrally involved in the first theater program at CSUSB and established an endowment to support its mission, which was the first named sponsorship in the Department of Theatre Arts' more than 50-year history. She and her husband, Stan, generously provided the seed donation for CSUSB's Performing Arts Center and the building's foyer has been named in their honor.
Dedicated to community service, in 2017 Weisser was named Woman of the Year by the Redlands Chamber of Commerce and has supported numerous cultural and service organizations. She was instrumental in founding The Grove School, an innovative Montessori institution, and went on to serve on the board of the school. 
Emerging Leader Award: Alberto Jasso, Public Administration, '15
This award honors an individual who has made a positive impact in their community, industry or profession and has received their degree within the past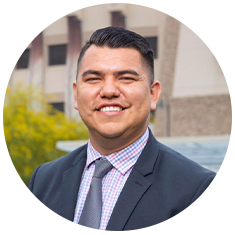 10 years.
Alberto Jasso has played a vital role in the CSUSB community and far beyond. A former Santos Manuel Student Union (SMSU) employee, he also served as the chair of the Board of Directors for SMSU. 
Today, he is the director of strategic philanthropy for the San Manuel Band of Mission Indians. In this role, he leads San Manuel's philanthropic efforts, donating millions of dollars to nonprofit organizations to support education, self-determination for all and community development –primarily in ancestral lands, with a focus on the development of opportunities for Native nations and causes across the country.
Much of Jasso's career has been in service of others, including his work at the city of San Bernardino as a Community Development Block Grant Program assistant, the County of San Bernardino as an Economic Development Program officer, and the San Manuel Band of Indians in his previous role as strategic philanthropy manager.
Coyote Spirit Award: William Stevenson, Business and Marketing, '84
This award honors an individual who has gone above and beyond to help advance the mission of CSUSB as a dedicated volunteer.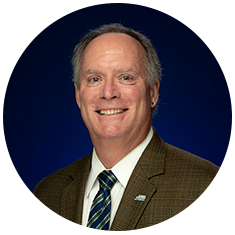 William "Bill" Stevenson has been involved with Cal State San Bernardino for more than 40 years, first as a student pursuing a degree in business, and in the ensuing years, as a dedicated volunteer who has consistently taken on leadership positions to further the mission of the university. Additionally, he has served as an adjunct professor of finance in the Jack H. Brown College of Business and Public Administration since 2014.  
He is currently the chairman of the CSUSB Philanthropic Foundation and previously served as chair of the Foundation's Executive Committee and its Investment Committee. He is past president of the CSUSB Alumni Association and is a member of the Alumni Board. He has served on the Jack H. Brown College of Business and Public Administration Advisory Board for the A&L Community Leaders Board. He is also a board member of CSUSB's University Enterprise Corporation and a member of the President's Diversity, Equity, and Inclusion Board.
Paw Prints Award
This award recognizes alumni who have shown exemplary accomplishments that reflect the spirit of their academic college.
Jack H. Brown College of Business and Public Administration:
Scott Keagy Smith, BA, Marketing, '91   
For more than 25 years, Scott Keagy Smith has been a high school physical education (PE) teacher in the San Bernardino City Unified School District (SBCUSD) and has spearheaded several groundbreaking programs that have revolutionized high school physical education in the district. He has worked passionately to ensure students understand their health and fitness goals, inspiring them to become champions for their own wellness. As an Employee Development Department Demonstration Teacher for fellow PE teachers, he has had a tremendous impact, educating colleagues on the most effective techniques and strategies for teaching and learning. 
In 2020, after more than 20 years at Arroyo Valley High School, he was named PE program specialist in the Secondary Education Department of SBCUSD, serving as the lead for all PE programs in the district.
College of Natural Sciences:
Tae-Wook Chun, BS, Biology, '92
Dr. Tae-Wook Chun has had a profound impact on millions of people throughout the world, improving the lives of those living with HIV through his groundbreaking HIV-treatment research. Today, he is the chief of the HIV Immunovirology Section Research Group at the Laboratory of Immunoregulation (LIR) of the National Institutes of Health (NIH).
After graduating from CSUSB, Chun earned a Ph.D. from the biochemistry, cellular, and molecular biology graduate program at The Johns Hopkins University School of Medicine. He conducted his postdoctoral research work in the LIR under Dr. Anthony Fauci at the National Institute of Allergy and Infectious Diseases (NIAID) of the NIH.
In 2023, Chun received the prestigious Top 10 Clinical Research Achievement Award from the Clinical Research Foundation for advancements in antibody-based therapy for HIV-infected individuals. He was also named the 2022-23 College of Natural Sciences Outstanding Alumnus of the Year.
College of Arts and Letters:
Anthony Donatelli, BA, Communication Studies '15  
On-air personality Anthony Donatelli began his broadcasting journey at CSUSB's Coyote Radio where he learned the ins and outs of hosting, scripting and other radio station operations. During his junior year, Donatelli officially launched his career, working as an overnight deejay at KFrog 95.1-FM. After graduating, he was promoted to the afternoon primetime slot, making the drive home a lot more enjoyable for thousands of commuters. After co-hosting the Heather & Anthony show, which was the top-rated afternoon show in the nation in 2021, Donatelli has returned to the afternoon primetime slot.
Donatelli is integrally involved with the community. Causes close to his heart include the K-Frogger's for Kids Radiothon, which has raised more than $1 million for children battling cancer.
James R. Watson and Judy Rodriguez Watson College of Education:
Juan Carlos Luna, BA, Liberal Studies, '02, MA, Bilingual Education,'04, MA, Educational Administration, '06
Juan Carlos Luna is approaching nearly 20 years as an educator and teaches 5th grade at Hughbanks Elementary in the Rialto Unified School District. He is also an outspoken advocate for ending childhood hunger in the classroom. Nearly 85 percent of the students at the school qualify for free or reduced-priced meals and Luna has made it his mission to ensure that they take advantage of the Breakfast in the Classroom program, which guarantees the school day begins with a healthy meal.
He works closely with the nonprofit organization No Kid Hungry to raise awareness about the role good nutrition plays in learning. No Kid Hungry successfully nominated Luna to be highlighted on actress Kristen Bell's #FeaturedTeacherFriday Instagram page.
In addition to his academic degrees, Luna also holds three teaching credentials and is working toward a Doctor of Education degree in educational leadership at CSUSB.
Social and Behavioral Sciences:
Mary Jane McCoy, BA, History, '67  
In 1967, Mary Jane McCoy was one of three African American students in the first graduating class of 59 students from what was then called California State College at San Bernardino.
During the past 50-plus years, she has been dedicated to working as a teacher and principal and volunteering in the communities in which she has lived. While she now resides in Spokane, Washington, McCoy remains passionately committed to organizations in San Bernardino that focus on domestic violence, youth, homelessness and the elderly.
In 2017, McCoy established an endowed scholarship for CSUSB students to assist with financial obligations needed to complete requirements for graduation. These funds help with purchasing books, housing, tutorial assistance and tuition assistance. Each year, she also provides a number of students with backpacks that include tablets, headphones, speakers and USB chargers that are presented at the annual Pioneer Breakfast hosted by the CSUSB Black Faculty, Staff and Student Association.
For more information about the inaugural Hall of Fame celebration, contact the Office of Alumni Relations at (909) 537-3700 or send an email to alumni@csusb.edu. The office provides opportunities for alumni to connect with each other and their alma mater and for CSUSB graduates to mentor and support current students through volunteer opportunities.