Ed.D. vs. Ph.D.

| Doctor of Education (Ed.D.)  | Doctor of Philosophy (Ph.D.)  |
| --- | --- |
| Scholar-Practitioners:  | Scholar-Researchers: |
| Focus on practical application  | Focus on theory and research |
| Typically designed for working professionals | Typically requires full-time dedication to coursework |
| Prioritizes application to practice and implementation | Prioritizes research  |
| Prepares for a career in educational leadership | Prepares for a career in research  |
| Designed for completion in 3 years | Typically takes 4-6 years for completion |
| Dissertation or Dissertation in Practice | Dissertation  |
Please visit our Ed.D vs Ph.D. YouTube playlist for more information.
Our Ed.D. Program is aligned to the Carnegie Project on the Educational Doctorate (CPED) Framework. Learn more about Program Objectives, CPED Framework and Student Learning Outcomes on our CPED Alignment Page.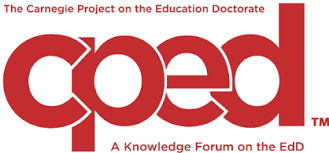 ---
About the Ed.D. Program
The California State University Doctor of Education (Ed.D.) in Educational Leadership programs represent an innovative professional doctorate in education that explicitly aim to achieve high levels of quality and relevance.
These unique doctoral programs for educational leaders were authorized by the California Legislature to respond to the urgent need for well-prepared administrators to lead the state's public schools and community colleges.
Every Ed.D. program in the CSU:
Is designed to equip leaders with the knowledge and skills needed to achieve reforms that improve student achievement
Uses a common framework that builds on nationally recognized P-12 and Community College professional standards and competencies for leaders
Links theory, research and practice in programs that are responsive and relevant to P-12 and Community College needs in specific regions of California
Is characterized by strong partnerships with P-12 and Community College practitioners. We collaborate with our local educational partners on program design, recruitment, admissions, teaching, and program assessment and evaluation.