Program Overview
California State University, San Bernardino's S-STEM Scholarship Program is funded by the National Science Foundation for five years to support transfer students majoring in STEM disciplines. These high-potential undergraduate transfer scholars will receive financial, curricular, and co-curricular support for STEM majors at CSUSB. There will be up to 103 scholarships funded for up to three years each, starting with students entering in Fall 2017 and pursing degrees in Biology, Chemistry/Biochemistry, Computer Science/Engineering, Geological Sciences, Mathematics, or Physics. Scholars will meet regularly with a Faculty Mentor in their major, participate in cohort classes their first year at CSUSB, and have access to a variety of co-curricular opportunities including peer mentoring, workshops, and research experiences.
The project builds bridges between CSUSB and several partner community colleges: College of the Desert, San Bernardino Valley College, Barstow College, and Imperial Valley College. Students from these campuses will have local scholar programs, and transfer students from partner institutions will gain priority for the CSUSB S-STEM scholarships. However, any incoming STEM transfer is eligible to apply for the CSUSB scholarships.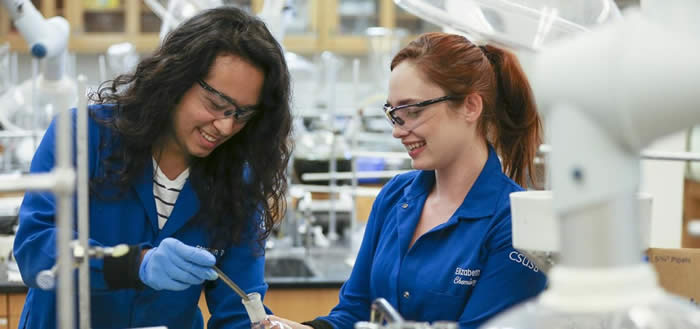 S-STEM Transfer Student Application Form
Student Benefits
Increased access to CSUSB faculty, the transfer cohort class and support, and peer mentoring will enhance scholars' success and speed time to graduation. Financial support (up to $10,000 per year for up to three years based on demonstrated financial need) will enable students to devote more time to studies, and less to employment. Co-curricular activities including undergraduate research will enhance scholars' readiness for employment or graduate studies.
Broader Impacts
California State University, San Bernardino is the only CSU campus, and one of only two public universities serving Riverside and San Bernardino counties, an area encompassing over 27,000 square miles, larger than the smallest five states combined. The Riverside/San Bernardino metro area has the lowest educational attainment of the 50 largest cities in the country. Residents of the remote Desert regions to the north, east and south are even more educationally disadvantaged. This project seeks to maximize success for students from these target populations, providing the support necessary for successful completion of pre-transfer studies, guidance through the transition to CSUSB, and the tools needed to graduate with a baccalaureate degree. Our program will provide diverse, well-prepared STEM employees, including high school teachers, needed to promote economic growth in the region, as well as qualified candidates that will enrich the pool of applicants for graduate programs.