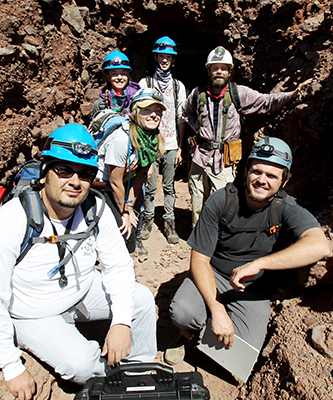 Faculty Search
Structural Geology and Neotectonics Tenure Track Position, Geological Sciences Department
California State University, San Bernardino (CSUSB) is located in San Bernardino in the Inland Empire, 60 miles east of Los Angeles and operates a satellite campus in Palm Desert located in Coachella Valley. CSUSB serves approximately 20,000 students, of which 81% are first-generation college students and graduates about 5,000 students annually. As a designated Hispanic Serving Institution, CSUSB reflects the dynamic diversity of the region and has one of the most diverse student populations of any university in the Inland Empire, and the second highest Hispanic enrollment of all public universities in California. CSUSB employs 467 full-time faculty and offers 48 undergraduate, 35 graduate, and one doctoral degree programs and 14 academic programs with national accreditation.
At CSUSB, diversity, equity and inclusion are values central to our mission. We recognize that diversity and inclusion in all its forms are necessary for our institutional success. By fully leveraging our diverse experiences, backgrounds and insights, we inspire innovation, challenge the status quo and create better outcomes for our students and community. As part of CSUSB's commitment to hire, develop and retain a diverse faculty, we offer a variety of networking, mentoring and development programs for our junior faculty. We are committed to building and sustaining a CSUSB community that is supportive and inclusive of all individuals. Qualified applicants with experience in ethnically diverse settings and/or who demonstrate a commitment to serving diverse student populations are strongly encouraged to apply. CSUSB has received the Carnegie Community Engagement Classification, which recognizes CSUSB's ongoing commitment to service-learning, a high-impact practice that combines classroom instruction with meaningful volunteer service and correlates strongly to student success.
Job Summary
The Department of Geological Sciences at California State University, San Bernardino invites applications from a diverse group of qualified applicants for a tenure track position at the rank of Assistant Professor to begin August 2022.  CSUSB is designated as a Hispanic Serving Institution and is committed to building a diverse and inclusive faculty. Applicants with a commitment to serving a diverse student population in an equitable and inclusive fashion are strongly encouraged to apply.  We strive for excellence, enhance diversity and foster harmony. For a full position description, go to https://cns.csusb.edu/geology and select New Position Open: Geological Science Department Assistant Professor.. 
See the complete job listing:
Faculty Job: Assistant Professor (Structural and Neotectonics)
---
What is geology?
Do you love Adventure?
Are you curious about earthquakes and lava flows, about fossils and deep time, about what builds the mountains and why some stones are used as gems and others as road pavement?
Geology is the study of how the earth works. Geologists decipher the forces that shape the earth. And by reconstructing the past, they can predict the future. Geologists roam the planet on paths of exploration and discovery. California is a natural geological laboratory. With its high mountains and stark deserts, its beach bluffs and network of fault lines, Southern California is one of the best places in the world to study geology. And at CSUSB, the San Andreas fault is literally out our back door.
Geologists are curious about the planet. When will the next earthquake happen? Where can we find new valuable resources? How do we protect our groundwater? Why do animals become extinct? What makes the continents move? For geologists, the earth is a natural laboratory to observe natural processes in action. In its quest to understand the earth, geology, integrates with many other disciplines - biology, computer science, geography, chemistry, mathematics and physics.
Zzyzx field study affords students chance to examine geology A-Z.  Appreciating the value of firsthand learning, the CSUSB Department of Geological Sciences helped students expand their knowledge during a seven-day visit to the Desert Studies Center in Zzyzx. Such experiences outside the classroom helps prepare graduates for the future.
If you are interested in changing your major to geology, please fill out the Office of the Registrar's Change of Major Form.