2020 CIAC Annual Conference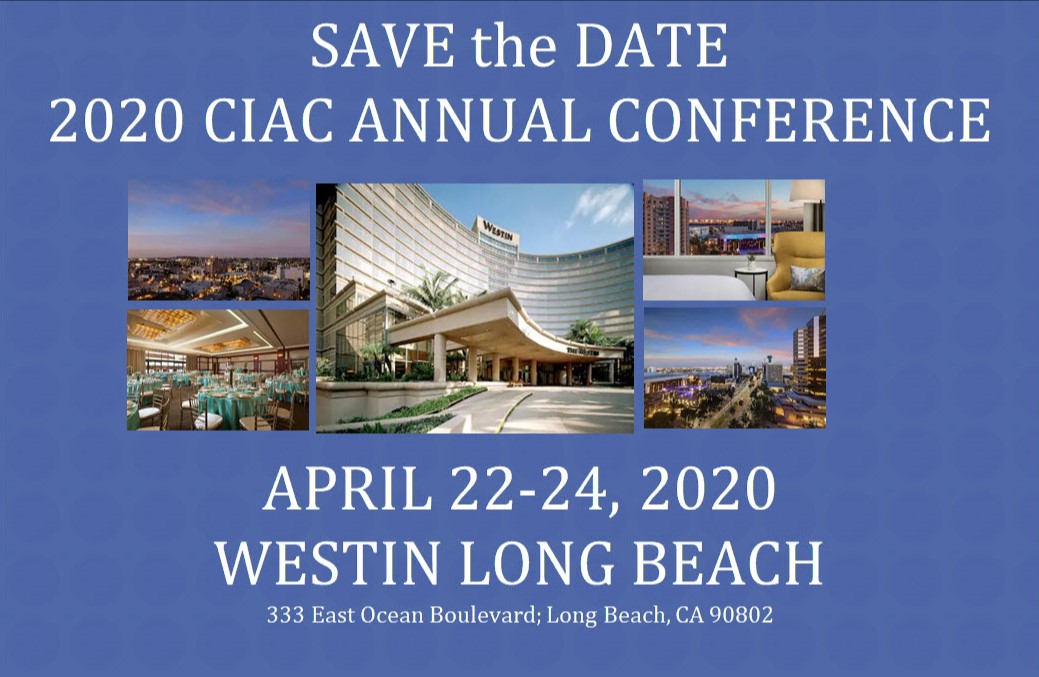 CIAC 2020 Annual Conference Registration Form_Fillable (002)
CIAC Calendar

The CIAC Calendar contains meetings, conferences, and training opportunities.
For editing access, complete this form.
Date: April 22-24, 2020
Location: Westin Long Beach
Address: 333 East Ocean Boulevard; Long Beach, CA 90802
The CIAC 2020 Annual Conference registration is open and the Westin Long Beach Hotel is now taking room reservations.  
The Westin Hotel Room Reservation Link - Book by March 23, 2020
New to CIAC CCC Articulation Officers (Pre-Conference):
​Pre-conference for CCC Articulation Officers, Wednesday, April 22, 2020 from l2:00 pm to 5:00 pm; cost is $50 for CIAC members and $100 for non-members.  Breakout sessions may include discussions on C-ID, ADTs, and/or UC Pathways Chemistry/Physics. Details on finalized pre-breakout sessions will be published in the CIAC 2020 Annual Conference Program (pending).  Breakout sessions are intended to allow CCCs to spend more time together to dialogue and share best practices.   
CIAC 2020 Annual Conference Fees:
​CIAC Member - $50 Pre-Conference; $350 Conference Registration;  $400 Late Registration 
Non- Member - $100 Pre-Conference; $450 Conference Registration; $500 Late Registration 
Available only to SCIAC attendees, if their SCIAC membership dues are not paid at time of CIAC 2020 Annual CIAC registration they must pay the non-member fee and $100 will be applied towards their SCIAC membership dues. 
CIAC Group Room Rate: 
​$199 per night plus 15.15% local taxes, room rate is available three (3) days prior to and after the conference dates, subject to room availability.  You must book your room by March 23, 2020 to get the CIAC group rate.  
The hotel will accept the tax exemption from, the form must be presented at time of check-in.    
Wi-Fi available in meeting spaces and guestrooms, password provided at conference dates.​
​Reduced Parking Rate:
Parking was reduced to $19/per day for self-parking, if car is parked via valet the charged is $32.00 per day.