Can Congestion Pricing Improve Mobility?
The Issue:
Congestion on the freeway and roadways in Southern California continues to negatively impact quality of life in the region.  And it is only going to get worse. This program will discuss the potential benefits and concerns  of using congestion pricing to improve mobility.  The benefits to congestion pricing come with maximizing unused roadway capacity (as in the case of converting underutilized HOV lanes to tolled express lanes) and/or modifying  people's commuting behavior to improve traffic conditions through economic incentives (such as incentivizing off-peak travel or cordon pricing for heavy traffic destinations).  This is a different model than building new road capacity to ease congestion.  Because it is a method based in economics, some have expressed concerns about equity of use. One concern is limiting the ability of everyone to be able to travel when and where they want – because they can't afford to pay a toll.  There have also been negative traffic diversion impacts on arterial roads as people figure out ways to avoid paying tolls on congested corridors. This dialogue series meeting will address these basic issues with the goal to move the conversation forward. 
What is congestion pricing and how does it work?
Where has congestion pricing been successful? Have there been problems and issues?
What are the potential benefits, and problems with congestion pricing?
Is congestion pricing unfair to certain groups?
What is being planned for the Inland Empire and southern California region?
How can congestion pricing impact communities and commuter?
Results and Summaries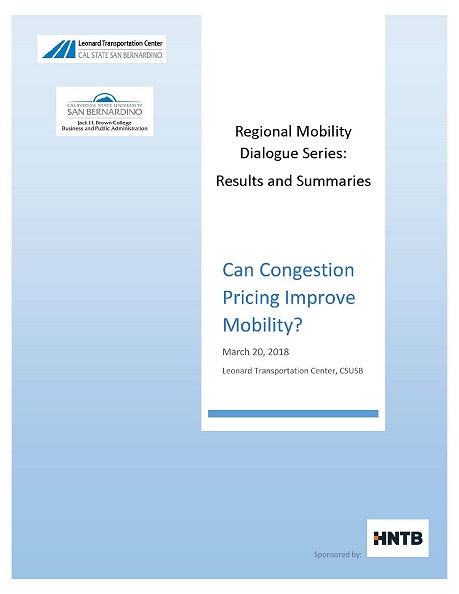 Event Highlights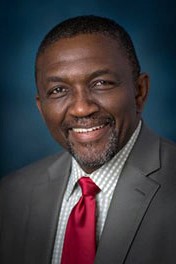 Kome Ajise, Director of Planning, Southern California Association of Governments (SCAG)
Kome Ajise is the Director of Planning at the Southern California Association of Governments (SCAG), the nation's largest Metropolitan Planning Organization.  His responsibilities include developing and updating the Regional Transportation Plan (RTP) which is the long-range blueprint that identifies projects and strategies to address the region's transportation challenges as well as improve system performance, and the Federal Transportation Improvement Program (FTIP) which is the short-term programming document that identifies specific funding sources and amounts needed to implement the projects in the RTP.  He is also responsible for long-range transportation planning specific to goods movement, aviation, transit and passenger rail, transportation demand management/transportation systems management, intelligent transportation systems, and transportation finance among others. At SCAG, Kome also oversees a comprehensive program of environmental issues analysis with emphasis on land use, housing, active transportation, air quality, and environmental justice.
Prior to SCAG, Kome was the Chief Deputy Director at the California Department of Transportation (Caltrans), where he was responsible for the internal operations of the Department with 18,000 plus employees and a budget that exceeds $1.1 billion.
Kome has a Bachelor of Science degree in Geography and Regional Planning from the University of Benin, Nigeria and a Master of City and Regional Planning degree from California State University, Fresno.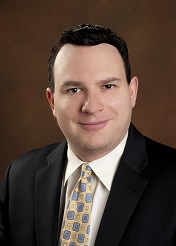 Baruch Feigenbaum, Assistant Director of Transportation Policy, Reason Foundation
Baruch Feigenbaum is Assistant Director of Transportation Policy at Reason Foundation a non-profit think tank advancing free minds and free markets. Feigenbaum has a diverse background researching and implementing transportation issues including revenue and finance, public-private partnerships, highways, transit, high-speed rail, ports, intelligent transportation systems, land use, and local policymaking.
Feigenbaum is involved with various transportation organizations. He is a member of the Transportation Research Board Bus Transit Systems and Intelligent Transportation Systems Committees and chairs the Bus Rapid Transit Conference Committee. He is President of the Transportation and Research Forum Washington Chapter, a reviewer for the Journal of the American Planning Association (JAPA) and a contributor to Planetizen. He has appeared on NBC Nightly News and CNBC. His work has been featured in the Washington Post and Wall Street Journal.
Prior to joining Reason, Feigenbaum handled transportation issues on Capitol Hill for Representative Lynn Westmoreland. He earned his Master's degree in Transportation from the Georgia Institute of Technology.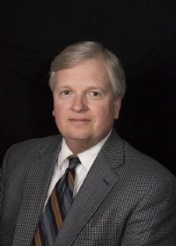 Rhodes "Dusty" Rigsby, M.D., City of Loma Linda, City Mayor and SBCTA Board Member
Dusty Rigsby, MD, MBA is Mayor of the City of Loma Linda and Vice President for Transitional Care at Loma Linda University Health.  He divides his time among administration, practicing Internal Medicine, and serving the citizens of Loma Linda.  He has served on the board of SANBAG/San Bernardino County Transportation Authority for nearly 10 years.  His expertise in transportation policy is that of an armchair quarterback, refreshingly unhindered by the limitations of orthodoxy.  He opines on the proper role of government and enjoys searching for solutions to problems by starting with a clean sheet of paper.