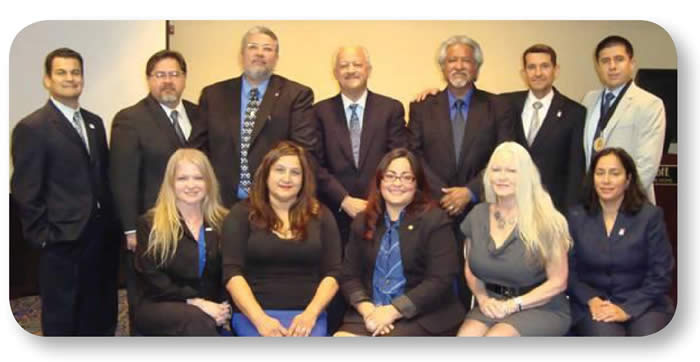 Top, left to right: Stephen Villasenor, Rob Garcia, Dr. Enrique Murillo, President Tomas Morales, Cesar Caballero, Robie Madrigal, and Julian Alcazar. Bottom, left to right; Iwona-Maria Luczkiewicz Contreras, Patricia Aguilera, Aurora Vilchis, Caroline Sue Caballero, and Dr. Nori Sogomonian.
LEAD in the News: Close to a dozen LEAD Planners from Cal State San Bernardino offered a unique hands-on workshop at this year's annual HACU conference that took place in Washington D.C.. The workshop team showcased exemplary programs, projects, publications, and events housed at CSUSB, a HACU member institution and one of the nation's premier HSIs.
Latino Education & Advocacy Days serves as one model by which to shift one's campus paradigm from a "Hispanic-Enrolling" ... to a "Hispanic-Serving" ... to a "Hispanic-Graduating" institution. The workshop conveyed a solution-oriented roadmap of basic understandings, key concepts, dispositions, and some useful skills so as to facilitate workshop participants in their own pursuit to replicate, expand, and take to scale their own Latino Education initiatives.
The real genius was our ability to take the very complex topic of the Latino educational crisis, and make the LEAD netroots movement and volunteerism understandable and useful at a pragmatic level of action, rather than offer participants in-depth reportage and detailed background on all CSUSB has been able to accomplish in a relatively short time.
The workshop served also to recruit new partners to the LEAD organization as well as additional webcast viewing sites to the annual LEAD Summit, which has become a CSUSB marquee event. There was lively discussion in the Q& A about the importance of education, democracy, leadership, and ensuring access, opportunity, and outcomes for all students. 
Parents play a key role in kids' education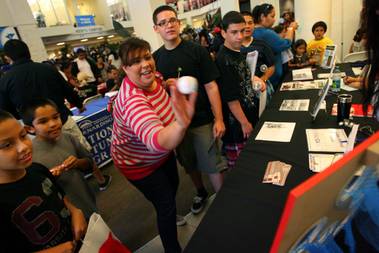 Darling Molina plays a game at the Latino Baseball History Project booth with her sons, Johnathan, William, and Jose, during the Feria Educativa College and Career Fair at Cal State San Bernardino. About 5,000 parents, students and educators attended the event earlier this month. BY DAVID OLSON STAFF WRITER dolson@pe.com Press Enterprise - Published: 31 October 2011 09:48 AM
Jonathan Shipp dropped out of high school several years ago despite his mother's objections.
Shipp, 24, said his mom wanted him to do well in school but didn't know how to guide him.
The Riverside man doesn't want to make the same mistake with his 3-year-old daughter. "I don't know everything and there's so much out there I can learn," Shipp said.
Shipp recently attended the first of eight seminars aimed at helping fathers of preschoolers with their children's education.
"I always had a problem with school," he said. "I want to see my baby girl graduate from college and do something with her life."
The Riverside Unified School District "Dad's University" that Shipp attended is part of an effort by Inland schools, universities, nonprofits and religious organizations to give parents strategies to improve their children's educational achievement.
Research shows that students' families are a key influence in children's education, said Robert Ream, an associate professor of education at UC Riverside.
Factors outside the home and school, such as crime and poverty in children's neighborhoods, lack of medical care, low societal expectations and stigmatization of poor and minority students, also are important, he said.
The nonprofit National City-based Parent Institute for Quality Education runs parent workshops in five states, including in 12 Inland school districts.
"Most of the parents who come to our sessions say they don't know how to help their children," said Lilian Hernandez, who oversees the institute's Inland programs.
Parents learn what their children need to prepare for college and how to talk effectively about school with their kids and with teachers.
Hernandez was one of about 5,000 parents, students and educators who earlier this month attended an inaugural Feria Educativa College and Career Fair at Cal State San Bernardino.
The bilingual fair, aimed at increasing Latino educational achievement, featured workshops on college-entrance requirements, financial aid and ways to create an educational environment at home.
Six of every 10 Inland public school students are Latino.
Most Latino students' parents never attended college, and many did not go to high school. The fair and other efforts provide information that college-educated parents take for granted, said Enrique Murillo, a Cal State professor and lead organizer of the fair.
"If you have a family history of going to college, you have built-in knowledge," Murillo said. "You're presented with a road map."
Marisol Moreno, 36, traveled to the fair from rural Mecca, near the Salton Sea, so her 10-year-old son could walk through a college campus and visit booths set up by several universities. Nearly 700 parents and students from Coachella Valley Unified School District rode 12 school buses to the fair.
Moreno said she learned how, with financial aid, college is more affordable than she thought.
Moreno comes from a family of farm workers and never attended college. In one of the workshops, Brenda Alemán, of Los Angeles-based Consejo de Federaciones
Mexicanas en Norteamérica, advised parents to set aside homework time for their children, take them to museums and other cultural venues and set high expectations.
Maria Valencia, of Ontario, said after Alemán's workshop that some immigrant parents are intimidated by the educational system. She said in her native Mexico, parents generally do not get involved in their children's education.
"Teachers are seen as a different authority level. Teachers are like up here," Valencia said as she raised her hand high. "And we're down here. In Mexico you don't question what a teacher does." Valencia is part of a San Bernardino County schools program in which parents are trained to hold education workshops for other parents.
In Corona-Norco Unified School District, several African-American parents at Santiago High School organized themselves in 2002 because of concern that their sons and other black students were underperforming.
The Corona Parent Advisory Group holds awards banquets, hands out scholarships and has monthly lunchtime guest speakers for students. Members also advise students and parents, who sometimes are initially more comfortable and frank talking with another African-American, said group co-founder Mel Campbell, a black physics teacher at Santiago.
Since the group was founded at Santiago High, black students' scores on standardized tests have risen far faster than those of white and Asian students, an improvement Campbell also attributes to school district efforts.
Some districts involve parents before children attend kindergarten.
Riverside Unified School District's outreach to parents of preschoolers is crucial because parents need guidance early on, said Joe Nieto, the district's coordinator of early childhood and family education.
"If we give him training now and motivation now, it will follow him all the way through," Nieto said of fathers in Dad's University. "Our main message is just spend time with their kids, communicate with them and talk to them about the importance of education. If you're showing interest in what your children are learning and they talk to you about it, that's very, very powerful."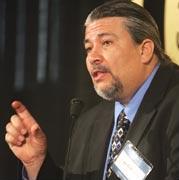 Enrique Murillo, a professor of education at Cal State San Bernardino, delivered the keynote address at the Puente Project's annual regional meeting and to celebrate its 30th anniversary today, Thursday, Oct. 20, in Riverside.
Murillo is also the founder and director of CSUSB Latino Education Advocacy Days.
The celebration was held at the Mission Inn and began at 9 a.m.
The annual event brings together teachers and counselors from program sites and focuses on the sites with best practice training.
This year's gathering is especially significant as it will also mark the 30-year milestone in California access and academic preparation programs that have improved the college-going rate for tens of thousands of educationally disadvantaged students.
The Puente Project is an inter-segmental national award-winning program that is co-sponsored by the University of California Office of the President and the California Community College Chancellors' Office.
Its mission is to increase the number of educationally disadvantaged students who enroll in four-year colleges and universities, earn college degrees and return to the community as mentors and leaders of future generations. The program is interdisciplinary in approach, with writing, counseling and mentoring components.
Started in 1981 at Chabot Community College in Hayward, Calif., the program has since expanded to 33 high schools and 59 community colleges throughout the state. Puente staff train high school and community college instructors and counselors to implement a program of rigorous instruction, focused academic counseling, and mentoring by members of the community. Puente's staff training programs currently benefit approximately 14,000 students across the state. Puente is open to all students.
For more information, contact Josefina E. Conchola, Puente Project associate director at josefina.canchola@ucop.edu and visit the Project Puente website.
For more information on Cal State San Bernardino, contact the university's Office of Public Affairs at 909-537-5007 and visit news.csusb.edu.
Huffington Post: Latino Education Crisis Detailed In White House Report, 04/28/2011
Latino Education Crisis Detailed In White House Report 
Huffington Post - First Posted: 04/28/11 04:55 PM ET Updated: 04/28/11 04:55 PM ET 
Joy Resmovits Joy.resmovits@huffingtonpost.com 
The largest and fastest-growing minority group in the United States is also chronically underserved by the nation's public schools.
A report released Wednesday by the White House and the U.S. Department of Education details the current crisis in Latino education. While one in four American children is Latino, according to the document, the demographic has "the lowest education attainment levels" in the country.
More than 17.1 million Latinos younger than age 17 live in the U.S., comprising more than 23 percent of the country's youth and nearly 22 percent of all K-12 public school enrollment, the report, titled "Winning the Future: Improving Education for the Latino Community," outlines. 
But less than half of such youths are enrolled in early learning programs. Only half of the population earns a high school diploma on time, and when those students do, they're half as likely to be ready for college. As the report notes, only 13 percent of the population hold Bachelors degrees.
"There is no doubt that the future of the United States is inextricably tied to the future of the Hispanic community," President Obama stated in the document, which ties the state of Latino education to Obama's 2020 goal of having the country lead the world in college graduates. As the report notes, if the Latino population continues to lag behind in education, that objective cannot be met.
Some Latino education advocates argue the 28-page report lacks new material, despite its public rollout. "It's just telling me what we've known for years," said Mariela Dabbah, founder of latinosincollege.com, an online resource geared towards preparing the Latino community for higher education.
Dabbah said she heard the president mention his goal during his inauguration speech, and immediately thought it would be unattainable without a clear focus on Latino learning. "I wrote about this two years ago," she said.