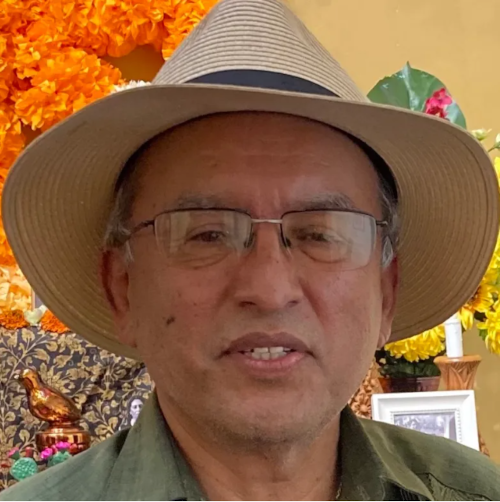 will be dedicated to the memory and legacy of 
Roberto "Dr. Cintli" Rodriguez (†)
Roberto "Dr. Cintli" Rodríguez (†) was a friend, amigo, mentor, elder, social justice activist, columnist, prolific writer, poet/author, and academic of Mexican American/Raza Studies.
On the morning of Monday July 31st, 2023 at the age of 69 years, our generous and wise camarada Cintli transitioned to the spirit world to join the ancestors. He touched so many lives and had inspired many, amongst different generations. Many know his work as one of a visionary, leaving a legacy for all Civilizaciones de Maiz, a body of work on trauma, spiritual violence, police brutality, ethnic studies, Aztec-Mexica teachings, contemporary politics, and collective healing - that speaks for itself.
LEAD Summit XII "¡Ya Basta! - Enough is Enough!" will be dedicated to Roberto's memory and legacy, a tireless warrior-yolqui for his gente, por la causa, por la cultura.
Born in Aguascalientes, Mexico, Roberto moved with his family to East L.A. as a child in the late 1950s. Cintli taught us to reflect, release, and reset. In Nahuatl "yolqui" is the idea of a warrior brought back from the dead. For Cintli Rodríguez, it described his own experience one night on March 23rd of 1979 after a brutal beating at the hands of L.A. sheriffs.
Roberto suffered from post-traumatic stress disorder and lost the ability to dream in the aftermath of that incident.  But he still went on to become a prolific Chicano writer. He attended and graduated from UCLA, contributed to La Gente - UCLA's Chicano newspaper in the 1970s. He would contribute regularly to Lowrider Magazine, publishing the on-the-ground activities of and about the Chicano movement. That's how Roberto ended up on Whittier Boulevard that Saturday night in March 1979.
Roberto was taking photos on the corner of Whittier Boulevard and McDonnell Avenue in East Los Angeles for Lowrider Magazine and captured the assault of an innocent man by members of the Los Angeles County Sheriff's Department. The last photo he took was of a police officer pointing directly at him. Soon after, the officers attacked him, confiscated his camera and film, and beat him so badly that he spent three days in the Los Angeles County Hospital. He got 14 stitches for a gash between his eyebrows for injuries resulting from the four deputies who kicked, punched and beat him with their batons. While preparing to leave the hospital, Roberto was placed under arrest for allegedly assaulting the officers with a "deadly weapon" (his camera).
From 1979 to 1986, he sought justice in court for this incident, which involved two trials and eventually won his case. He began to dream again 20 years following the event after drinking from a medicinal plant in Mexico. The fatal shooting of Michael Brown in 2014 inspired him to retell his story and provide a platform for the stories of others who have suffered police brutality. In his anthology he attributed his interest in Chicano issues and journalism to Los Angeles Times columnist and KMEX-TV Channel 34 commentator Ruben Salazar. Salazar himself was killed in 1970 by a sheriff's deputy who shot a projectile into an East L.A. bar, not far from Roberto's childhood home.
Rodríguez worked for roughly 13 years with Patrisia Gonzales on a syndicated column entitled "Column of the Americas" - both got their doctorates at the University of Wisconsin and were hired by the University of Arizona's Mexican American Studies program. He also supported students and spoke out at protests, governing board meetings, and other public hearings against the passing of Arizona House Bill 2281, which banned the Mexican American Studies Department Programs and banned and confiscated books on Chicano history, critical race theory, and decoloniality in the Tucson Unified School District. He was arrested with local high school and college students the day the anti-Mexican-American studies legislation was signed into law.
Cintli transitioned Monday of heart failure in Teotihuacan-Mexico, where he had lived for the past three years. He was a long-time member and volunteer for LEAD Projects, and his last project is housed here at CSUSB. Roberto (along with Jesus Garcia, Ivette Xochiyotl Boyzo, Yaotl Mazahua, and Enrique Murillo) edified a national coalition made up of families of the deceased, survivors of law enforcement brutality, community leaders and social justice advocates, researchers and academics, data analysts and demographers, and multiple national-level collaborative partners - all committed to build power against systemic violence in all its forms.
The Raza Database Project is a collaborative project that seeks to better accurately count the list of killings of Raza by those in a law enforcement capacity in the United States. There is neither any law enforcement accountability nor is there any justice for the families that have experienced these horrors. This is further compounded by the fact that Raza are rarely mentioned when discussing violent police treatment.
Latino Education and Advocacy Days (LEAD) serves as the leading national-level project collaborator for this meta-analytical research on Police Shootings/Killings. Our team has doubled down to ensure this database project comes to fruition, which was Roberto's dream. The project elements include a GIS Interactive Map, Narrative Testimonials and Essays, Music-Poetry-Spoken Word, and the Executive Report - Summary Analysis - and Data Tables. 
The Raza Database Project will be the Capstone Panel at LEAD Summit XII "¡Ya Basta! - Enough is Enough!"