Visual Frequency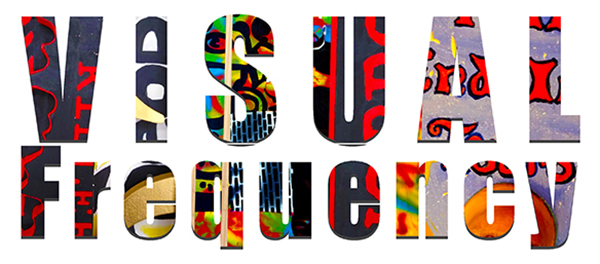 Visual Frequency is a multi-media group exhibition that examines the multiple uses and expressions inherent in sign-based forms of visual communication. The exhibition features artworks by undergraduate and graduate students from the CSUSB Department of Art & Design:
Ileana Alvarenga, Andrea Amezcua, Melanie Asalde-Smith, Silvia Benitez, Cynthia Camacho, Andrea Clary, Samantha Clayvon, Sara Crespo, Sawson Dahi, Vanessa "Randamu" Farias, Jorge Fernandez, Melora Garcia, Natalie Garcia, Diana Gutierrez, Jeanne Holbrook, Melissa Medina, Patricia Miller, Marissa Muñoz, Jenny Nguyen, Frank Perez, Ordando Prieto, Haylie Roché, Antonia Rodriguez, Monica Romero, Briar Rosa, Swahail Sandhu, Tiffany Sasa, Catalina Serrano, Amber Shanice, Andrea Simpson, Xotchil Spandakis, Meghan Thompson, Marlee Üggen, Jamie Valdez, Salem Valdez, Fresia Veloz Marez, Julie Vidaurri, Joel Villegas, and Ronald Waddy.
Curated by Professor Edward Gomez
The artworks in Visual Frequency are the culmination of the 2019 Artist-in-Residence Program; a partnership between the CSUSB Department of Art and Design and the Riverside Art Museum, as one of the first projects in this new partnership leading up to the opening of The Cheech Marin Center for Chicano Art, Culture, and Industry. This inaugural program began in Fall 2019 with Coachella-based artist Armando Lerma, whose work was shown along with student works. This program is made possible by a grant from the New California Art Fund, and the James Irvine Foundation, along with support from the College of Arts and Letters, CSUSB.
This exhibition displays works inspired by the spirit of resistance and activism of Chicano murals and other Chicano art, and reflects the many possibilities in which signage can be the voice of a community by transmitting information, humor, political positions, and social awareness on key issues facing society. The artworks in Visual Frequency also project the aesthetic language made familiar in the commercial signs of the retail world of advertising, and the language established in the Pop Art movement of the 20th century, while simultaneously taking on the energy of the activism of Chicano art, as well as being personalized forms of artistic expression.  
Visual Frequency was displayed in the Dutton Family Gallery of RAFFMA, in January and February 2020. An edited version will be on display in the CSUSB Santos Manuel Students Union ground floor during the LEAD Conference 2020.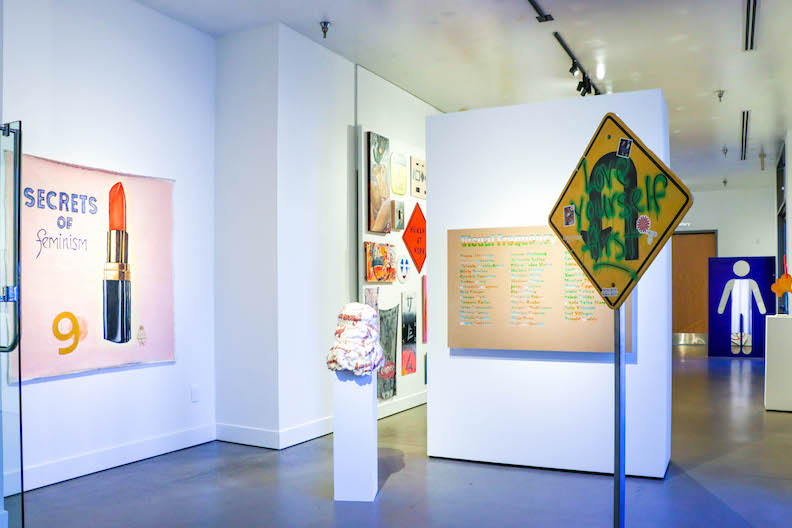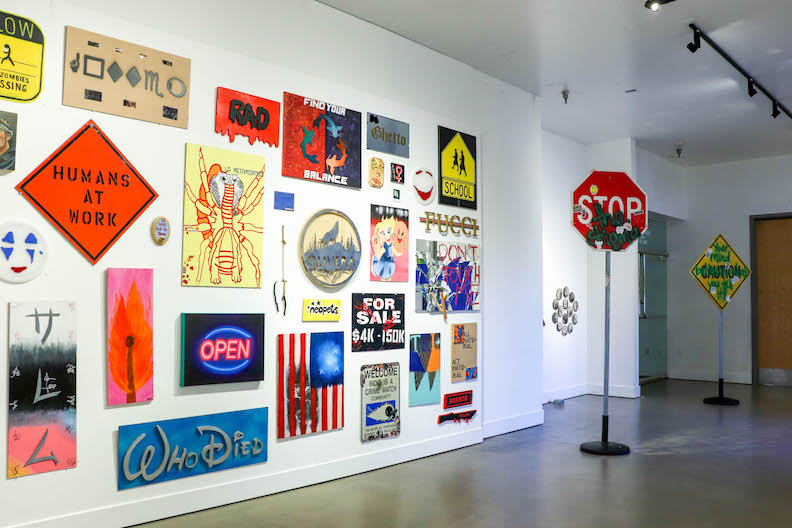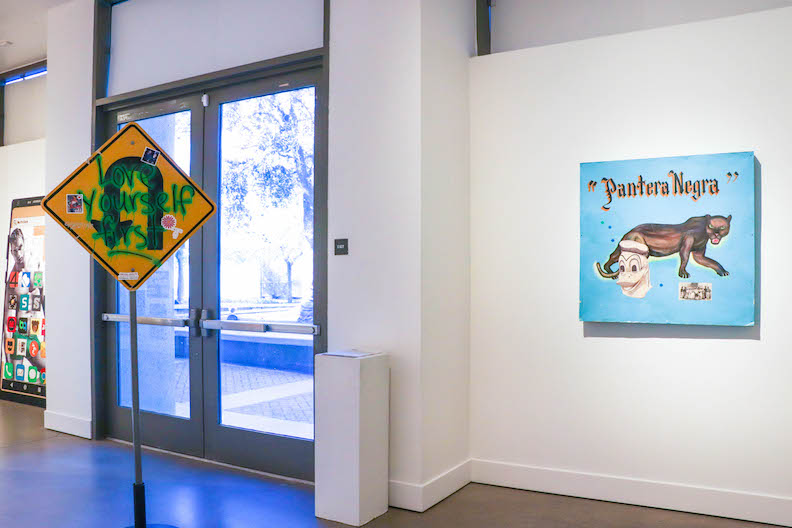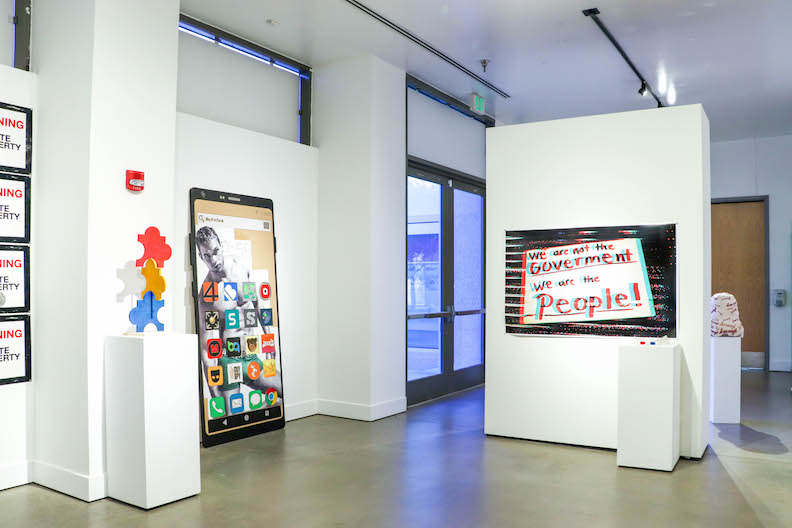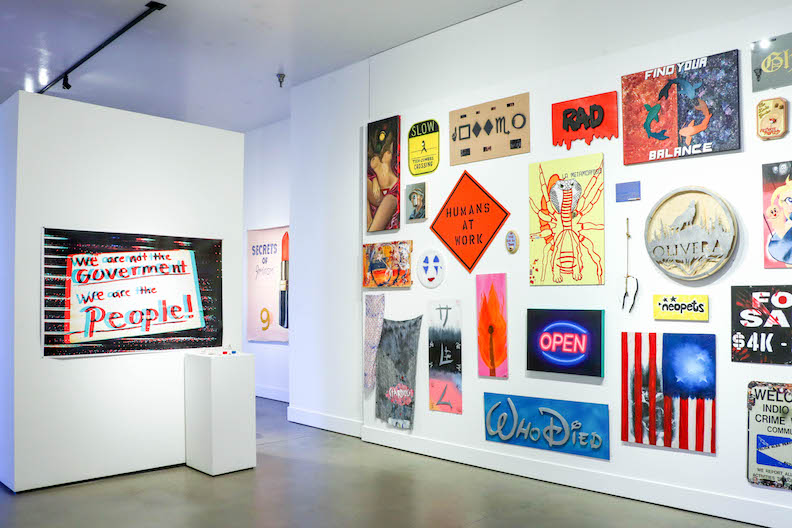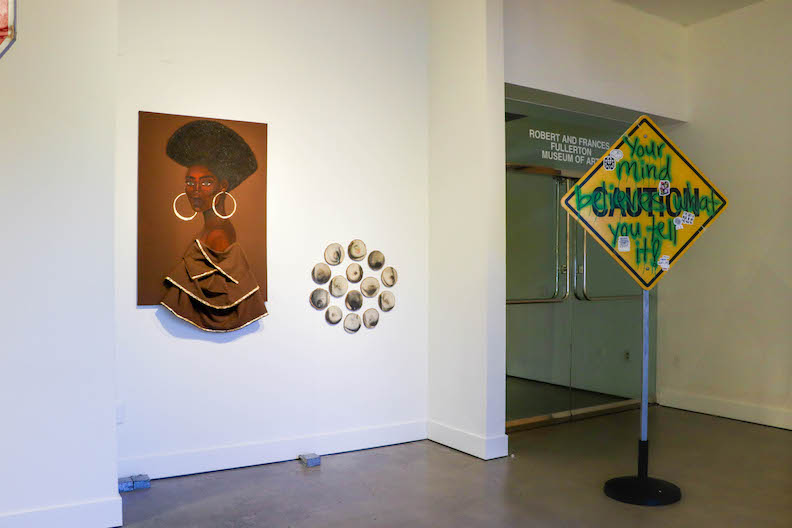 All images courtesy of RAFFMA, The Roger and Alison Fullerton Museum of Art, copyright 2020.
LIST OF WORKS:
Ileana Alvarenga, "Find Your Balance," acrylic, glitter, wood, canvas - 11
Andrea Amezcua, "Don't Touch Me," mirror on canvas, lipstick, hammer - 33
Melanie Asalde-Smith, "Open," oil on canvas - 28
Silvia Benitez, "Untitled," glass, acrylic - 15
Cynthia Camacho, "Gray Wolf," wood, metal, spray paint - 19
Andrea Clary, "Who Would Wanna Hide This? ceramic - 3
Samantha Clayvon, "Strings Attached," oil on canvas - 31
Sara Crespo, "Fruity," Prisma colors, wood - 40
Sawson Dahi, "Flower," oil on canvas - 25
Vanessa "Randamu" Farias, "Puzzles," mixed media - 43
Jorge Fernandez, "Voice," oil paint, wood, tin can - 14
Melora Garcia, "Always Watching," mixed media collage on found metal sign - 38
Natalie Garcia, "Jaula De Oro," wood, paper, oil paint - 37
Diana Gutierrez, "Student Driver: Proceed With Caution," oil on canvas - 7
Jeanne Holbrook, "Secrets of Feminism," oil, charcoal, canvas - 4
Friesa Veloz Maréz "Death Exists in Fairy Tales Too," wood, spray paint - 36
Melissa Medina, "Untitled," acrylic paint - 13
Patricia MiIler, "Stop," wood, metal, acrylic, marker, stickers - 45
Patricia Miller, "Caution," wood, metal, acrylic, marker, stickers - 48
Patricia Miller, "U-turn," wood, metal, acrylic, marker, stickers - 2
Marissa Muñoz, "Smile now, cry later," acrylic & MDF - 26
Marissa Muñoz, "Ghetto," mirror - 12
Jenny Nguyen, "Welcome to Neopets!", acrylic on wood - 30
Frank Perez, "State of Our Union," 3D glasses, digital print - 5
Frank Perez, "Fun and Games," polaroid photograph - 22
Frank Perez, "Untitled," paint, ink, cigarette - 18
Ordando Prieto, "Hypersexual," MDF, acrylic paint, paper - 6
Haylie Roché, "Talking to myself," mixed media, bed sheet - 34
Antonia Rodriguez, "Human Worth," acrylic on vinyl - 32
Monica Romero, "La Metamoafosis," acrylic and stickers on wood - 17
Briar Rosa, "Another night, another dream, but always you," mixed media - 51
Swahail Sandhu, "Gottem," acrylic, photography, mdf - 9
Tiffany Sasa, "Horror," acrylic on MDF - 41
Tiffany Sasa, "Hanging tooth", acrylic on MDF, twine - 29
Tiffany Sasa, "killer," - 42
Tiffany Sasa, "rad," - 10
Catalina Serrano, "Read the Sign," acrylic on glass - 8
Amber Shanice, "We Shine," oil and gold leaf on canvas - 46
Andrea Simpson, "Visually Pleasing, Subjective," acrylic on canvas - 21
Xotchil Spandakis, "OB," oil and spray paint, - 50
Meghan Thompson, "HOT", acrylic on wood - 27
Marlee Üggen, "Sweet Sweet Sustenance," mixed media - 47
Jamie Valdez, "It's Always Been a Cape," MDF,  acrylic, fabric, steel - 49
Jamie Valdez, "Her Body, Her Choice," - 44
Salem Valdez, "My Inspiration", MDF - 35
Fresia Veloz, Marez "Stinky Smelly," wood, acrylic, spray paint - 24
Julie Vidaurri, "Private Property," wood, acrylic, clay - 20
Julie Vidaurr,i  "Cry Baby," wood, acrylic, clay - 16
Joel Villegas, "No Mustaches," acrylic on wood - 52
Ronald Waddy, "Tri-Scale," spray paint on wood - 39