Procession – "Honoring of the Movement Elders" /
Procesión – "Honrando a los Mayores del Movimiento"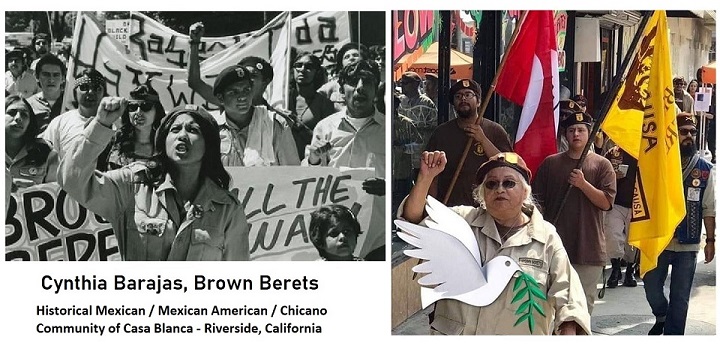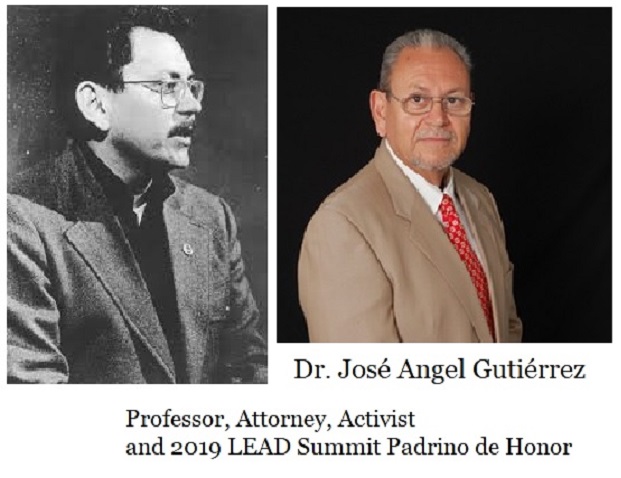 Grand Marshals:
Cynthia Barajas, Brown Berets / Historical Mexican / Mexican American / Chicano
Community of Casa Blanca - Riverside, California

Cynthia Barajas has been a Brown Beret Chicana activist for 52 years since 1968 in the Casa Blanca Chapter (#46-Inland Empire). She started under one of the founders of the Brown Berets, David Sanchez. Dating back to 1969 when the walkouts happened, the word got out, and many Chicanos in the schools at the time got the flyers. Cynthia recalls, "We walked out because many of us were experiencing terrible discrimination and prejudice by the Anglo teachers, counselors and administrators. Those that did not speak English well enough where forcibly placed in classes for the mentally challenged." She goes on, that the students figured out there were educational State laws such as Title I for bilingual students from Raza educators.   Read Cynthia's complete biography.

José Angel Gutiérrez, Professor, Attorney, Activist and 2019 LEAD Summit Padrino de Honor

Dr. Gutiérrez, along with Cesar Chavez, Reies López Tijerina, and Corky Gonzales, stands out as among the most important and influential leaders of the Chicano movement of the late 1960s and early 1970s.

He was a founding member of the Mexican American Youth Organization (MAYO) in 1967, one of the first student activist groups of the Chicano movement; and founding member and past president of the political third-party La Raza Unida Party, which left its mark on the political scene, challenging Democratic and Republican parties alike to court the ignored Mexican American and Latino voter.   Read José's complete biography.
Introduction:
Welcome to the 11th year anniversary of our annual Latino Education and Advocacy Days Summit - LEAD.  Our network is made up of the broad spectrum of researchers, teaching professionals and educators, academics, scholars, administrators, independent writers and artists, policy and program specialists, students, parents, families, civic leaders, activists, and advocates. In short, those sharing a common interest and commitment to educational issues that impact Chicano - Latinos.
Over the past decades, we have emerged as the largest minority in the nation, with majority populations in many states and regions, and in some cases, the majority demographic among school-age children. In many ways, this is our moment as a major cultural influence on art, music, food, and so forth. Our workers, too, are the backbone of many sectors of the intertwining local, regional, state, national and global economies. Yet, the strength of our schools and communities, basically, "our place in the world", is impossible to evaluate without focusing on the educational outcomes of Chicano - Latino students.
The Last 50 Years:
Fifty years ago brave and bold women and men came out the barrios, fields, factories, and schools; and forged a new Movement! And although the struggle for social justice and educational rights did not initiate in the 1960s, the Chicano Movement was qualitatively different from the responses and creative actions from previous generations.
El Movimiento encompassed a broad list of issues—from restoration of land grants, to farm workers' rights, to educational reforms, to voting and political rights, as well as emerging awareness of collective history. Socially, the negative ethnic stereotypes of Mexican-Americans in mass media, and discrimination in public and private institutions were addressed.
Out of that, a new political consciousness was developed that included a greater sense of ethnic solidarity, an acknowledgment of subordinated status in US society, and a greater determination to act politically to end that subordination. It was a productive era for works of literary and visual art that validated Mexican American ethnicity and cultural practices.
Who are we?:
We are that generation of 50 years ago, whose responses and creative actions were different from the previous.
At the time, most people of Mexican descent had still refused to call themselves Chicanos, as the term was originally used as a derogatory label for the sons and daughters of Mexican migrants.  However, many of our generation came to embrace "Chicano" to symbolize ethnic pride and the defense of our community's inherent rights, and we adopted many of the principles intrinsic in the concept of chicanismo; self-respect, self-determination, pride, and cultural rebirth.
In short, our Movimiento verged on strivings for economic, social, and political equality.
During the last several years, through the next, there are and/or will be a number of 50-year commemorations of the foundational events that helped launch the historic civil and human rights struggles and movements of the 1960s and 1970s, included among them our Movimiento.
We are the Chicano Movement – Chicanas and Chicanos en la lucha!
We planned and organized many legal actions and legislation, strikes (huelgas), civil rights protests, insurrections (levantamientos), mass rallies, and marches (marchas) on both sides of the U.S./Mexico border, too many to name here.
Among the most notable could include the Los Angeles Walkouts as well as the numerous Blowouts throughout other parts of the U.S.; the Tlatelolco Massacre in Mexico City; El Plan Espiritual de Aztlan; El Plan de Santa Barbara and the creation of Chicano/a Studies; the Bilingual Education Act (BEA) of Title VII; and the initiation of student and young movement activist groups such as the Mexican American Youth Organization and the United Mexican American Students (later merged as MEChA), the Brown Berets, and La Raza Unida Party.
There was also the Chicano Moratorium against the Vietnam War; the founding of the Chicano Press Association, Católicos por La Raza, and the Comisión Femenil Mexicana Nacional; notable victories among the National Farm Workers Association (later UFW). There was La Alianza Federal de Mercedes; organizations such as the Southwest Council of La Raza and the Mexican American Legal Defense and Education Fund, and we strengthened the organizations that came before us, like MAPA, LULAC and the GI Forum.
The list goes on and on . . .
The next 50 years:
While it is tempting to stroll down memory lane and easy to dwell in the nostalgic and radical past of militancy and "war stories", the thematic strands of LEAD 2020 hope to move past the unvaryingly nostalgia, and look toward the next 50 years.
Although the anniversaries of those historic events that we made possible through our struggles and in many cases took lives, should absolutely be remembered and commemorated. And while those historic events are of great educational value, what holds most today is that the issues the Chicano Movement challenged 50 years ago have unfortunately yet to be resolved; such as education, labor, civil, human and immigration rights abuses.
Chicano - Latinos continue to have some of the highest drop-out/push-out rates, score among the lowest on achievement tests, and have low college enrollment and graduation rates. Both our students and teachers have a high mobility rate, are located in racially segregated communities with high poverty rates, and attend schools with fewer resources, staffing, and programs.
As the Movement Elders - los Mayores del Movimiento, we ask ourselves, how can succeeding generations, many who feel disconnected from these long-ago events grab the baton and continue the struggle?
There is still much more work to do. We implore the youth to enlist in the Movimiento we forged 50 years ago. We seek jovenes comprometidos - Se busca youth who will commit to the Struggle, as we had many years back.
LA LUCHA CONTINUA – THE STRUGGLE CONTINUES!
DO AS WE DID!
RAISE YOUR HAND – STEP IN – AND GET INVOLVED!!!

Who are we?:
We are the New Generation – the New Guard.
We are the Jovenes Comprometidos you've called upon. We are inspired by your actions and the aspirations we once held as youth yourselves.
We are you – the dreamers and do-ers of our generation! Your legacy is OURS!
Education is a priority – your struggle has given us a voice.
Education is of economic imperative, and the Civil Rights issue of our generation; it is a right not a privilege. For us jovenes to create a more positive future it will require us to more greatly participate in the democratic process, and be poised to shape the political landscape through voting and civic engagement.
One of our tasks is to move ourselves and others along and across the educational pipeline to increase the college readiness, the college going, and college success of our enduring marginalized communities. We must fill the ranks in our schools, institutions, colleges and universities; and become the next faculty, staff, and administrators to reflect the nation's growing ethnic and cultural diversity.
We represent a significant portion of our community's future strength, and we accept the task to achieve a dramatic and powerful change in our communities; one that necessitates courage, social action, public service, and leadership.
PASS THE BATON – PASS THE PROTEST SIGNS!
WE ARE READY!
WE DEFINE THE FUTURE!
In Memoriam Roll Call – QEPD / RIP (†)
Roll Call: Los martires, heroes y activistas de la lucha de resistencia!  ¡PRESENTE!
Roll Call: The many brave and bold camaradas en la lucha who came out the barrios, fields, factories, and schools, to forge El Movimiento . . . ¡PRESENTE!
Roll Call: Those who sacrificed their time, careers, and for many their lives . . . ¡PRESENTE!
Roll Call: The mothers, fathers, spouses, and other family members who may not have been part of organizations but were crucial to the participation of many activists by supporting them financially, with childcare, and by feeding them and/or their children . . . ¡PRESENTE!
Roll Call: Those unnamed, unrecognized, and unknown . . . ¡PRESENTE!
Sal Castro
Oscar Zeta Acosta
Francisco X. Alarcón
Soledad "Chole" Alatorre
Gloria Evangelina Anzaldúa
Raul Ruiz
Gracia Molina de Pick
Ramón "Chunky" Sánchez
Francisca Flores
José Montoya
Tomás Rivera
Armando Navarro
Betita 
Chuy Negrete
Marcos Muñoz
Rosa Negrete Livieri
Carlos Cumpián
Lorenzo Cano
Baldemar Velasquez
Cesar Estrada Chavez
Danny Cavada
David Savage
Dean Weischedel
Delia Moreno
Faustina Solis
Felipe Adame
Fernando Sanchez
George Ramos
Gustavo Gutierrez (AZ)
Rosie Hamlin
Ernesto Bustillos
Ray "Bugsy" Burel
Jimmy Franco
Joe Olvera
José Gomez
Leroy Alec
Lyn Ward
Ramon Arroyos
Raul Arreolas
Raul Jacquez
Trini Lopez
Richard Estrada Chavez
Manuela Solis Sager
Ruben Salazar
Sofia Mendoza
Gonzalo Mendez
Felicitas Mendez
Bert Corona
Luisa Moreno
Emma Tenayuca
Nativo Lopez
Mike Ybarra
Carlos Yanez
Carmen Zapata
Cesar Augusto Gonzalez
Charles Trux
Chuy Ocelotl Ortiz
Googie Torres
Guadalupe Lopez-Quezada
Gus Chavez
Gustav Montag
Juan Valdez
Gustavo Gutierrez (CA)
Helen Ruth Cooper-Villa
Juan Cervantes
Enrique Araujo Murillo
Julio Enrique
Lalo Guerrero
Louise Año Nuevo Kerr
Michael Schnorr
Julian Nava (†)
Marta Macías Brown (†)
Raul Julio Portillo
Ricardo Falcon
Nati Cano
Pedro Gonzalez
Pete Chacon
Sal "Chemo" Candelaria
Vince C De Baca
Roberto Martinez
Shifra Goldman
Paul Aceves
Patricia Marin
Bobby Lee Verdugo
Abran "Abe" Tapia
Rodolfo "Corky" Gonzales
Reies López Tijerina
Xavier Montes
John Trudell
José Antonio Villarreal
Graciano Gomez (†)
Father Patricio Guillen (†)
Gilbert Luján
John J. Herrera
Alfredo Espinoza
Juan Gomez Quiñones
Angel Diaz
Anselmo 'Chemo' Candelaria
Arturo Singh
Big Roy Sotillon
Don Luis Leal
Efego Baca
Emigdio Vasquez
Enrique Cisneros Lujan
Gus Garcia
Jeff Garcilazo
Marco Anguiano
Herminia Enrique
Howard Hollman
Jesus Luna
Jesus Manuel Garza Mena
Leon "Aztleka" Magallan
Tina C De Baca
Minnie Ybarra
Samuel Quiñones
Mary Ellen Montoya
Ron Trujillo
Bernardo Gallegos
Rudolfo Anaya
Yvonne de Los Santos
Rene Nuñez
Rene Rodriguez
Pedro Archuleta
Maria "Pita" Guzman
Kalimán Gaxiola Murillo
Rebecca Romero
Rico Bueno
Ralph Cerda
Participate in the Procession
Please contact: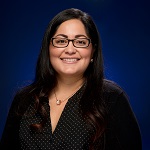 Dr. Aurora Vilchis
LEAD Planner
Office Phone: (909) 537-4457
Email: vilchis@csusb.edu
*Complimentary parking, continental and lunch will be provided. Procession will be webcast/broadcast across our various media outlets and partners. Participants would need to arrive on the Cal State San Bernardino campus by 8AM in order to park, and check-in at the Santos Manuel Student Union so as to line up for the Procession.