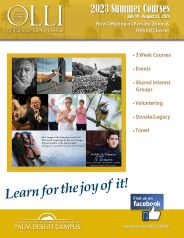 Keep learning with fascinating courses!
At OLLI, you'll find a wide variety of stimulating courses to keep you engaged intellectually, challenge your thinking, and build your knowledge. There's something for everyone.
Enjoy fun activities and make new friends!
One of the benefits of OLLI membership is the many free lectures, films, concerts, and other activities. You'll enjoy interesting programs and make wonderful new friends.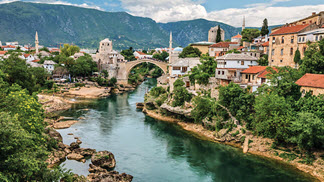 Traveling with OLLI is fun and easy!
OLLI is the perfect partner to combine your love of learning with your love of travel. Come and explore great adventures around Southern California, across the U.S., and abroad. 
Kathy Day, owner of Let's Go Travel! LLC, has been in the travel and tourism industry for over 25 years.  She has organized and escorted hundreds of tours and cruises locally and worldwide, and prides herself on attention to detail and customer service. 
Kathy has partnered with OLLI to provide educational day trips. See emails for your next adventure! 
call her office in Palm Springs (760) 320-3009
Become a member of OLLI today!
OLLI membership gives you access to a variety of fun programs and events throughout the year. Your annual membership runs from July 1 through June 30 and includes a parking permit. Then choose the courses you want to take and pay by the course. Membership is a great value!
Read More About OLLI Membership
Watch our video to learn more about OLLI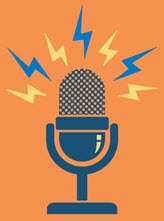 In Conversation: The Voices of OLLI
Check out our OLLI podcast to listen in on a variety of fun conversations between OLLI instructors, members, and staff - each about 20 minutes long.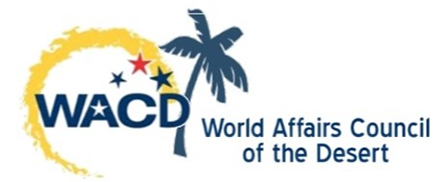 Proud member of the World Affairs Council of the Desert
The World Affairs Council of the Desert, a non-partisan and non-profit organization, provides a unique opportunity for the discussion of national and international topics. Founded in the early seventies as the "Desert Forum," it served initially as a branch of the Los Angeles Council. By 1975, the organization had changed its name to World Affairs Council of the Desert, began to increase its membership, and established itself as a separate non-profit corporation. Its primary missions are education outreach, promoting and providing interesting and affordable programs in a social setting, and covering a wide range of global topics. 
Upcoming Events
There are no scheduled upcoming events at this time.