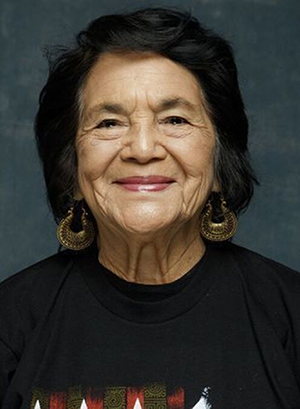 Morning Session Featured Speaker
Dolores Huerta, President and Founder, Dolores Huerta Foundation
Dolores Huerta is one of the most influential Chicana/Latinas of the 20th century for her work as a community organizer, labor activist, civil rights leader, and advocate for social, economic, and environmental justice. 
Dolores Clara Fernández Huerta (born April 10, 1930) is an American labor leader and civil rights activist who, with Cesar Chavez, is a co-founder of the United Farmworkers Association, which later merged with the Agricultural Workers Organizing Committee to become the United Farm Workers (UFW). Huerta is the originator of the phrase "Sí, se puede". 
Huerta's community activism began when she was a student at Stockton High School. Huerta was active in numerous school clubs and was a majorette and dedicated member of the Girl Scouts until the age of 18. A schoolteacher accused her of stealing another student's work and, as a result, giving her an unfair grade, an act she considers to be rooted in racial bias. Having experienced marginalization during childhood because she was Hispanic, Huerta grew up with the belief that society needed to be changed. She attended college at the University of the Pacific's Stockton College (later to become San Joaquin Delta Community College), where she earned a provisional teaching credential. After teaching elementary school, Huerta left her job and began her lifelong crusade to correct economic injustice.
Read Dolores' full biography on our Honorary Chair page.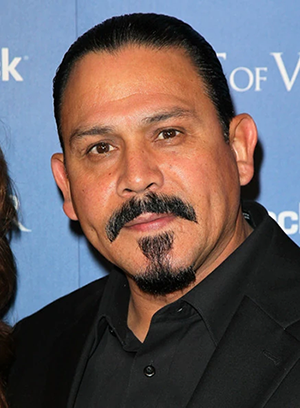 Afternoon Session Featured Speaker
Emilio Rivera, 2023 LEAD Summit Honorary Chair / Padrino de Honor
Emilio was born in San Antonio, Texas as the oldest child of seven siblings (four brothers and three sisters), and as a young boy his family moved to California.
He is very familiar with our Theme as having grown up in a gang family from Frogtown (an impoverished neighborhood of Los Angeles, Elysian Valley). 
Upon matriculating from high school in 1979 as still a youth, Emilio enlisted in the US Army. But after which Emilio set out on a path of self-destruction and recklessness. He was associated with street gangs, took drugs, and drank. He lived this life for years, then as he said, acting saved his life. He went into rehab and began studying acting, and although he wasn't ready for Hollywood yet, Emilio launched his acting career as a stage actor. He first started honing his craft and improv skills on comedy club stages, but found discipline and true passion through the art of acting. 
Underneath his exterior, Emilio's passion for acting thrived and after much soul searching he decided to take his biggest risk and pursue professional acting. The training, discipline and extensive hours of studying changed Emilio's life forever. Those around him were amazed at the radical yet positive change in Emilio and realized he had found his true passion in life. In between his time studying Emilio worked as a mechanical engineer.
Read Emilio's full biography statement on our Honorary Chair page.