Professor Kate Liszka competes in the 'Price Is Right,' lasting all the way to its 'Showcase Showdown'
"Kate Liszka, come on down!"
With that opening invitation from announcer George Gray, Liszka, associate professor of history and Benson and Pamela Harer Fellow in Egyptology at Cal State San Bernardino, bolted from her seat in the audience and ran down to a spot at a podium during a recent broadcast of the television show, "Price is Right."
Liszka appeared on the episode aired on Oct. 25 on CBS, and which can be watched in its entirety online.
Being a contestant on the Price is Right has been a lifelong bucket-list item for Liszka. And her appearance ended up being quite a competitive one in which she lasted through to the end of the hour-long show.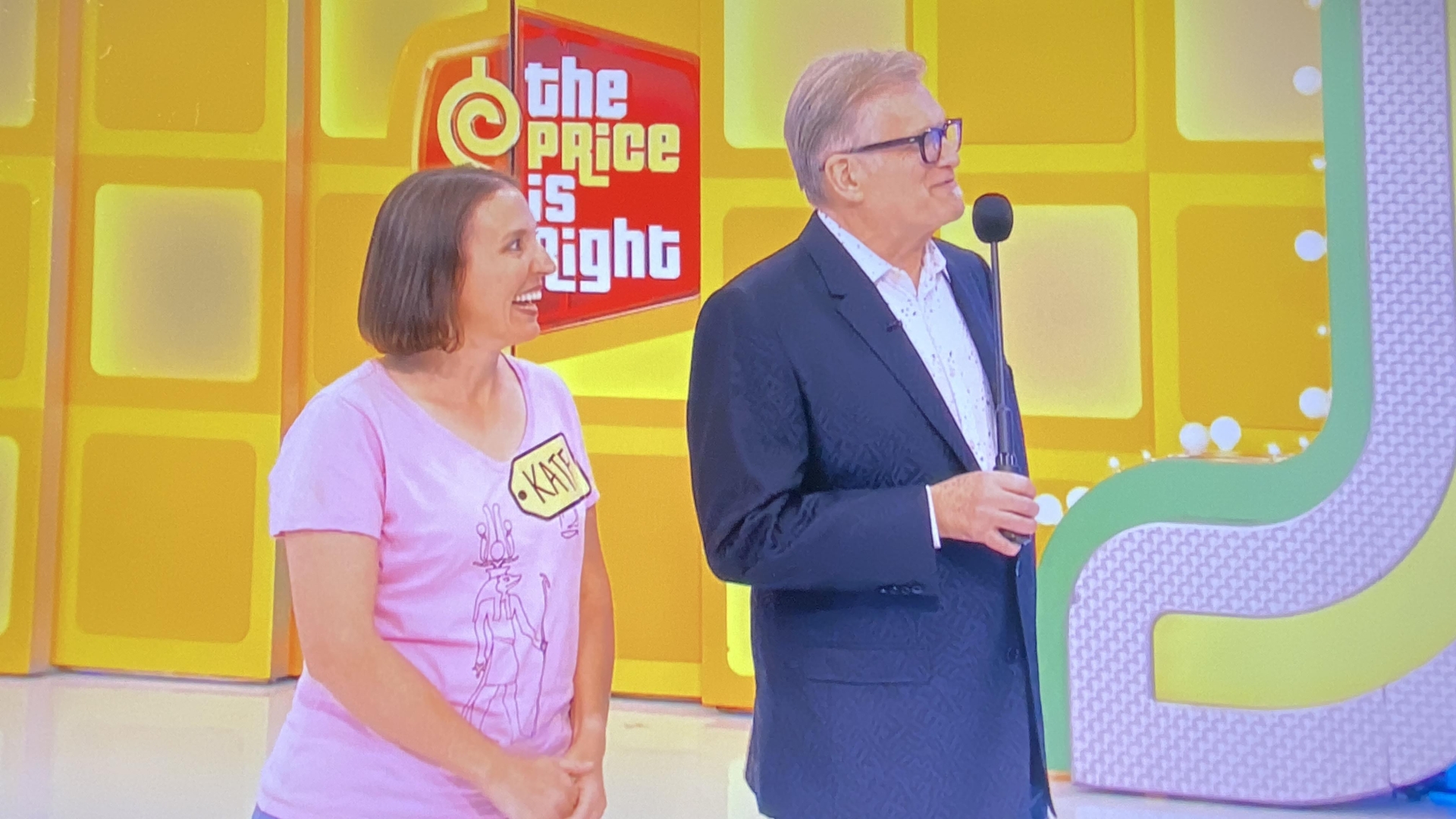 For those unfamiliar, "Price Is Right" is a long-time staple of television game shows, with contestants playing different games in which they guess the correct prices (or come close without going over) of certain items for the opportunity to win prizes, including a huge showcase prize at the end of the show.
"I've never felt this in my entire life. Being on stage at the Price is Right was like having an out-of-body experience," she said. "I was so shocked that my brain turned off, just like a deer in headlights, but the intense adrenalin keep me going.  Looking back at the experience, it was really such an honor to be able to participate.  And I encourage everyone try to 'come on down!'"
In addition to being the first called down, Liszka was also the first contestant to play the game "Freeze Frame" when her guess for a big screen TV package ($625) came the closest to the retail price of $1,440 without going over.
Upon being welcomed on the stage by show host and comedian Drew Carey, she said, "I love you, I love the 'The Drew Carey Show!'"
Answered Carey, "I love you back … How about that, a long-time fan." To show announcer Gray, Carey said, "There used to be a show on another network called 'The Drew Carey Show.'"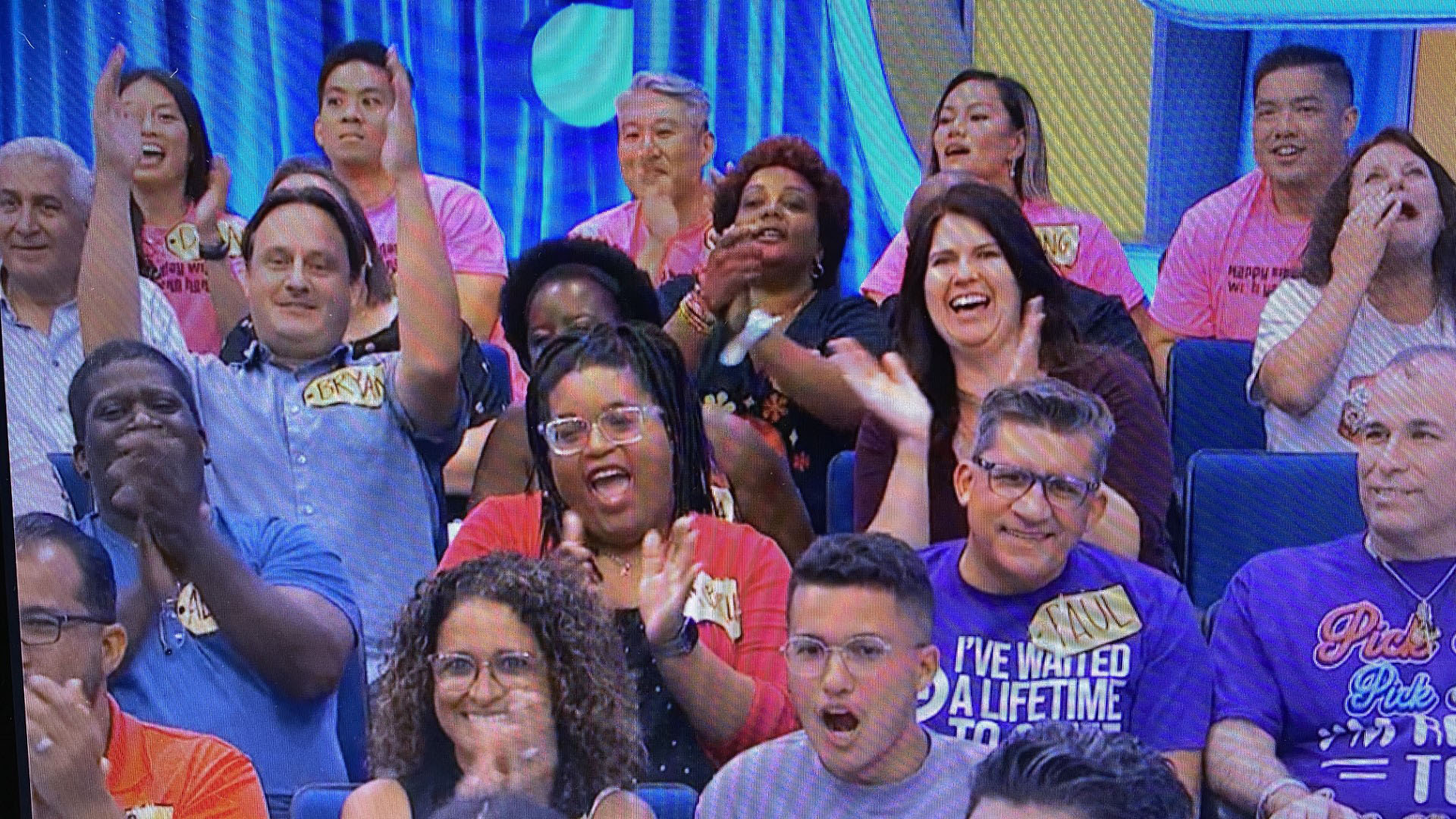 As the audience applauded, apparently at the memory of Carey's show that ran from 1995-2004, the camera cut to three of her supporters: Bryan Kraemer, research Egyptologist and educator at CSUSB's Robert and Frances Fullerton Museum of Art; Annika Anderson, chair of the CSUSB sociology department; and Tiffany Jones, Liszka's fellow faculty member in the history department.
"Our CSUSB cohort had the time of their lives jumping, shouting, and biting their nails in what turned out to be an epically close game," Liszka said.
While she didn't win "Freeze Frame," she did qualify for a spin of the Big Wheel halfway through the show. Without giving much away, that ended up being an epic contest with another contestant, and one in which Liszka finished on top for a shot at the "Showcase Showdown," the huge package of prizes at the end of the show.
No spoilers here on how it ended – you really should watch the entire show – but we can say it was suspenseful!