NOTE: Faculty, if you are interviewed and quoted by news media, or if your work has been cited, and you have an online link to the article or video, please let us know. Contact us at news@csusb.edu.
---
From Civil Rights to campus Change: The resilient legacy of Black Student Activism in Washington State
KUOW (Seattle, Wash.)
July 18, 2023
Marc Arsell Robinson, assistant professor of history at California State University, San Bernardino, was interviewed about his forthcoming book, "Washington State Rising: Black Power on Campus," for the program "Soundside." Robinson's book explores the importance and lasting legacy of Black student activism in the state of Washington.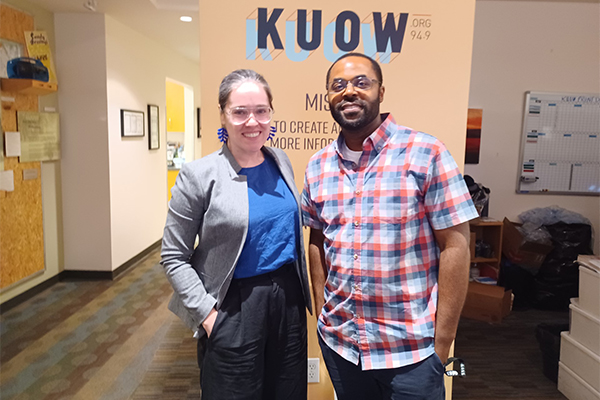 Seattle isn't widely recognized as an epicenter of the Civil Rights Movement. But through the mid 20th-century, individuals and organizations were making national waves in a fight for recognition and equality.
Those actions percolated to university life in Seattle and Pullman. The foundation of Black studies came from the efforts of Black students and Black student unions to create a space for talking about history, organizing, and black power.
---
An Evidence Accumulation Account of Masked Translation Priming in Two Bilingual Populations
Brain Sciences
Pablo Gomez (psychology) and psychology students at the CSUSB Palm Desert Campus (Camille Scrimshire, Sara Alicia Amador and Galilea Meza) published an article, "An Evidence Accumulation Account of Masked Translation Priming in Two Bilingual Populations," comparing heritage bilinguals recruited from the CSUSB Palm Desert Campus to sequential bilinguals recruited online from South America and Spain to see the effect of switching languages while reading. This study was funded by a National Science Foundation (NSF) grant and a National Institutes of Health (NIH) grant.
---
CSUSB professor to moderate program on Upper Snake River on Thursday
Buckrail (Jackson Hole, Wyo.)
July 19, 2023
Yolonda Youngs, associate professor of geography and environmental studies, will be the moderator for a panel discussion in Jackson Hole, Wyo., on July 20 of river guides and stewards of the Upper Snake River in Wyoming.
Youngs has researched commercial, scenic float trips on the Upper Snake River and is writing a book on the topic. Youngs has also collaborated with local community members and Grand Teton National Park Curator Bridgette Guild to create a Recreation Collection for the park.
---
These news clips and others may be viewed at "In the Headlines."